Matern Professional Engineering
Building with heart
Priding itself on a culture that puts the client first, Matern Professional Engineering has established a reputation for delivering exemplary services
Incorporated by Douglas P. Matern in 1984 in the State of Florida, over the following 36 years Matern Professional Engineering (Matern) has grown into a mechanical, electrical, plumbing, fire protection, technology, commissioning & energy engineering power house. It has continued to expand its operations and today has offices in Maitland, Fort Myers, and Tampa, Florida; as well as being licensed in Alabama, Georgia, North Carolina, Pennsylvania, South Carolina, Tennessee, Texas and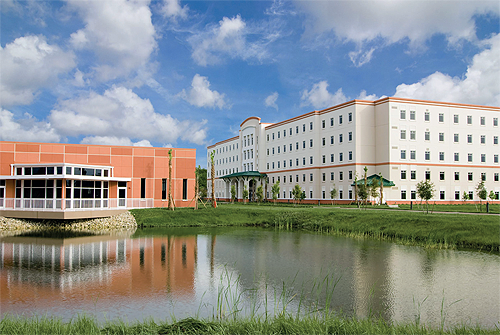 Virginia. From its small beginnings, Matern now operates across multiple market sectors including aviation, corrections, central energy plants, community spaces, education (K-12, private and higher), healthcare, hospitality, municipal/government, public safety, office spaces, retail and tenant build outs.
Over recent times Matern has found itself to be increasingly delivering projects for healthcare and federal contracts, and as Company President Ryan Strandquest explained, this was facilitated in 2018, when the Federal Government awarded the business the GSA 03FAC Schedule for Commissioning and Energy related projects. "This contract gives Federal Agencies throughout the world a direct avenue to purchase our services at a Federal contracted rate," he said. "During the same timeframe, we became one of the select MEP Engineers to provide professional engineering services to AdventHealth in Central Florida. This contract encompasses updating aging building systems on existing facilities. We have also had an influx of assisted living facilities and wellness center projects come to fruition."
A perfect example of how Matern provides innovative and flexible services within a healthcare environment is the work it has undertaken at five large AdventHealth hospitals and medical facilities. "We completed 28 replacement projects of large custom chilled water air-handling units (AHUs)," Ryan elaborated. "These replacements were performed at fully operating facilities requiring careful planning to minimize disruptions to patients and normal hospital operations In most cases, the design work included facilitating the use of one or more temporary chilled water AHUs located nearby, duplicating the piping, ductwork, filtration, controls, power, and life safety aspects. In most cases, the specialized replacement AHUs were built on site, not in modules but piece-by-piece, to allow them to be brought into the limited space environment. The replacements included ten large rooftop units, where no two had similar roof structure, no original structural drawings were available and access to the existing structure for assessment was extremely limited. Our engineers were present for each of the early morning weekend unit removals, so that the existing structure could be quickly assessed, and structural modifications then be planned and implemented in real time, to minimize downtime and the use of temporary units.
"In addition to these AHU replacements, several other completed projects have included replacement of WAGD systems, central laundry facility expansion, and HVAC replacements in support facilities. We currently have more designs completed and others underway for the replacement of another 27 AHUs for AdventHealth; however, implementation of those replacements has been delayed by the Covid-19 crisis."
Exciting project
Having referred to the coronavirus pandemic, Ryan noted that Matern has ensured that over this time the business has continued to maintain relationships and develop project proposals as opportunities arise, while always prioritizing staff health. "The majority of our staff have been working remotely through technologies we had in place," he added. "As restrictions lighten and cases improve, we are implementing shifted schedules for individuals who want to return. We need to make sure there are not too many employees in the office at one time and have staff who have children so anyone who wishes to remain working remotely will be able to continue to do so for the time being.
"We notified our clients that we are operational and available to support them with whatever they need. We also applied for a Paycheck Protection Program (PPP) loan to assist us with eight weeks of employee salaries. So, overall, our production remains consistent, but communication is the key with internal staff and clients."
Matern is working on another significant project, which the Covid-19 crisis affected – the billion-dollar expansion at Orlando International Airport. "Progress has continued on the South Terminal Complex; however, it is continuing construction much differently," Ryan noted. "Designers and contractors of all disciplines who were once located in construction trailers at the jobsite are now working remotely and adjusting to coordination with one another through technology we are fortunate to have available to the project team. Only necessary, hands-on construction workers are on site moving the job forward."
He continued with more details about the contract: "At a total program cost of $4.27bn, this is the largest project Matern has worked on to date and one of the biggest in Florida in a decade. The existing Orlando International Airport consists of a landside hub with four airside terminals housing the airplane departure and arrival gates. The number of passengers who travel in and out of Orlando has exceeded what the existing facility can comfortably handle, which enabled the Greater Orlando Aviation Authority to seek expansion approval. The new South Terminal began with a parking garage, intermodal transfer facility and an automated people mover (APM) facility. This helped alleviate the immediate need of parking for travellers. Phases 1 and 1X include the new South Terminal Complex, which further expanded to the new parking garage, built-out the Virgin Train transfer facility; and designed/constructed an airside terminal with 16 airline gates and a landside terminal with both secure and non-secure areas. This
project has a lot of moving parts and pieces affecting the design and construction efforts. Each design discipline for the project is from a different firm, thus requiring intense coordination primarily achieved through phasing and BIM. Close coordination has also been required with Orlando Utilities Commission, who provides the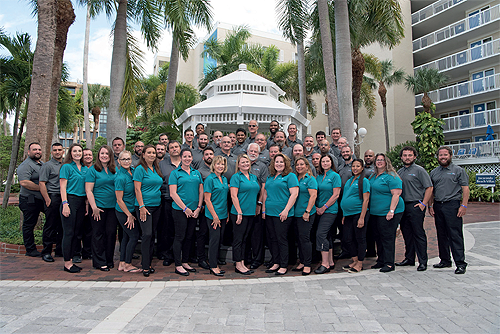 primary electrical backbone to the facility and Virgin Trains, who will have a transfer stop at the facility."
Major savings
Having revealed the nature of some of its significant contracts, Ryan highlighted two more that really stand out as favorites, thanks to their position as the first of their kind in Florida. "Just as an architect wants to see a legacy building constructed, engineers like to see their innovative solutions come to life," he smiled.
The first was the installation of a Hybrid Geothermal Central Energy Plant at Volusia County Schools, which involved the use of innovative hybrid geothermal aquifer technology for a University High School's heating and cooling system. This central energy plant (CEP) provides conditioning for not only the University High School campus, but also the adjacent middle school campus Ryan explained the savings that this project enabled for the client made it stand out. "The effective life cycle cost savings for using this system was $3,855,607 (with no power company rate escalation)," he said. One very valuable undertaking was the analysis of the annual and life cycle water savings from utilizing ground water in lieu of cooling towers. "We found that a traditional water cooled chiller plant, of this size, with cooling towers uses approximately 7,800,000 gallons of water a year due to evaporation. That is an annual cost of $37,800 or $750,000+ in water bills over the 20-year life cycle of the plant. The staggering fact is that this geothermal plant will save the District and the environment 157,464,000 gallons of water over the next two decades. The design of this system required special coordination with St. Johns Water Management District to ensure the aquifer would not be harmed by the system."
The second project also involved energy – this time a Combined Heat & Power (CHP) Plant for the University of Central Florida. "The drawings for the engine that helps power this plant took up an entire cubicle in our office during the time of design and construction," Ryan exclaimed. "The CHP Plant is powered by a clean burning, natural gas powered reciprocating engine that will generate approximately 5.5MW of electrical power for the University of Central Florida main campus. It includes an absorption chiller that captures waste engine heat and uses it to provide chilled water making the plant one of the most fuel-efficient cogeneration systems available today. The CHP Plant provides the University of Central Florida multiple benefits including a lower carbon footprint for equivalent power provided, reduced CO2 emissions, reduced electrical grid demand, lower cost of operation and expanded chilled water production to support campus growth."
Having highlighted the very technical and complicated nature of its work, it is no surprise to learn that Matern embraces the use of technology across its own operations, a strategy that has been paying dividends during the Covid-19 situation. "We continuously look for ways to improve internal processes and in 2019, we upgraded our network servers and equipment in both conference rooms," said Ryan, describing some recent expenditure. "We invested in Microsoft Office 365, which includes 'Teams' for meetings and coordination. The current change to working with our own staff remotely (not just clients), has afforded us the ability to evaluate what we have been doing and recognize where we can change to be more effective. BIM has been part of our design process for a number of years, and we also use Bluebeam, Bluebeam REVU and PlanGrid. Our firm is currently 90 percent paperless and has a proactive recycling program for all different type of materials."
People power
From listening to Ryan discuss the operations at Matern, it is clear that the health and wellbeing of staff and maintaining a family-oriented culture is very important to the organization. He agreed that the business does not want to be 'that company' – one that treats employees and clients as 'just a number'. "It is important to us that our staff not only enjoy working together, but also enjoy each other on a social level. To encourage this, we have Friday gatherings and a variety of different outside events including whirly ball and go-kart competitions; family picnics and every few years we have a family weekend getaway. In addition, we help celebrate birthdays, babies, marriages and other personal accomplishments. Our staff are the core of our business. We realize we would not have a firm without them. We also recognize people want to work with people they like."
The Executive Committee still includes company founder and CEO Doug Matern; working alongside Ryan and the Sr. Vice Presidents; Adrian Baus and Judy D'Angelo. A ten-member Management Committee supports this team, helping to oversee projects in design and construction, assisting in workload projections, work force allocation, streamlining processes, client satisfaction, and mentoring younger staff. "Many of the members of the senior leadership have been with Matern for ten to 25 years," said Ryan, "and our strong and consistent management team, dedicated experienced staff, and effective in-house quality control, offers us financial stability. As a client centric firm, we pride ourselves on a 'Can Do' spirit, quick responses, complete flexibility and pragmatic decision making in our endeavour to 'engineer building systems that work for you'."
Ryan believes that it is this overreaching positive attitude that sets Matern apart from the competition and keeps its clients returning time and again. "We have asked ourselves what makes us different and why would a client continuously choose to work with Matern? We believe the answer is our people – their commitment to quality and their problem-solving abilities. The attitude of 'how can I help you succeed?' starts from the top down, and it is the attitude when working internally with each other as well as externally with clients. We are a people-based business and without people to help, we have no business.
"Community involvement is also something we believe in strongly," he continued, going further with Matern's dedication to serving people. "We feel very fortunate to be able to give back to the community we work in and employees are encouraged to participate. Our involvement includes support of local foodbanks, education foundations, homeless & domestic violence shelters, United Cerebral Palsy, Boys & Girls Club, American Heart Association and Leukemia & Lymphoma Society to name a few. Some staff have their own causes they gather support for ranging from school supply drives to 5k walks for their children's school."
Working on the philosophy that understanding the needs of the staff and clients simultaneously helps the firm grow stronger, Matern is entering the next half of 2020 with a positive approach, despite the challenging times of the moment. "The Covid-19 pandemic is going to change the way we do business on a day-to-day basis and we are already starting to evaluate certain employees working from home part time or on a phased return to work schedule," agreed Ryan, before summing up with words that embody the spirit of Matern, caring, indomitable and forward-thinking. "This pandemic has been horrendous and affected millions of people, but we must learn and grow from this experience," he concluded.
Matern Professional Engineering
www.matern.net
Services: Engineering services