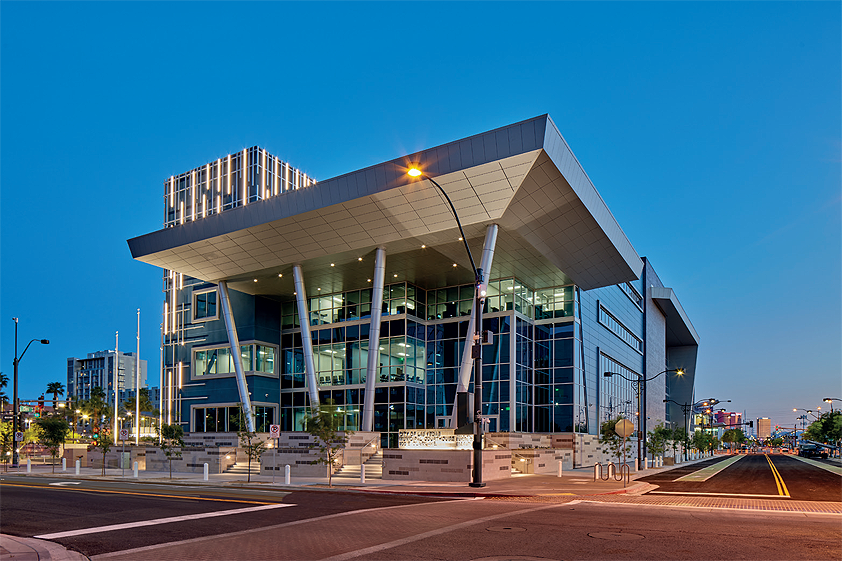 Martin-Harris Construction
Constructing a culture of care
A major contributor to job creation and economic growth in Southern Nevada, Martin-Harris Construction is a values -driven general contractor known for building strong relationships and award-winning projects
The fact that more than 80 per cent of Martin-Harris Construction's customer base is made up of repeat clients is indicative of the Nevada contractor's commitment to building strong relationships and delivering quality projects. Founded in 1976 by entrepreneurial carpenters Frank Martin and Frank Harris, Martin-Harris is, today, the largest general contractor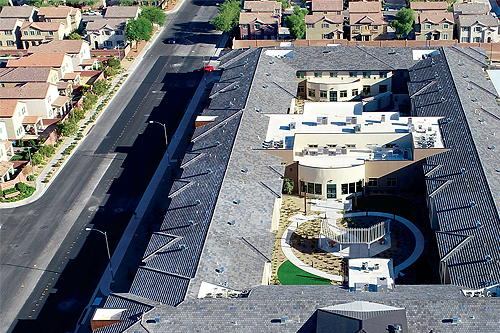 headquartered in Las Vegas, where it is led by company President, and Frank Martin's son, Guy Martin.
A multi-faceted organization, Martin-Harris offers preconstruction, general construction, CMAR, design-build, and TI services to a host of markets, including the office, education, industrial, retail, hospitality and healthcare sectors. Named the 2020 General Contractor of the Year by ENR Southwest Magazine, as well as 2021 General Contracting Firm of the Year by NAIOP Southern Nevada, Martin-Harris boasts the resources and capabilities to self-perform and deliver, no matter the scope – from $10,000 emergency repairs to $100 million new builds.
Power of collaboration
More than just another award-winning general contractor, Martin-Harris' family roots have enabled the company to form a strong, value-centric culture that continues to set it apart from the competition. Before the firm begins construction on any of its projects, it first looks to build connections with its clients.
"We believe in ideas of respect, teamwork, accountability, honesty, and integrity at Martin-Harris, and so finding customers that align with those core values is really important to us," Guy declares. "It is very humbling when I sit and talk to a new client and they say they knew we'd be a good match because they read our core values on our website and they believe in the same things."
"Martin-Harris is unique in this industry in that we are managed by tradesmen and tradeswomen, not a group of exclusively college graduates," Guy adds. "Our leadership group knows construction, so we can sit in front of a client and confidently say that we're a builder, not a contractor, and we believe in what we do. We are a heart-managed company; we care more about our people and our customers than we do about the top line of our business."
Such is the reputation of Martin-Harris and its management team that, when Covid-19 hit the USA in early 2020, Guy was invited by the Governor of Nevada to suggest ways in which the state could keep construction essential during the pandemic. Ultimately, with the help of state authorities, organized labor bodies and fellow contractors, the company and its industry peers remained operational throughout the Covid-19 crisis. For Guy, the lack of disruption was a triumph for the power of collaboration.
"The co-operation with our external industry peers in 2020 was a shining star moment," Guy says. "When the lights were dim and things were tough, we all just leaned into one another and made it happen. Instead of getting more divided when challenged by the pandemic, our foundation got stronger.
"I've always said that Martin-Harris does not have competitors, we have peers in our industry. During Covid-19, I sat in rooms with five to seven of these big Las Vegas construction companies working on mega projects, and everybody shared what they were doing to keep their tradesmen and tradeswomen safe. The united front helped make 2020 one of the best years in our company's history. We followed our core values, we continued to move forward, and I couldn't be prouder of our team for their work."
Unparalleled service
Martin-Harris' reaction to the pandemic meant the company could continue with its highly diverse range of projects, including work at the City of Las Vegas New Municipal Courthouse, Meow Wolf Las Vegas, Shake Shack at McCarran International Airport, and a student housing community at the University of Las Vegas.
"We have created a very sustainable construction environment," Guy reports. "We are not as captive to the general ebb and flow of the highly cyclical nature of construction in the United States. We have the ability to stay very, very diverse because the talent of our associates is unparalleled across the western United States. The only properties we don't build are single-family homes, and that is by choice."
One headline project in 2020 saw Martin-Harris carry out expansion work in a Joint Venture with Turner Construction at the Las Vegas Convention Center District Campus. Valued at $980 million, the stand-alone 1.44 million square foot facility is the largest column-free space in North America, and includes leasable exhibit areas, an outdoor terrace, meeting rooms and a grand atrium.
Capable of shifting seamlessly from civic projects to commercial builds, 2020 also saw Martin-Harris complete two new Las Vegas restaurants at the Palazzo for celebrity chef David Chang –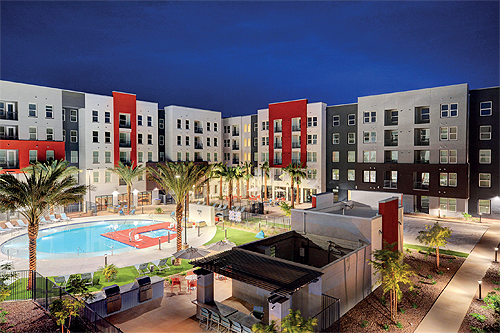 Moon Palace and The Majordomo Meat & Fish Restaurant. The latter of the two sites is a 13,000-square foot modern Asian-American steakhouse with three public dining rooms, two private dining rooms, and a bar. Brimming with exceptional, high-end features to enhance the dining experience, such as a large fish tank for livestock, wine displays, cork ceiling features, built-in meat displays, acoustic wall panels and LED lighting, the restaurant also houses a secret karaoke room for private parties.
With the company set to turn 45 years old in 2021, Guy believes it is an ideal time to look back on Martin-Harris' successes and identify opportunities for further growth. "I'm very blessed to have achieved my lifelong dream of being able to follow in my father's footsteps by taking over and managing this company," Guy asserts. "This is my sixth year as President and to lead Martin-Harris into its 45th anniversary is just beyond my wildest dreams. From ownership, all the way down to every associate in the company, I just want to say thank you for giving me the opportunity to do this.
"As far as longevity and continued success is concerned, there's no limit to what we can do," he continues. "We're healthy, hard-working, dedicated, diverse, we are careful not to outrun our capacity, and we offer unparalleled service. We wouldn't have an 80 per cent repeat client base if we didn't actually deliver."
People-focused
Driven by belief in its workforce and loyalty to local communities, Martin-Harris will remain a people-focused organization throughout the next decade and beyond. In 2020, the company's associates gathered 1172 pounds of food, 461 packages of paper goods, and $900 to donate to NAIOP's Helping Hands of Vegas Valley fundraiser. These efforts have continued in 2021 and the firm has already raised $1200 for Make-A-Wish through a Pie-in-the-Face challenge. The importance of people, and the spirit they bring to the organization, is certainly not lost on Guy.
"We hire the very best people in the industry and we give them every tool and opportunity they need to be successful," Guy remarks. "We hold them very accountable, but then we also allow them to grow. In cultivating and building people, there's an opportunity for us to broaden geographically or even market sector-wise."
In the next five years leading up to Martin-Harris' half-century, Guy hopes to see the company navigate a generational leadership change as many decision-makers at the firm's long-term clients retire and are replaced by new leaders. "With such a high volume of repeat clientele, most of our work has been with the same people over the last 45 years, but as generations of customers move on, I would love to see our associates successfully manage that succession or transition," he reveals. "That would be the big win for me."
As Guy hints, there will, of course, be challenges for the business going forward, but the President is also confident that the next five years could be Martin-Harris' best yet. Consequently, the mood at the business is one of optimism and enthusiasm.
"I think the most exciting period of Martin-Harris' existence thus far will be the next five years," Martin affirms. "We're going to hit some growth milestones, we're going to hit some developmental milestones, and I believe we will produce some of the greatest industry leaders that construction has ever seen. I'm just really interested to see what our associates are going to become. Though the two are clearly inextricably linked, I'm actually more excited to see how our people grow than what the company grows into."
Martin-Harris Construction
www.martinharris.com
Services: General contractor