Since 1980, the Marous name has been synonymous with construction in Cleveland, Ohio
Built with passion
Now Marous Builders is redefining modern living through a wide-spanning, multi-layered project along the beautiful Lake Erie
For over 40 years, the Marous family has carved out an impressive reputation for establishing special communities and realizing commercial and residential building dreams, taking carefully designed plans from the early drafting stage through to final delivery. In 2019, Marous Builders was founded, breaking out the construction aspect for their development company, Marous Development Group, creating one vertically integrated building company.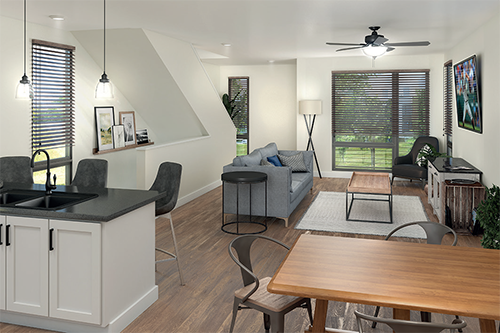 While the burgeoning business builds and owns its own properties, the wider Marous Development Group remains the acting developer and, another subsidiary, Marous Management Services, takes the reins as property manager.
As Del Marous, President at Marous Builders, has it: "In simple terms, our main focus is to build for the Marous Development Group. However, we also build for third party, especially in the multi-family housing and for-sale townhouse market niche. We offer a variety of services, including but not limited to the following: pre-construction, construction management, design assist, general contracting, project management, and lump sum contracting. One factor that sets us apart from the competition is that we always do the right thing in our work and by our people – or we don't do it at all. This motto was passed down from my father, Adelbert 'Chip' Marous Jr., and we continue to live by it, professionally and personally, in everything we do."
Indeed, the rigorous sense of purpose and duty that flows throughout the company has enabled it to plan and deliver countless construction projects, many of which are extensive in scale, at the highest of quality as well as being on-time and within budget Marous Builders has integral values which have been purposefully and carefully passed down from previous Marous generations, reaffirming best practices within the firm and the wider construction industry.
For Del, the family-centered values of the business remain paramount and help to foster a company culture that is both robust and highly motivational. "The people side is everything," he observes. "Of course, business is conducted through and is reliant on strong and long-lasting relationships; without these, we have nothing. We wouldn't be where we are now without tight-knit partnerships spanning numerous years and decades.
"To that end, we've worked hard to create a company that continually inspires its employees," adds Del. "We lead from the front and by example, always letting our team know that, if things get hard, then we'll be right by their side and eager to help. That extends to our suppliers and subcontractors, too; we encourage the taking place of business and community events where we can connect with the wider Marous Builders family on a more personal level."
When the Covid-19 crisis hit, those deeply ingrained values became even more important. "One of the hardest challenges during the pandemic was when someone would fall ill," says Del. "Naturally, we followed the Centers for Disease Control and Prevention (CDC) guidelines; if you were in contact with the ill person, then those individuals would have to work from home, too. Although necessary, that was certainly a challenge. Construction is a very collaborative industry, and that makes a work-from-home model much harder to apply. It was something that none of us were used to; but we had no choice except to adapt and get creative, finding new ways to efficiently communicate. We don't wish to return to that experience – working-from-home in mass quantities – but if we must, then we will utilize our newly discovered knowledge."
As we slowly ease away from Covid-19 into this post-pandemic period, the hangover effects of that unprecedented global emergency are still affecting the building industry at large. "Although we've begun to move on from the crisis, the construction landscape is still proving to be very challenging," explains Del. "Supply chain problems persist. What we are doing now, is buying everything we can – as soon as we can – and storing it until we need to use it. If we don't, we can't guarantee that we will get the material on time (or even at all). One benefit of carrying out a lot of multi-family unit developments is that, because you can use the same materials and products across various projects, we can somewhat pivot around these issues.
"The labor shortage is also an ongoing challenge we're having to contend with, and it doesn't seem to be getting any better," he explains. "Meeting tight schedules and delivering projects on-time has never been more difficult. However, to circumnavigate the labor shortage and ensure we keep to deadlines, we are leveraging our strong, communicative relationships with our excellent team of subcontractors. This has, in turn, enabled us to progress with and complete some incredible projects despite the overall adversity we face."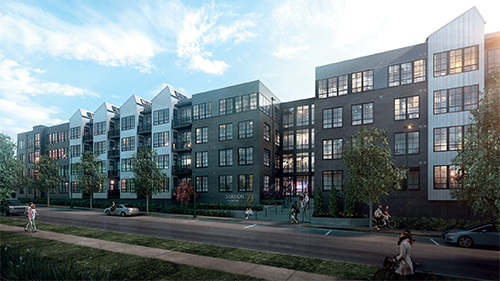 One such project is Battery Park in Cleveland. Since 2006, 168 townhouses and 82 apartments have been built as part of that development. Marous Builders is currently building the final two lots: one called Park Place that consists of 25 townhouses; the other, dubbed Station 73, is being built in collaboration with Avenue Partners, a multi-family development company, based in Columbus. Station 73 will see the construction of 258 new apartments, the first of which will be available for leasing later this year.
Located along the shores of Lake Erie, just minutes away from downtown Cleveland, Battery Park's contemporary townhouses, apartments, and retail spaces are bringing new people and businesses to the historic west Cleveland neighborhood. The townhouses at Park Place offer an attractive range of amenities, including rooftop terraces with stunning views of the lake, modern architecture, custom cabinetry, high-efficiency furnaces and air conditioning, as well as direct access to Cleveland's 147-acre Edgewater Park, which makes up part of the Lakefront Reservation and consists of more than 9000 feet of shoreline.
Station 73, moreover, uniquely capitalizes on this nature-rich location with an abundant offering: panoramic views can be soaked in at the community pool, pets are treated to a dog-friendly spa, a fitness and yoga center encourages residents to keep active and boost their mental health, and the on-site clubhouse and coworking space motivates people to come together – for work and play. In addition, Marous Builders is creating inspiring interiors with quartz countertops, walk-in closets,high-quality stainless-steel appliances, and Ten-foot ceilings.
As Del neatly puts it: "Both developments offer incredible views of downtown Cleveland and Lake Erie, and a pedestrian tunnel nearby takes you to the beautiful Edgewater Park, inviting people to really explore the great outdoors. We hold this community very close to our hearts and developing it has been a once-in-a-lifetime opportunity. Finishing off these two projects will mark the closing of a chapter that none of us will forget; these memories will be cherished for many years to come."
"At Marous Builders, we're looking to close out 2022 with a record year," concludes Del. "Put simply, that means we will have built and sold the highest number of townhouses, apartments, and units in one year. As we're on course to meet that target, we're very proud of the company, especially with the conditions that the entire industry is still working through, like supply chain struggles and labor shortages. As Marous Builders moves forward, we see ourselves continuing to grow, expanding our geographical reach and our network of subcontractors and individuals within the building industry. My own goal is to create an environment that attracts hardworking, driven individuals who look forward coming to work each day. That way, we can continue to do what we do best: build with passion."
Marous Builders
www.marousbuilders.com
Services: Commercial builder