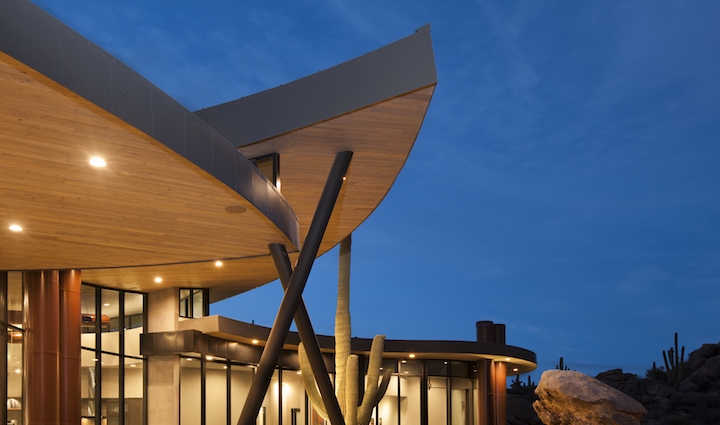 Lori Carroll & Associates
Lori Carroll & Associates takes interior design to a new level.  
During the course of the past 37 years, Lori Carroll's creativity and aesthetic vision has earned her a reputation among top interior design professionals in the Southwest.
Her company, Tucson, Ariz.-based Lori Carroll & Associates, specializes in high-end residential, commercial, hospitality and health-care design in Arizona, California, New York, Illinois and northern Mexico.
"With a simple yet elegant approach, my signature style embraces the naturally inspired materials, colors and textures that embody each client's individual surroundings and lifestyle," Carroll says.
Lori Carroll & Associates has tackled projects that span the spectrum from ultra-modern to rustic. The firm is best known for luxury residential design but it excels in all areas of high-end interior design – large or small.
Carroll says she is often inspired by the landscape and her client's lifestyle. Her goal is to make any space feel like home but for it to remains unique among its surroundings.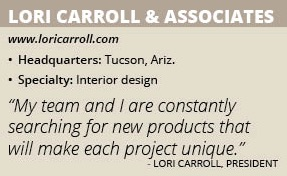 "My team and I are constantly searching for new products that will make each project unique," she says. "Many of our referrals come from people who have seen our designs and can't find comparable items elsewhere."
When starting a project, Carroll and her team start with outlining a client's vision as well as setting a budget and a schedule. Navigating the process requires a familiar and experienced interior designer who can skillfully create a truly distinctive and functional environment – and Carroll believes her firm has proved itself in that arena.
"Quality is also important in the success of our projects because, honestly, you can tell the difference," Carroll says. "Clients appreciate the value of finer materials when presented with a practical comparison."
Award-Winning Firm
Carroll started her career as an interior designer at a Tucson furniture store by assisting clients in selecting home furnishings. Eventually, she accepted a position as president of Interline Design Group, Inc., a leading interior design firm in southern Arizona. In 2000, the business evolved to become Lori Carroll & Associates.
"This transition helped to shape the studio into a more far-ranging business with the capacity to assist in every phase of design for both residential and commercial properties in Arizona and across the United States," Carroll adds.
Over the past three decades, Carroll has accepted a sequence of major design excellence awards across several competition platforms. That includes numerous awards from the American Society of Interior Designers (ASID) and the International Interior Design Association (IIDA) – eight of which included local Best of Show mentions.
Nationally, Carroll and her team have received more than 40 design awards that include the prestigious Kitchen & Bath Design News Bathroom of the Year.
The National Kitchen + Bath Association (NKBA), a non-profit trade group that promotes professionalism in the kitchen and bath industry, awarded Lori Carroll & Associates with its Pinnacle of Design award, 2016 Kitchen of the Year award and 2017 Bathroom of the Year award. In 2016, the firm also received the distinguished Designer Kitchen and Bath International Design Award.
Teamwork is Key
Carroll believes that teamwork is crucial to operating a successful business. She says that each member of her team is key through every step of the design process.
The firm's specialties include interior design of custom homes, custom millwork design and construction, colorizations, remodeling, renovations and redesign, architectural reviews, exterior and interior specifications, project management, lighting and electrical plans, procurement and direct purchasing.
In addition, the firm can assist its clients with making their space compliant with the Americans with Disabilities Act (ADA) standards.
Lori Carroll & Associates prides itself on being able to rise to any challenge – bringing passion, talent, expertise and commitment to some of the most stunning properties in its market. The firm also considers itself at the forefront of design trends.
"The design industry is in constant evolution," Carroll says. "Technology has profoundly impacted the areas of architecture and interior design. From constant connectivity to on-line design collaboration, consumers have now active participants in the entire process."
Staying on top of new products, materials, colors and design trends is important. "Striving for richness and functionality, interior designers are at the forefront of innovation, expressing their unique perceptiveness both inside and out," she adds.
What It Takes
Being an interior designer is about much more than choosing colors and fabrics. "By nature, designers are innately creative, imaginative and artistic, however, their responsibilities go way beyond that," Carroll says.
Regardless of a designer's specialty, the basics remain the same. A designer must be committed to a project from start to finish. He or she must determine the scope of the project and listen to the client and translate their ideas into a viable design plan.
Aside from that, the designer must have good business sense to help the client determine the budget, applicable costs and fees, draw up contracts, research costs and specify and propose applicable products and materials – to name a few.
"This is a very competitive business and you always have to be conscious of the bottom line," Carroll says. "Being a service and product based business, there are countless details that need daily attention in order to be successful."
Carroll is a NCIDQ certified professional member of the American Society of Interior Designers (ASID), International Interior Design Association (IIDA) and a National Kitchen & Bath Association (NKBA) member.