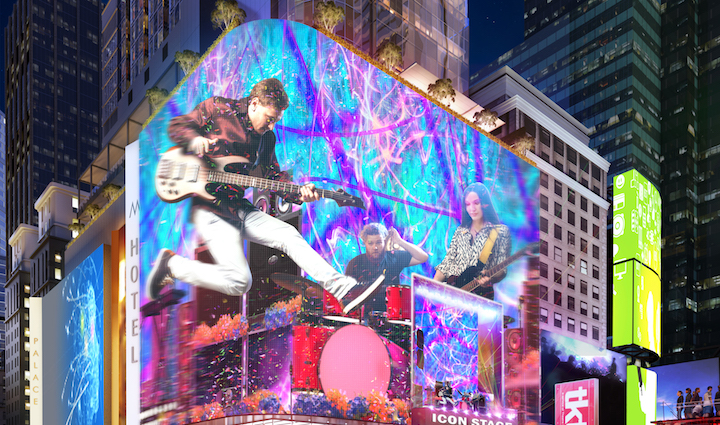 L&L Holding Co. LLC – TSX Broadway
The TSX Broadway project will transform Times Square in New York City.
It is rare when the developers of a project can say that they are poised to change an environment, but that is exactly what L&L Holding Co. will do with TSX Broadway in New York City. "We think Times Square is ripe for this type of project," Senior Vice President of Construction Robert Israel declares.
TSX Broadway, which carries a budget of $2.5 billion, will be a first-of-its-kind tower, covering 550,000 square feet and standing 46 stories. It also will incorporate an array of distinct features, including 10 floors of retail/experiential space and a 669-room hotel.
The project also includes the move of the historic Palace Theatre 30 feet from its current elevation to the building's third floor before it undergoes a $50 million renovation. "That space underneath it and in front of it all becomes retail," Israel says.
"In front of that retail pocket, we have an 18,000-square-foot LED sign, which will be one of the largest in the world," he continues, adding that the LED signage will stretch from TSX Broadway's third to its ninth floor.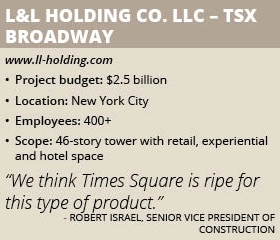 The tower also will feature the only full-building LED facade system in New York City, a theater marquee from the 27th to the 31st floor with LED signage, as well as crown signage at the top of the building. "All are advertising and branding opportunities," Israel says.
TSX Broadway also will feature an indoor/outdoor stage, allowing for performances to be held 30 feet above Times Square. According to Israel, this will be ideal for New Year's Eve performances as well as other events. "We want to create a venue that is open to multiple types of entertainment," he says.
A Top Destination
Construction started on TSX Broadway in March 2019 and is expected to be completed in 2022. Israel notes that the project team is currently in the process of demolishing a portion of a 46-story tower on the site.
"The plan is to rebuild that tower and create a four-star hotel," he says, adding that he and Chairman and CEO David Levinson have extensive experience in the hospitality industry. "David and I are well-versed in that arena.
"We're looking to build one of the most successful hotels in the Times Square area," he continues. "It will transform this [area] that is going to be the new Times Square in the next 10 to 20 years."
Up to the Challenges
TSX Broadway is L&L Holding's first partnership with Fortress Investment Group, which approached the firm about investing in the project in 2016. One element that Fortress liked about L&L Holding, Israel says, was its ability to work on very complex design and construction projects.
"That was Fortress' viewpoint of why they went with us, and obviously, they liked our team and our approach," he says, noting that TSX Broadway fits into this category by being a retained slab project, requiring builders to retain 25 percent of their existing slab area. By doing so, "We can retain 84,000 square feet of overbuild conditions," he says.
Another complex aspect of TSX Broadway is its location in Times Square, one of New York City's major tourist destinations and entertainment centers. To make sure construction goes smoothly in such a busy area, "We have engaged with all of our adjacent property neighbors with access agreements," he says.
The company also works closely with The Times Square Alliance, which focuses on improving and promoting the neighborhood. Israel notes that he regularly speaks to the alliance's senior vice president, Tom Harris. "We're fully integrated with the Times Square community," he adds.
Safe and Sustainable
TSX Broadway is not a LEED project, but it is being built with a green mindset. Like the building, all of the equipment being used on the project is highly efficient. "We also are reviewing the latest legislation associated with New York City and Mayor de Blasio's energy requirements," Israel says.
The project team also has focused on staying safe as it has built the tower. Currently, "We have three full-time safety managers on the project," he says, adding that employees follow a safety manual specifically created for TSX Broadway.
"It is maintained and monitored daily by the site safety managers," Israel says, noting that monthly safety and insurance meetings are held on site as well. "One of our most important features on the project is that we maintain a very intense safety program."
Creating Value
Based in New York City, L&L Holding has developed a portfolio of nearly 10 million square feet of commercial space since its start in 2000. Israel, who joined the company in 2017, says the firm has thrived by employing the best of the best.
"Everybody within the company has a huge amount of experience in complex, highly strategic efforts associated with construction and development," Israel says. "It is a place that prides itself on doing the most complex projects in New York City and being able to achieve those on time and budget."
He sees more success ahead for L&L Holding, as it plans to redevelop properties in New York City and add more value. Today, "[You have to] either knock the building down or build the building back up," he says. "The only way to create value within New York City today is to take on these highly strategic and complex developments to create the value."