Live Oak Contracting's long-term focus allows it to maintain a strong pipeline of work. 
It can take some companies decades to establish a leadership position, but Live Oak Contracting has only needed five short years. "We've definitely been able to achieve a lot in a short period of time," President and CEO Paul Bertozzi declares.
Based in Jacksonville, Fla., the firm specializes in multifamily and commercial construction projects, including design/build, renovation, rehab and tenant improvement work. A 16-year veteran of the industry, Bertozzi started Live Oak five years ago after working for a large, multifamily general contractor.
"I started with them as an assistant superintendent and worked my way through," he says, explaining that this allowed him to experience all aspects of the industry, from preconstruction to field and office work.
When he started Live Oak, he focused on helping clients with the preconstruction and design-assist parts of the business. "[This] has allowed us to create a pipeline of work, instead of constantly [searching] for the next project," Bertozzi says.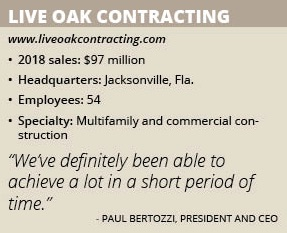 Today, Live Oak works closely with six different development groups and completes up to 12 projects a year. "If they're working from market to market, we're able to go with them and focus on what their needs are," he says.
The firm's long-term approach, Bertozzi notes, has allowed it to enjoy repeat business. "We look at each development group as a partner of ours," he says.
"We really do focus on creating that long-term relationship and business plan for them to be successful," he continues. "That's a different mentality than others have in the industry."
Close to Home
This year, Live Oak has a pipeline of $300 million worth of projects under contract, which is an increase from $260 million in 2018. "Our typical project durations are 22 months, so our projects are developed over two-year spans," Bertozzi says.
But the company's recent work has brought it close to home. "We've been working closely with one of our development groups here in Jacksonville," Bertozzi says, noting that Live Oak has placed a strong focus on doing more projects in its hometown.
"We've been very successful in the Carolinas, but not had planted a flag yet in Jacksonville," he says, noting that it has changed that with the San Marco Promenade, a $33.5 million urban-style apartment community.
Located in Phillips Highway, the project consists of three four-story buildings with 284 living units. It also will feature a clubhouse, fitness center, a business center with conference rooms, and a luxury pool with an outdoor kitchen when finished in March 2020.
"We broke ground on it last year," he says, adding that the company is about to start on two more projects for the same developer, Chance Partners. "We've gone through the design-assist phase, and we're finalizing contracts right now."
Together, the two projects will have a combined value of $70 million and feature 500 units. "We're excited about the partnership we've created with them and the business we've developed with them," Bertozzi says.
Live Oak's current work also includes a senior independent living facility that will feature 148 units. "That is scheduled for delivery in late 2020," he adds.
Finding the Best
As Live Oak has kept busy, it has coped with the industry labor shortage. Currently, "We have five recruiting firms that we're working with to find the best guys in the industry," Bertozzi says.
The company has found success with this initiative, as well as with an internship program. "We've got six interns that are from the University of North Florida," he says, adding that the college has a construction management program.
While two work in the field, four gain experience in Live Oak's offices. "We are really starting to train these guys at a young age," he says, noting that three are expected to become full-time employees. "It's been very beneficial to our growth as we bring these young guys into the industry."
A Team Effort
Live Oak recently won awards for its work, including being ranked as the 34th fastest growing private company and the No.1 fastest growing construction firm on the Inc. 5000 list. Jacksonville Business Journal also recently named it as one of the best places to work in northeast Florida.
Bertozzi credits this to the company's culture. "I tell my team members and when we're interviewing people that it's a team effort," he says. "It takes all of us to be successful."
When the company works on a project, "We all work closely together," he says. "We're all very engaged in the projects, from myself to our director of construction."
This has helped develop comradery at the company, which also maintains an open-door policy. "We all talk openly about projects," he says. "A lot of the success comes from the work that everybody does."
Bertozzi sees a strong future for the company, which wants to maintain its current rate of success while not moving too fast. "Our industry is very strong," he says. "We'll continue take advantage of those opportunities with our great development partners."