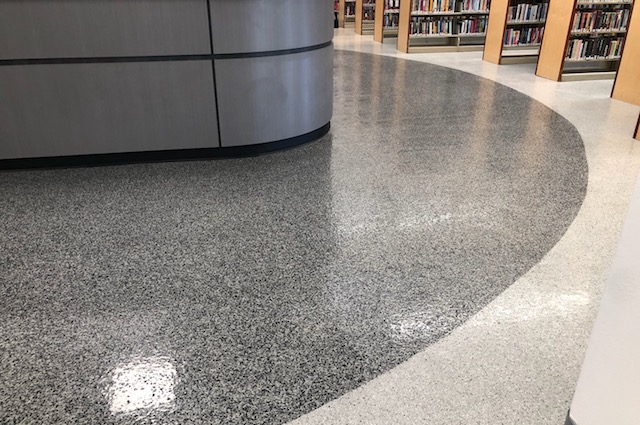 Linron sees a bright future after 25 years of building its reputation. 
Twenty-five years ago, longtime friends and flooring industry veterans Linda Krienke and Ron Harris set out to create a different kind of commercial floor covering company. One that would set itself apart by building a reputation based on excellence in customer service and turkey solutions. Today, Linron Co. has provided floor covering for more than 18,000 retail stores nationwide and covered 2.2 billion square feet.
"When Ron and I started the business, it was a means to an end to take care of our families," Krienke says. "We never dreamed of 25 years. Seeing our family, friends, customers, suppliers, employees and installers celebrating Linron's 25th year anniversary and hearing the testimonials blew our minds. We are so appreciative of what we've built and all the people who have stood by and supported us the past 25 years. We are truly blessed."
"It was great having our customers, our suppliers, our installers, our friends and even our competitors celebrating with us," Harris says. "We have known these people for years and they supported us when we were a small company and still support us to this day. We all grew up together. We never envisioned the company to grow the way it has. It feels good to get to this point."
In January, Houston-based Linron hosted a 25th anniversary gala to mark the occasion with its employees and installers along with its closest customers and suppliers. "We presented Ron and Linda with an award to celebrate the creation of the company and to let them know how much we appreciate their hard work and success. Twenty-five years is a milestone and something to be very proud of," Vice President of Operations Angie Adams says.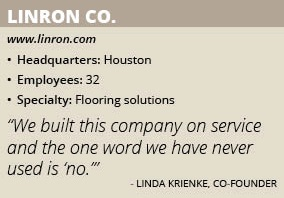 Krienke and Harris have been friends and colleagues since 1977 when they worked together for a flooring distributor in Texas. The pair have always shared the responsibilities of overseeing Linron and will continue to do so despite swapping titles this year. Krienke is now the president and Harris will assume her previous role as executive vice president, which will allow him more free time to spend with his family. "I'm taking a lesser role to spend more time with my grandkids," Harris notes.
Eventually Krienke and Harris will retire from the business, but their children have been following in their footsteps. "We built the company for our children who plan to continue to grow the business," Krienke says. "We trained them for so many years and made them work harder than anyone else because it is our legacy for our children."
Reputable Distributor
As the experts in flooring since 1993, Linron offers its clients turnkey solutions. The company will assess the client's current floors to determine what work is needed. Linron continues to work closely with its clients to choose the best flooring material, as well as the best contractor suited for the job within their region. "We take control of the project, manage it, supply the materials and installation to make sure it goes smoothly from beginning to end," Adams says.
"We built this company on service and the one word we have never used is 'no,'" Krienke says. "I've gotten calls at 4 p.m. on a Friday from someone who needs flooring tomorrow and there is nothing easy about it, but we take the extra step and get it done. We have always been based on our service."
In 2013, the company created a preferred flooring division to ensure the flooring was installed properly. "There are so many manufacturing brands and we would get complaints it was bad material and we were traveling constantly to look at jobs," Krienke remembers. "It wasn't the product; it was the people. We created this program and literally our complaints went from 50 to two per year because we monitor the job and people doing the installation."
"The industry has changed through the years with better products; it's our responsibility to introduce the products to our customer base," Harris describes. All the while, "We have pushed our manufacturers to develop products for us that resist and protect the floors from high moisture and enable faster installations."
Linron has partnered with Armstrong Flooring, a leading manufacturer of innovative flooring products, since 2015. "They have been a premier manufacturer and overall they have done amazing marketing and things for individual contractors," Krienke says.
For the third consecutive year, Armstrong Flooring named Linron its Recycler of the Year. Over the past four years, Linron has recycled 50 million pounds of vinyl composition tile through the Armstrong Flooring On&On Recycling Program. "Recycling has become a major focus," Krienke notes. "Everything on the floor is torn up and sent back to the manufacturer and recycled into a new material."
Epoxy Chip System
Last year, Linron began introducing its decorative underlayment and epoxy chip system that has quickly risen in popularity among its customers as a slip-resistant flooring option. "When it first started, it was seen mostly in garages for man caves, but now it is going in everywhere – universities, schools, libraries, restaurants and retail – and we have done one of our hallways so customers can see it," Adams notes. "The chip system with quartz and metallics has become really popular."
Linron trained its preferred flooring contractor network to install the flooring properly. "One of our groups of installers in Arkansas did the entry of a library and the board of directors fell in love with it and refloored the entire library," Adams says. "It looks fabulous. We even started doing it in fuel stations, as well. It brightens the whole place up and makes the space look so big."
The chip system is easy to maintain, which Adams says is a big selling point among its retail customers, as well as the ability to choose the color. The flooring is installed within two days, depending on size and the system is at an attractive price point. "The price point is excellent and offers our customers more options," Adams says.
Decorative Overlay
In addition to the chip system, Linron offers decorative overlays that can feature glass, oyster shells, different colors or anything a client requests. "It's amazing," Krienke says. "This is for boutique-type stores and even residential properties. This product offers endless possibilities."
Although decorative overlay has the same type of ingredients as concrete, which really took off in 2004 for retail flooring, it is a little different. "With concrete, you can only polish that slab so many times before getting into aggregate, so it's difficult to maintain the cleanliness of it," Krienke explains. "When we do the overlay, we put down a sealer and primer first to stabilize it better before pouring it and adding in glass or whatever decorative feature. You go back every year or so to put this polish on it to keep it refreshed and that's hard to do with concrete. For example, if you go into a store with concrete flooring and knock a jar of pickles off the shelf, it will stain the floor and you can't get it out. With overlay it won't stick."
The biggest challenge Linron faces with decorative overlay is reassuring its clients of the product quality because it is so new. To combat that, the company hosts pour demonstrations at its headquarters so clients can see how the flooring is done and the end-result.
A 10,000-square-foot boutique retailer, for example, can place decorative overlay in their shop and be up and running in 48 hours. "The products we use dry very fast," Krienke says. "We can go in to perform the demo, pour the floor and they can do business that next day and it looks fabulous. People are not creatures of change, but to be able to convince them they will enjoy looking at it and that the maintenance will be low is our biggest challenge."
Adding decorative overlay to its portfolio has opened the doors for Linron to provide a unique, one-of-a-kind look to boutique stores and has even seen interest from the residential market. Previously the company had only supplied flooring for commercial properties. Residential contractors are approaching the company at trade shows to learn more about decorative overlay for their custom homes. "This product is still pretty new and growing, but we expect in two years it will be 25 to 35 percent of the business," Krienke says.
Decorative overlay and its new chip system are just some of the ways Linron plans to continue to remain an industry leader moving forward. "We are picking up a lot of new business," Adams notes. "A big manufacturer of tile and floor coverings asked us to be part of their installation team and we secured flooring projects for a major hotel brand and big-box retailer this year."