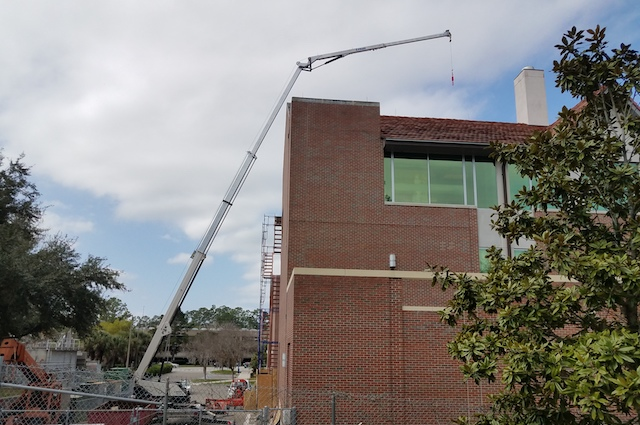 Lifting Equipment Solutions
Lifting Equipment Solutions offers an alternative to truck-mounted cranes.
With 30 years of experience in the roofing industry, Tony Hutten has identified a need for an efficient alternative to the truck-mounted crane in the North American market.
After locating a German manufacturer who was developing a trailer-mounted crane, Hutten acquired exclusive rights to be the North America representative for Paus Cranes, developed by Herman Paus Maschinenfabrik GmbH.
In 2010 Hutten founded Lifting Equipment Solutions and introduced North America to a new type of crane: Paus Sky Worker PTK 31.
With a 3,500-pound lift capacity and 101-foot "boom," the Paus Sky Worker trailer-mounted crane can carry out transport tasks with ease, speed and precision. Specifically constructed with roofers and carpenters in mind, this magnificent machine is versatile, lightweight and can fit into tight spaces.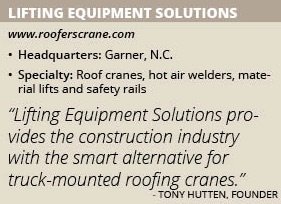 Its four individual fold-away telescopic outriggers enable the crane to be set up on narrow and uneven ground, like steps or high curbsides, while simultaneously being capable of reaching over a sloped roof.
"It is much quicker and less expensive to transfer the Paus Sky Worker PTK 31 from job to job," Hutten says. "And because it is lightweight, you can place this crane on top of a roof – increasing its effectiveness and decreasing the expense of renting a large crane."
Made out of aluminum rather than steel, the Paus Sky Worker only weighs about 7,700 pounds compared to a truck-mounted crane that ranges in weight between 50,000 to 60,000 pounds. Due to this efficient design, it can easily be pulled behind a normal pick-up truck.
Since the crane is on a trailer and not a part of a truck, the owner does not have to pay for large commercial truck insurance, for truck maintenance, or for a CDL driver to operate it," Hutten says. "Those are enormous cost savings."
Features and Options
With its 101-foot boom, the Paus Sky Worker can reach an eight-story building. Also, with a 3,500-pound lift capacity, the Paus Sky Worker can pick up roughly 2,400 pounds at 40 feet, 2,000 pounds at 50 feet and 1,200 pounds at 60 feet.
Among its many features, the crane can be operated by a radio remote control with an integrated visual loading indicator, giving the operator immediate visual feedback. Its remote-controlled wheel drive enables free movement around the jobsite without a truck.
"You can operate it from the roof," Hutten says. "The remote control also drives the crane around the worksite without damage to the property. Universities and historical properties are especially sensitive about their lawns and trees being damaged so this crane is a useful tool for those types of jobs."
Aside from the self-propel option, other accessories for the Paus Sky Worker include tipping troughs, tile grabs, pallet forks, roof racks, man baskets, self-dumping buckets, and a lowerable drive axle to avoid scraping effects.
"It has the ability to lift one of its axles," Hutten emphasizes. "A two-axle trailer is very hard to turn. This feature of the Paus Sky Worker makes it much easier to turn."
The Paus Sky Worker offers enormous flexibility due to its separately movable and telescopic supports. It has a fully hydraulic head jib which allows it to operate under extremely difficult circumstances. It's hydraulic toggle-knee joint allows variation of the articulation angle from 0 to 172 degrees.
Other highlights include closed aluminum profiles for enhanced stability, excellent driving and maneuvering qualities, precise working even at height of eight stories and it's easy to maintain.
"And it has state-of-art safety features," he adds. "When you pick up a load, let's say 2,400 pounds, and you try to lift it up too high for that amount, the machine will automatically stop you. A crane that doesn't have this will tip over if its load is too heavy."
Hutten has found that many of his customers find the Paus Sky Worker especially useful for jobs at educational institutions and historical properties.
"I have a roofer in Florida who bought one of my cranes because he got a contract with the University of Florida," Hutten says. "The building is in the middle of the campus and he has to move around the entire building. A normal crane would tear up their lawn, break the sidewalk and the tiles in the plaza."
Aside from being a useful tool for educational institutions and historical properties, roofers also like the Paus Sky because it allows them to set up on sidewalks without blocking the street – eliminating the need for a city permit. "So it's very useful in downtown areas," Hutten adds.
Although the majority of his customers are roofers, people in other Industries have found it useful. "I have one customer in the glass replacement business," he says. "The light weight and remote control allows him to work from the parking deck and to reach condo windows that he couldn't reach with other machinery."
Lifting equipment Solutions also offers training, service and replacement parts for its customers. The company has an in-house service department and offers mobile service as well. Parts and labor are under a one-year warranty.
Hot Air
Aside from cranes, Lifting Equipment Solutions also sells, services and distributes material lifts, safety rails and hot air welders – the company's second-biggest seller – which seal roof membrane seams without the use of a flame.
"When I first started in this business, all the flat roofs were hot tar roofs," Hutten says. "But now almost all flat roofs are membrane roofs." Membrane roofs are most commonly made from synthetic rubber, thermoplastic (PVC or similar material) or modified bitumen – often called modified roofs.
Lifting Equipment Solutions offers automatic, robot-welders and hand welders for both modified bitumen and TPO/PVC membranes. The Eagle 2010 hot air robot welder is used for TPO and PVC membranes.
It is designed for maximum production featuring patented, independently-variable temperature and speed controls, a digital temperature display, built-in electric surge protection and a wrinkle-less air dam. Other features include a selector switch for drive or freewheeling for re-positioning on the next weld.
The Eagle 2010 is a contractor friendly welder. Its controls are top-mounted and simple to set up and monitor. The hot air gun is easily detachable so the element and the thermocouple can be changed in minutes, even on the job, which saves down time and repair costs.
Modified bitumen contractors often use open flame torches to melt the material together. But, that is dangerous because there's an open flame and propane tanks on the roof.
Using the Eagle Talon 4000 Automatic hot air welder along with the 4200 watt Eagle 3000 Hand Welder, allows operators to eliminate the danger of an open flame, propane tanks on the roof, the need for CERTA training and the expense of the independent two-hour fire watch.
Both speed and temperature controls are analog which allows a single operator to begin welding with very little effort. Analog controls make adjustment simple in bright sunlight when compared to difficult to read digital controls.
The freewheeling feature makes for easy and simple movement back to the next seam. Also, the unique gimbal mount for the nozzle makes the initial nozzle insertion easy as a flick of the wrist. Once engaged, the unit begins to move automatically.
"It's made in America and it's less expensive than any other model and more durable," Hutten adds. Aside from being safer to use when compared to an open flame torch, hot air welders produce a job more aesthetically pleasing to the eye.
"People in the industry value craftsmanship," Hutten explains. "Using a flame torch, the hot flame will cause an irregular bleed out. An automatic hot air welder will run at the consistent speed and it will apply the same amount of heat for the same amount of time, making it a very controlled temperature melt."
Lift Me Up
Lifting Equipment Solutions also offers three different materials lifts: Easy, Easy Big and City Line.
"They are used to move equipment and supplies," Hutten says. "Their lift capacity of 880 pounds can reach from one to 11 stories – depending on the model. And they are not radio-controlled but they are electric remote."
The Easy Lift can hoist up to 69 feet and has a payload of 551 pounds. Due to its light weight of roughly 1,650 pounds and extremely low width, it can pass through narrow places. It's suitable for most vehicles and has a maintenance-free rail package due to its use of polyamide guide blocks.
It features a Honda gasoline engine, drawbar support wheel, non-tipping carriage, automatic anti-back winding device for hoisting winch and extension winch, steadily adjustable arresting device and a range of action at 360 degrees with minimum setting up space.