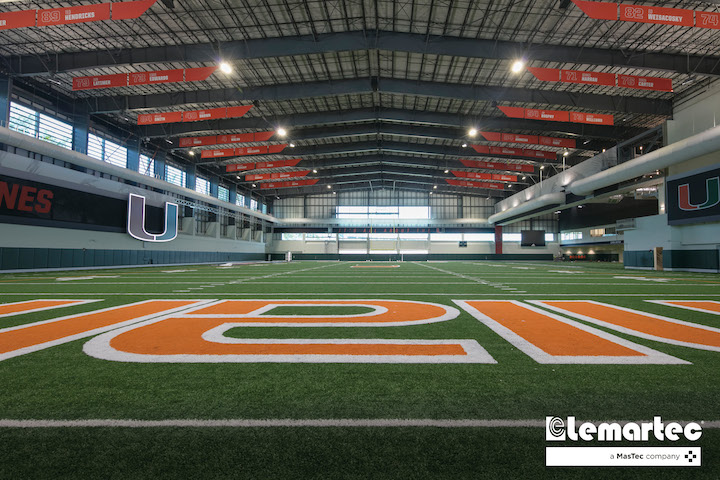 Lemartec takes steel design and construction to a new level.
Recognized for its vast experience in steel design and construction, Lemartec offers turn-key solutions for the industrial, commercial and transportation industries.
The Miami-based design/build and construction management firm, which is celebrating its 40th anniversary this year, has tackled a number of high-profile projects over the decades.
One of its most current projects was a $34 million football training facility for the University of Miami in Coral Gables, a city near Miami. The new 83,000-square-foot Carol Soffer Indoor Practice Facility was completed in fall of last year.
The air-conditioned facility has two fields – one 80 yards long and the other 40 yards – with the smaller field being underneath a mezzanine. It gives the Miami Hurricanes footall team a flexibility with its practice schedule — and a needed refuge when inclement weather hits.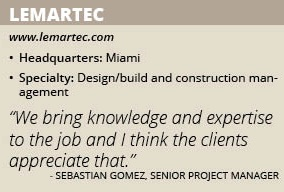 The facility also features new offices for coaches, lockers rooms, training rooms, conference rooms, media rooms and IT rooms.
"It is the first metal building of its kind in the city of Coral Gables," says Sebastian Gomez, senior project manager at Lemartec. "It was a challenging project because we had to work with the city to understand the process of building a metal building.
Lemartec also faced challenges due to a tight construction schedule. "We only had 9 months because the team had to start practicing before the season started," Gomez adds. "And another challenge was the space within which we had to construct it."
The area under construction was located next to the athletic department's existing building that was in use, as well as next to a water canal and a side field where the football team held its practices.
"We were in a really tight space for our construction equipment," Gomez says. "But in the end, it was a great accomplishment and we were able to accomplish it on time."
Soccer Stadium
Aside from the University of Miami project, Lemartec is tackling another high-profile project in association with English soccer player David Beckham, the current president of Inter Miami CF.
The new training facility and stadium for Inter Miami CF, a professional soccer expansion team based in Miami, is set to break ground in July. Scheduled to be completed in 2020, the project consists of demolishing the team's old Lockhart Stadium and replacing it with a 56,000-square-foot training facility and an 18,000-seat stadium.
Lemartec has partnered with Moss & Associates on the $120 million project – working together under the registered name Lockhart Construction Team. Moss is one of the southeast's largest privately held general contractors based in Fort Lauderdale.
"It's a really big project," Gomez says. "And on this project, there will be two challenges. One is the time frame and the second is the planning. We can't miss anything. We have to be very on point in our planning."
A Master Network
Founded by the Garcia-Tuñon family from Cuba, Lemartec is now owned by MasTec, an American multinational infrastructure engineering and construction company based in Coral Gables, Fla. MasTec acquired Lemartec last year.
As a MasTec Company, Lemartec is able to serve its diversified customer base. According to the company's website, it has a network of 22,000 skilled professionals and subject matter experts in engineering, procurement and construction across more than 400 locations throughout North America and the Caribbean.
The company prides itself on continually looking for ways to increase value and construction savings through value engineering, pre-construction services and a unique expertise in steel fabrication, supply and erection – no matter how complex the challenge.
"As a design/build firm, we are involved from the beginning of each job," Gomez says. "We are involved in each phase of the design and help the client through the entire process. We also bring knowledge and expertise to the job and I think the clients appreciate that."
Aside from sports venues, Lemartec has made a name for itself in the aviation, industrial and commercial markets. It has built various airplane hangars, chemical plants, sewer plants and biowaste plants. Other projects have included storage facilities, churches, warehouses and banks.
Lemartec maintains international capabilities and strategic partnerships throughout the globe to service the most complex of projects within the industries it serves. It is one of the largest builders of steel building solutions in partnership with world-class manufacturer BlueScope Steel and its subsidiary Varco Pruden.