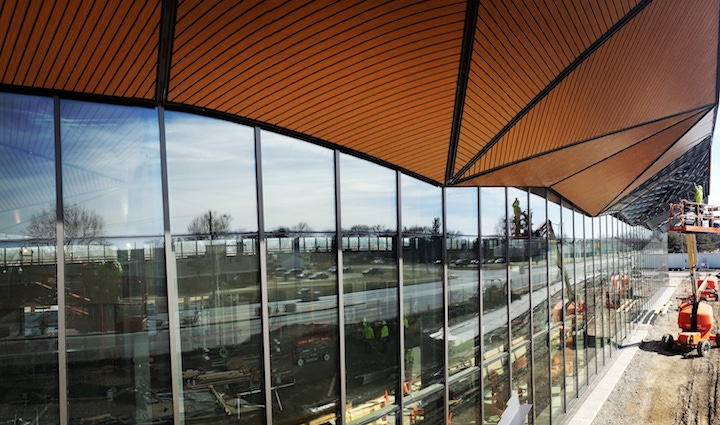 Lakeside Interior Contractors
Lakeside Interior Contractors celebrates its 30th anniversary. 
Lakeside Interior Contractors, Northwest Ohio's leading commercial interior and exterior finish contractor, is celebrating its 30th anniversary this year.
In observance of its milestone, the Perrysburg, Ohio-based firm has refreshed its brand by launching a new logo and stepping up its philanthropic efforts.
While the company has always believed in giving back to its communities, it is launching a new partnership with Habitat For Humanity this year. A global nonprofit organization, Habitat for Humanity is devoted to building affordable housing for individuals and families in need.
"We wanted to give back and say thanks to the community," says Matt Homier, vice president.
Lakeside teamed up with RidgeStone Builders and Habitat of Humanity of Wood County to help build a home in Weston, Ohio. The firm donated labor and materials that includes framing and hanging trusses, sheathing and siding, carpentry, interior drywall, flooring and installing all of the home's doors and vanities.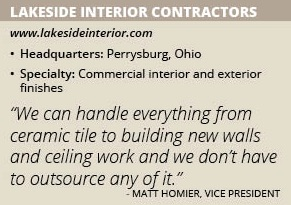 "It's a continuation of our tradition of community service," CFO Craig Huffman says, adding that Lakeside also partners with organizations like Ronald McDonald House Charities and the Boys and Girls Club of Northwest Ohio. "We are heavily involved with various charities."
Floor to Ceiling 
What started in 1989 as a simple source for carpentry and plaster needs, has grown into a company with a full range of floor to ceiling services that include drywall, painting and flooring.
"Our biggest asset is that we can handle all these scopes under one umbrella," Homier says. "We can handle everything from ceramic tile to building new walls and ceiling work and we don't have to outsource any of it."
Lakeside provides the labor and materials for many projects including metal or wood stud framing, insulation, interior drywall and exterior sheathing. Depending on the type of exterior finishes selected, the company can provide an Exterior Insulation Finish System (certified in both Dryvit and StoCorp) or simply paint the siding and trims.
Once the interior drywall is hung, its crew can tape and finish the board to desired specifications. Finishes include paint, vinyl/fabric wall coverings, rigid wall coverings with bumper guards/rails, ceramic tile, floor tile, rubber flooring, carpet and vinyl composition tile (VCT).
If a client wants exposed ceilings, Lakeside puts a finishing touches on the structural steel, decking, ductwork, and piping with a fresh coat of paint. Alternatively, a standard acoustical ceiling with various drywall bulkhead or "cloud" accents can be made.
"No job is too small," Huffman says. "We will do hundred dollar jobs to multi-million dollar jobs. That allows us to be partners with our clients, we can do anything that they need when they need it."
In addition, Lakeside is expanding its cabinet fabrication and installation services. Although the company has offered these services in the past, it is enhancing the offering to easily meet consumer demand.
"We're trying to take it to the next level," Homier says. "We recently purchased new custom cabinet software that allows us to handle our own shop drawings."
Lakeside has also developed a standard of expertise in project management and value engineering to continue its  focus on customer satisfaction.
Lakeside tackles a number of different industries. It does a lot of renovation work for healthcare facilities as well as for educational institutions, industrial and commercial markets.
Lakeside recently completed work on the new Mott Library branch in Toledo, Ohio. The 19,000 square-foot facility has an open concept design to reflect the outdoor beauty of Smith Park. Services on this project included metal stud framing, drywall, Rulon linear ceilings, painting and acoustical ceilings.
"The biggest challenge on this project was the different angles for that ceiling," Homier says. "It was a very intricate framing and ceiling job."
"It's not a normal ceiling grid," Homier adds. "This has a hanger system with clips and the panels themselves are 16 to 18 feet long and 4 inches wide. They are meant to be architecturally dramatic."
Another major project, nearing completion, is a 1.2 million-square-foot manufacturing facility for First Solar in Perrysburg Township, Ohio. Lakeside is providing drywall, ceiling and painting services for this project that has aggressive timelines.
"The biggest challenge was the schedule," Homier says. "It was a very large project with a limited time. We had anywhere from 10 to 20 workers onsite at any one time, working weekends to get it done."
Lakeside believes that its success and growth could not have transpired without its supporters throughout the years including clients, partners, vendors and employees.