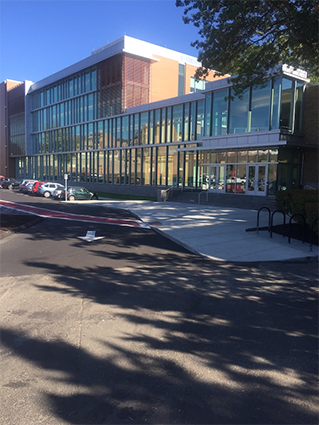 Christine Wargo loves crunching numbers. Pouring over construction cost estimates and preparing a bid document for a project is not a disagreeable task. She actually enjoys it.
"I'm a numbers person," says Wargo, co-founder of K&W Construction. "I love the numbers side of the business. At the end of the day, you feel accomplished when your books tie out."
Wargo, whose father worked in construction his whole life, obtained a college degree in economics from the University of Connecticut and then joined her father in the family business.
"I always knew that I would start my own business," Wargo says. "One day, my father approached me and said 'why don't we start our own construction company?'"

It was meant to be. Wargo and her father, Peter Kendall, co-founded K&W Construction in 1997 – named after Kendall and Wargo. They were joined by Wargo's cousin David VanGrowski in 1999, who has been overseeing the company's operations since 2017.
Although he retired five years ago, Kendall and his daughter grew the business into a successful construction company specializing in school construction projects as well as commercial and public building projects such as maintenance facilities, roads, libraries, hospitals and salt sheds west of the Connecticut River.
The Oxford, Conn.-based company's services include earthwork, drainage, water & sanitary installation, utility installation, soils remediation, sidewalks/curbs and segmental retaining walls.
"Our niche is school construction and public work," Wargo says. "We do some on the private side, but we're selective. And we do a mix of new construction and renovations and upgrades."
Since its inception, K&W Construction has successfully completed more than 50 school construction projects. "Our first project was a school," she adds.
Challenges Welcome
K&W Construction is currently working on a $6.5 million expansion and renovation project at West Haven High School in West Haven, Conn. The multi-phase projects, which broke ground in spring of last year, is targeted for completion in 2020. It calls for an addition of roughly 154,000 square feet and a renovation of about 112,000 square feet.
"It's challenging because it's an occupied school," Wargo says. "High school kids are walking and driving through the parking lot and may not always be aware of our active equipment, there are specific entrances and exits we must use and we can only use specific truck routes because it's in a residential neighborhood."
But this isn't K&W's first rodeo at an operational school.
"This is our third school of this size where we are doing a renovation in an occupied school in the past five years," Wargo adds.
K&W is the prime contractor on the project, working alongside Gilbane Building Company, which serves as the construction manager. The projects calls for renovation of the entire school and involves demolishing and rebuilding it in phases.
Award-Winning
K&W has become known for its school construction projects in Connecticut. Last year, it received a multiple of awards for its work in that market.
The company received two awards for its work on an expansion/renovation project at Orville H. Platt High School in Meriden, Conn. The Connecticut Building Congress (CBC) awarded the company its 2018 Project Team Merit Award.
In addition, the Associated General Contractors of Connecticut awarded K&W Construction its 2018 Build Connecticut award for the same project in the construction manager/general contractor for large renovation category.
Aside from those two awards, the company received an Award of Merit in the 2018 Project Team Awards competition in the Major Renovations/Expansions category from the Connecticut Building Congress (CBC). It was honored for its work on the Marion Peckham Egan School of Nursing and Health Studies Project at Fairfield University, Conn.
Public Construction
In the public construction market, K&W has tackled eight projects within the New Haven Rail Yard and is starting its for the Connecticut Department of Transportation. Serving as a subcontractor, the company has worked on projects involving drainage, water & sanitary installation and highway construction.
In addition, the company completed a challenging project for the City of Norwalk in December. The $5.3 million Raymond and Day Streets improvement project, which started in fall of 2017, involved working in a flood zone.
"The whole purpose was to redesign the roadways to raise them because of the flood zone," Wargo says. "At high tide, there was always one road that was underwater. Fortunately, the job was large enough that we had other areas where we could work during high tide, but in this area you had to schedule your work around the tides and the weather."
Serving as the prime contractor, K&W installed drainage and sanitary improvements, a new water main as well as making electrical upgrades and road and walkway improvements.
It worked with O&G Industries, which served as the construction manager, and the engineering firm Tighe & Bond. "It was a very successful project for all parties involved," Wargo says.
K&W Construction is signatory with the Operating Engineers and CT Laborers employing roughly 30 workers during peak season. The company maintains an extensive late model equipment fleet and when needed we rent specialty equipment to accomplish the task at hand. It has tackled projects from $200,000 to $12 million.