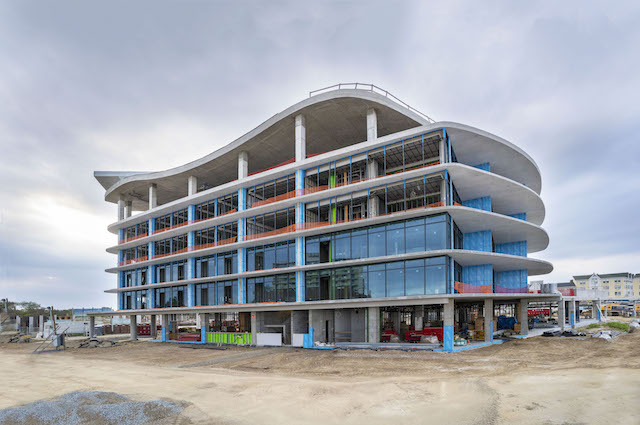 Wave Resort is set to become an amenity-studded oceanfront destination on the Jersey Shore.
A new luxurious hotel is preparing to open its doors and make a splash in Long Branch, a New Jersey shore town undergoing a major revitalization.
Wave Resort, a 67-room hotel set to open in May 2019, is being promoted as an amenity-studded oceanfront destination embodying five dining establishments, a spa, fitness center and banquet hall.
Located directly across the street from a boardwalk and a beach, Wave Resort will feature a spectacular outdoor pool deck with a curated dining experience and swim-up bar, corner bar with grab-and-go options and a rooftop lounge.
Kushner, a New York, N.Y.-based real estate developer with projects in New York, New Jersey and Maryland, believes that its new hotel will satisfy the area's shortage of luxury lodging options and elevate the surrounding Kushner-owned mixed-use properties.

"Wave Resort is really elevating the architecture of Pier Village and the Jersey Shore in general," says Jenny Bernell, executive vice president and head of development at Kushner. "Its distinctive architecture will enhance the area and draw locals, as well as tourists, to the hotel."
An Oceanfront Paradise
Wave Resort is adjacent to Kushner-owned Pier Village, New Jersey's blossoming oceanfront and dining destination situated on the iconic Jersey Shore town of Long Branch.
An oceanfront mixed-use development, the award-winning Pier Village comprises of about 500 rental apartments and roughly 100,000 square feet of retail and restaurant space built in a beachfront Victorian-inspired community.
Wave Resort's name was inspired by its unique wave-shaped rooftop. Bill Unger, executive vice president and head of construction at Kushner, says that the reinforced concrete structure has been coated white and features lots of glass walls and glass railings.
The modern hotel is also surrounded by decks that connect it to the nearby boardwalk and beach. "It's a very unique building for Jersey Shore," Unger says. "It's going to be a beacon at night with its lights on and glisten in the sun during the day."
The Wave Resort project was the result of Kushner's partnership with a number of other companies. AJD Construction was the general contractor, INSITE Engineering handled site and civil engineering work, Minno Wasko Architects handled architectural designs and Melillo + Bauer Associates was the landscape architect.
"The whole team did a tremendous job," says Karen Zabarsky, Kushner's creative director. "It's been a really extraordinary effort on everyone's part."
A New Division
Founded in 1985, Kushner entered the market with a focus on multifamily housing. Although multifamily residential developments are still the company's bread and butter, Kushner has evolved into a multiple of other markets that include retail, commercial and industrial.
Last year, Kushner launched its new hospitality division that focuses on developing hotels, with Wave Resort being a prime example.
"We are on a path of growth and expansion and continued development with top tier projects like Wave Resort," Zabarsky says.
Long Branch is undergoing a type of Renaissance movement. In the past few years, the area has sprouted a number of new restaurants, a brewery, parks, and event spaces.
At the center of Pier Village, a public grassy area called Festival Plaza is the site of regular events, including concerts, arts and crafts fairs, outdoor movies and holiday events. The ground level of Pier Village is filled with shops and restaurants while the upper floors contain ocean-view apartments.
In the past, the area has been known as a seasonal destination. But that's been changing in the past three years.
"Pier Village has truly become a 365-day community," Zabarsky says. "For example, we now host a regional kite festival every spring, and have an outdoor ice rink to keep the village active during the winter."
From Thanksgiving to Presidents Day, visitors lace up their skates and twirl away by-the-sea at Pier Village's iconic Ice At The Pier ice rink. It has proved to be a popular destination due to its scenic skating in the heart of Pier Village's decorated community, exciting shops and restaurants.
"Long Branch has been undergoing an immense new chapter of growth," Zabarsky adds. "Wave Resort, with its beauty, connection to public spaces, and diverse programming embodies the renaissance happening all around us."
Growing Strong
Overall, Kushner has more than 12 million square feet of new development in the pipeline in New York and New Jersey. The company has experienced immense growth last year with more than $4.34 billion in transactions. Aside from launching its hospitality division, the company has expanded its multifamily portfolio, increased its lending platform and grown its network of partners and lenders.
Kushner now has six hotels under its wing, two of which are ground-up developments. The two others include Hotel on Rivington in the Lower East Side of Manhattan and two New Jersey hotels: Princeton Marriott at Forrestal and Bungalow Hotel in Long Branch.
"The success of all of those projects is the result of the relationships we have developed," Bernell says. "I think that distinguishes us."
Kushner prides itself in being a quality developer, partner, operator and lender in the industry. Its mission is to provide its tenants with productive, efficient and state-of-the-art environments. "We really push the envelope and go the extra mile," Bernell says. "We are not status quo."