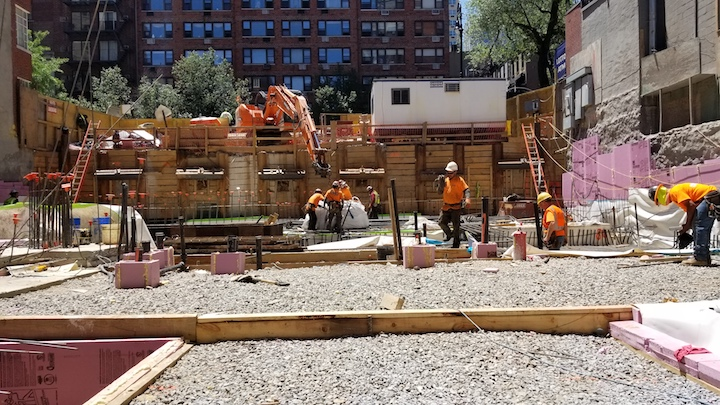 KSK Construction's new Manhattan apartment building will use drastically less energy than comparable buildings.
Imagine sitting in your New York City apartment in the heat of summer or cold of winter and not needing to turn on your thermostat. KSK Construction of Brooklyn is constructing a 22-story apartment building in Manhattan that will do just that.
The company is using "Passivhaus" – in English, "passive house" – a voluntary standard for energy efficiency developed in Germany. Its practice results in buildings that require little energy for heating or cooling.
"It uses 75 percent less energy," Project Manager Murat Mermer says. "Occupants should be comfortable in the summer sitting in the living room without using air conditioning."
KSK Construction broke ground on the 140,000-square-foot building at 511 E. 86th St. on the Upper East Side in 2018 and expects completion in March 2020. The $45 million building will have 140 units and include amenities such as a dog walk and wash area, open roof deck recreational area, gym, second-floor reading room and lounge, terraces, bicycle storage, media room and children's playroom.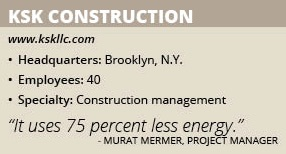 Construction at 511 East 86th has had its challenges. "You don't really know what's going to be under the dirt," Mermer says. In this case, the company found a 10-foot-deep and 70-foot-wide concrete mass that was left over from the previous building on the site. "And it was attached to the neighbor's foundation wall," Mermer says. "We had to remove that and bring in special cutting companies to disconnect it from the neighbor's foundation wall. That added another month to our construction schedule."
Another challenge was the 10 concrete pours KSK Construction conducted over the winter. Those required obtaining permits, using particular types of heaters, enclosing the area with tarps and keeping an eye on the heater fuel. "We gained the time we lost on those two items with good planning," Mermer says.
What Mermer is really excited about, however, is the energy efficiency of this building. "Building smarter buildings for energy is good for the world and everybody," he says. "Seventy-five percent energy savings for an apartment building in New York City is a big number."
The Passivhaus standard in the United States is based on five principles: airtightness, ventilation, waterproofing, heating and cooling and electrical loads. Projects must pass blower door, ventilation, overall and ventilation airflow and electrical load tests to be certified. Buildings must also pass standards involving use of low-emission materials, renewable energy systems, moisture control, outdoor ventilation and space conditioning equipment.
Among the steps it has taken to achieve that energy efficiency, KSK Construction is installing windows sourced from Germany that resist heat conduction by being triple glazed and having high R-value. Also, the company has added an energy recovery ventilation system to the mechanical systems, used ultra-effective insulation and installed low-energy lighting. KSK is also installing a "thermal bridge," a specially insulated structural element between each balcony and the building to block cold air.
"As a company, we are trying to be a leader in Passivhaus," Mermer says. "This is our third project. It looks like we have two more projects in the pipeline."
Saving Clients Money
KSK Construction was founded in the early 2000s by three partners with experience in heavy construction. The company began with small developments in Brooklyn and over time increased the scale and began working in other boroughs. Since then, KSK Construction has built more than 50 projects in New York City. Mermer has worked for the company for 11 years.
KSK Construction is a general contractor that builds hospitality and commercial projects but is best known for its residential buildings. Its projects are mostly in Brooklyn – where it has its headquarters – along with Queens, Bronx and Manhattan.
The company has a strong focus on saving its clients' money. "When we review the drawings, we come up with lots of ideas to lower the cost for the developer," Mermer says. "We come up with a good amount of savings on value-engineering studies."
KSK Construction provides its clients with an initial estimated cost breakdown, and then a control budget. During construction, the company will track actual costs versus its control budget on a monthly basis to identify cost overruns.
As part of its efforts to keep costs down, KSK uses value-engineering to find the most economical solution to engineering problems without sacrificing design integrity or worker safety.
KSK Construction is taking an extra step for worker safety on its 86th Street building. Besides having an in-house safety manager on site, the company hired a third-party safety firm that audits the project every two weeks. "They walk the job with our safety manager to see if we are missing something," Mermer says. "We are trying to implement this for all our other projects. It's important to have an accident-free project."
On-Time Development
The company provides a range of other services for its clients. For instance, KSK Construction coordinates with architects and engineers. That includes reviewing construction documents to provide constructability analysis, helping subcontractors interpret the construction documents, coordinating with design engineers and architects on any conflicts in drawings and overseeing the flow of all drawings, sketches and inspection services.
KSK Construction will also assist the lending institution with a monthly visit and a materials requisition list. The company monitors contractors and supervisors on a daily basis. KSK makes sure subs are meeting both time and quality goals and makes recommendations on increasing or decreasing staffing.
KSK Construction develops a construction project management schedule that it updates as needed. The company prepares bar chart schedules and conducts bi-weekly jobsite meetings with subcontractors to coordinate scheduled activities.
All of those services and the strengths of KSK Construction in value-engineering and costs savings have led to repeat business for the company. For example, the apartment building at 511 East 86th Street is the second project KSK Construction is doing for Sky Management. "We would like to have a good relationship with our clients and have continued business," Mermer says.