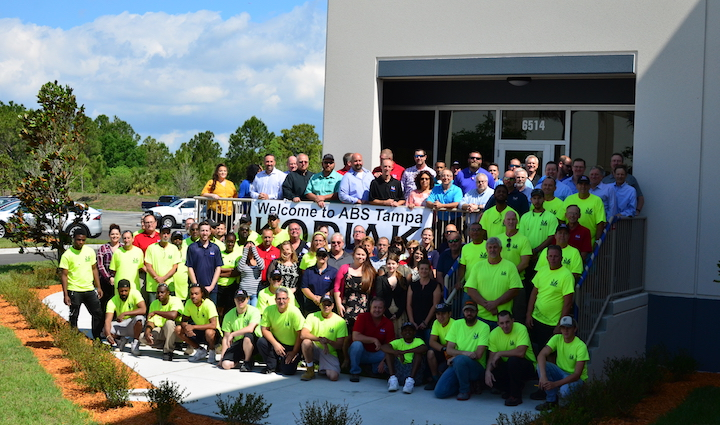 Fast-growing Kodiak Building Partners is diversifying its portfolio through new acquisitions. 
Due to the diversity in building codes and construction practices, Kodiak Building Partners believes that the way to win business is through placing trust into local leadership. That's why the fast-growing Highlands Ranch, Colo.-based company is further diversifying its portfolio through new acquisitions and investments into businesses that it keeps operating on a local level.
"We started the company with the vision of creating a decentralized and very locally-driven culture," CEO Steve  Swinney says. "We strive to build a very engaged workforce and push decisions down to those closest to the customer."
Kodiak serves general contractors, homebuilders, sub-contractors, remodelers and consumers with a diverse array of products in four market segments – interiors, construction supplies, building and lumber materials and  drywall.
Since its founding in 2011, Kodiak has added 21 companies to its growing portfolio – six of which were acquired last year. "I'd say six acquisitions represents a full year, but it was also our target," CFO Jeff Smith says. "We did what we intended and we expect the same pace in the foreseeable future."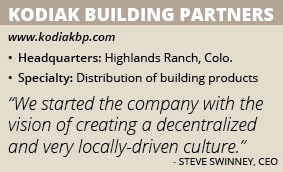 Kodiak acquired the operating assets of Direct Lumber and Door of Colorado – a provider of millwork, lumber, trusses and other products for the contractor and remodeling markets.
The company also expanded into the Pacific Northwest with the acquisition of Frontier Building Supply. A seven-location chain in western Washington, Frontier has joined the company's building and lumber materials division.
"We tend to be an acquirer of strong companies," Swinney says. "I think we have a culture that resonates with family-owned businesses and the legacy they have created."
Another addition to Kodiak's family of companies is Specialty Appliance, a Colorado-based appliance dealer that serves residential and pro markets. It joins Kodiak's interiors group.
The other three companies that joined forces with Kodiak last year were Forest Tek/Overseas Lumber (building supply dealer serving the Florida Keys), Builders Millwork (producer and supplier of millwork in the upper Midwest markets) and Foam Form (specialty distributor that joined with Jones-Heartz in Colorado).
Although Kodiak is the holding company, decision making is focused in its individual markets where employees can best tailor the assortments of goods and services to the needs of their local customers.
In addition, Kodiak retains the names of the businesses it acquires. "We think it's important to keep the local brand names," Swinney adds. "They are the real experts in their markets and customers trust them. We want to retain that."
Build And Grow
Determined to grow its portfolio even further, Kodiak added another new addition to its family of companies this year. Acquired in early May, Christensen Lumber is a Fremont, Neb.-based lumber, millwork and components distributor serving custom builders, semi-custom builders and commercial builders in the Omaha and Lincoln markets.
"It has an attractive market in the Midwest and their talented team will add strength to our LBM organization," says Mark Garboski, Kodiak's division president. "It's a third-generation, family-owned business that has been in business for almost 100 years. We're going to take great care of their legacy, their employees and customers and provide succession planning for the future of the business that will be beneficial to all the stakeholders involved."
Kodiak invests in housing and building products related companies with a long-term, build-and-grow strategy. The company's vision focuses on creating a platform of diverse and profitable investments across the building materials distribution spectrum.
A good example of this is Kodiak's acquisition in Tampa, Fla. Acquired in 2017, American Builders Supply (ABS), represented Kodiak's entry into the Southeastern United States market. Aside from Florida, the company has other business operations in Texas, Colorado, Michigan, Delaware, Maryland, Massachusetts, Minnesota, Wisconsin, Arizona, Washington, Nebraska and Kansas.
A fast-growing central Florida-based dealer serving production builders, ABS specializes in providing production builders with trusses, windows, millwork, doors, lumber and related products to production builders.
"They had a growth strategy in mind and we were able to support that expansion with this acquisition," Swinney says. "Our model works best where we can couple that local leadership and expertise with our support. That partnership with the Kodiak team and local operators is what drives the growth we've experienced."
Based in Sanford, Fla., ABS has facilities serving the Orlando, Tampa, Melbourne, Fort Myers and Jacksonville markets.
As it has done with other business it acquired, Kodiak has made significant capital investments into ABS. It has invested roughly $1 million into new automated equipment at ABS' truss facilities in Sanford and Winter Haven.
"It makes financial sense for us to invest into our Florida operations," Garboski says. "It will make them safer, more productive, more efficient and in the long term, more competitive."
Another good example of how Kodiak partners with the business it acquires is Denver-based Jones-Heartz Drywall Supply, supplier of drywall specialty products and interior and exterior gypsum.
"That business was led by a great entrepreneurial founder, Greg Lyon," Swinney says. "Greg had a really strong team and was able to hand off the reins to Beau Hayes and the talented team around him. They have continued the legacy of growth and success the Greg established. We were able to unlock the talent of a really great organization and leverage Greg across Kodiak more fully."
In 2017, Kodiak acquired Arizona Wholesale Supply Company (AWS), an appliance and flooring dealer that specializes in the support of residential contractors and their customers in the Phoenix, Scottsdale and Tucson markets.
"Kodiak made an investment into Arizona Wholesale Supply," Smith says. "We replaced their ERP system with improved technology and remodeled their showroom. As a result, we've increased efficiency and their capability to support their customers and we see a lot of opportunity for growth in that market."
A Unique Approach
Kodiak is building an organization with a diverse customer mix including new residential, repair and remodel, commercial materials distribution and infrastructure.
"We're always looking at opportunities for growth," Smith says. "If we see a market has long-term sustainable growth, we can see making an additional investment."
The company is owned by a combination of the management team and private investors, many of whom have been invested with the company since its founding in 2011. Its founding members have extensive experience in operating and growing businesses in the building products market.
"We had all previously been at a very large and centralized company and we learned about what works and what doesn't work," Swinney says. "We founded Kodiak with a different vision of how we wanted to lead in this space."
The  team has completed more than 200 acquisitions on a composite basis during the course of their careers and pride themselves on having built strong business relationships throughout the housing and construction market with customers, suppliers and professionals.
Kodiak started as a small building products company. Today, the company brings in roughly $1.2 billion in sales on an annual basis and employs more than 2,700 people.
Kodiak's business philosophy has allowed the company to prosper. For its customers, it strives to adapt its products and services to their needs. For its suppliers, it tries to represent their products with a strong marketing effort as well as effective distribution. For its portfolio companies, it provides financial, administrative and operating support to help them grow and reach their full potential.
"There are other great companies that operate in our space," Swinney says. "But in terms of how we operate and built the business, I think we're fairly unique."