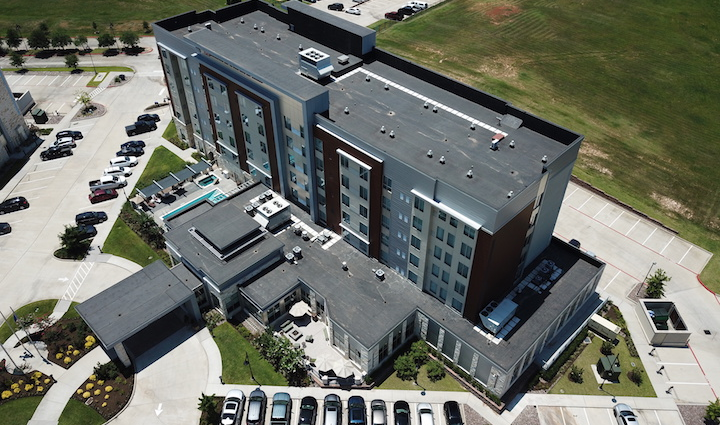 Kirtley Roofing & Sheet Metal LLC
Kirtley Roofing & Sheet Metal meets growing demand for TPO roofs.
When it comes to roofing, PJ Kirtley knows his stuff. His vocabulary is peppered with terms like "low slope," "built up," "modified bitumen" and "thermoplastic polyolefin."
He knows that a properly installed roof will save his customers thousands of dollars over the years and he knows how to install it. His customers – commercial developers and general contractors – also know it.
"We get a lot of business from general contractors through word-of-mouth without any advertising," says Kirtley, president of Kirtley Roofing & Sheet Metal. "And I've been with one of my GCs for 18 years."
Houston-based Kirtley Roofing & Sheet Metal specializes in the full-service design/installation and replacement of all-inclusive roof systems in the commercial market. A third-generation family-owned business, the company prides itself on functioning with integrity, honesty and an unwavering commitment to quality.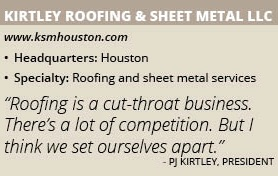 Its services include architectural standing seam roofing that's known for long life expectancy, energy efficiency and maintenance-free performance. Low slope roofing installations include built-up roofing, single ply and modified bitumen.
Tough and Energy Efficient
Although Kirtley Roofing & Sheet Metal is capable of installing a variety of roofing systems, thermoplastic polyolefin (TPO) flat roofs are quickly becoming an industry favorite.
The name TPO is a bit misleading because rather than being a plastic, the TPO roofing membrane is actually one of a few different types of rubber, usually a blend of polypropylene and ethylene-propylene rubber.
"TPO roofs are taking over the market because they are cheaper, durable and energy efficient," Kirtley says. "And they're cleaner and nicer looking."
When it comes to durability, TPO's tear-resistant, single-ply membrane resists chemical spills, oil and grease. These roof systems are also UV-resistant and fully recyclable. Since TPO roof systems are smooth-surfaced, they are also typically easier to clean and maintain than granular-surfaced roofs like modified bitumen.
"The majority of our work is now TPO," Kirtley says. "We started doing them about 20 years ago, but we saw TPO going in that direction. We were ahead of the trend."
Although TPO roofing systems are trending, Kirtley Roofing & Sheet Metal also installs built-up roofs, which have been common in the United States for more than 100 years.
"They are almost extinct now," Kirtley says. "It's hard to find someone that knows how to install them. But we still do built-ups."
Built-up roofs are commonly referred to as "tar and gravel" roofs and are generally composed of alternating layers of bitumen and reinforcing fabrics that create a finished membrane.
They are installed using several layers of a special type of roofing felt that has been asphalt impregnated and embedded in bitumen applied with a hot mop.
"Your typical built-up roof is more expensive than a TPO roof," Kirtley says. "On average, you can pay $7 per square foot for built-up roof and $5 per square foot for a TPO roof. But some customers still want them."
Built-up roofs are still liked by some retail developments where a number of different retailers share the same roof and it's a busy traffic area.
"Built-up roofs last a long time and it's easier to puncture a TPO roof than a built-up roof," Kirtley says. "Some retailers that have got a lot of people getting on top of the roof are going back to built-up roofs."
But many retailers still favor a TPO roof. It's a good choice for a single-source user, like a Best Buy or a large grocery store, he adds.
Also, a TPO roofing membrane comes in a variety of thicknesses – and the thicker the membrane, the less likely it is to be punctured.
"In Dallas and Oklahoma, they get a lot of hail storms so you use a thicker TPO," Kirtley says. "And you can also get a puncture warranty with a TPO roof."
Kirtley Roofing & Sheet Metal offers a full-range of extended manufacturer warranties for both built-up and TPO roofing systems. The company is an authorized installer for Firestone, Carlisle Syntec Systems and Johns Manville.
"You have to be licensed by the manufacturer in order to get warranties for their products," Kirtley says, adding that his company is a platinum installer with Firestone, which is the highest possible rating.
"There's probably 15 different manufacturers for these roofing systems but the three that I work with have a good reputation in the industry and they are in a lot of specification books," he adds.
Metal Roofs
Aside from TPO and built-up roofs, Kirtley Roofing & Sheet Metal installs metal roofs. They are made from metal pieces or tiles and characterized by their high resistance, impermeability and longevity.
Zinc, copper and steel alloys are commonly used. For metal roofs, Kirtley Roofing & Sheet Metal is licensed by MBCI Metal Roof and Wall Systems, Roofs of Distinction and Berridge Manufacturing.
"About 10 percent of my business is from metal roofing," Kirtley describes. "They are more popular in the residential market but you'll see them in the commercial market, as well. Since a metal roof is on a slope, [the roof] pops out and you can see it from the street. It's popular for aesthetic purposes. You'll see them on some fire and police stations and certain retailers."
When installing or repairing a metal roof, some roofing companies contract metal work out to third parties. But Kirtley Roofing & Sheet Metal fabricates its own metal, on site and in its own metal shop – with its own sheet metal fabrication equipment. Its sheet metal workers are highly trained to customize metal work and install it.
"A lot of roofers are really just brokers that use third parties because they can't afford to invest a lot of money into the equipment," Kirtley says. "We fabricate our own."
Award Winning
Kirtley Roofing & Sheet Metal places a high emphasis on the safety of its employees and the quality of its products. When it comes to safety, its employees receive education and training from the fundamentals set forth by the Occupation Safety & Health Administration (OSHA) guidelines.
Management is required to complete a minimum "OSHA 30" training and all field personnel must complete a minimum "OSHA 10" training to ensure a safe working environment.
When it comes to quality, Kirtley Roofing & Sheet Metal has earned a reputation in its market – evident by the volume of repeat work awarded to the company from its long-term clients.
"I've got two roofing superintendents and three project managers that are constantly overseeing installation," Kirtley says, adding that he employs roughly 75 people. "And when hiring new employees, I don't hire anybody unless I have a recommendation."
The company also has received a number of kudos and recognition from its industry. For example, Kirtley Roofing & Sheet Metal has been the recipient of the Firestone Master Contractor award, as well as the Johns Manville Peak Advantage Summit Club award.
In addition, Kirtley Roofing & Sheet Metal was the recipient of the Carlisle's Excellence in Single-Ply (ESP) award on numerous occasions. This award has become one of the most recognizable and prestigious achievements in the commercial roofing industry.
Only the most accomplished applicators achieve ESP status, a designation that provides customers with confidence that they have partnered with the very best in the industry.
A Growing Company
Founded in 2013, Kirtley Roofing & Sheet Metal started as a small roofing company that's blossomed into a well-respected player in its industry.
Over the years, its commitment to customer satisfaction has earned the company dozens of loyal clients and many projects through word-of-mouth. Due to its dedicated commitment to providing quality service, exceptional designs and an outstanding finished product, the company's reputation has strengthened with every project.
"Our customer service, manpower, honesty and response time are what separates us from everyone else," Kirtley says.
Operating predominantly in the Texas market, Kirtley Roofing & Sheet Metal has a broad spectrum of commercial clients that include distribution centers, movie theaters, grocery stores, schools, medical office buildings and some high-rise buildings. The company also has a lot of experience with public storage facilities.
"The roof on an average public storage facility is probably 40,000 to 50,000 square feet and it's a little bit more technical than a distribution center," Kirtley says. "On a big job like that, we'll run a crew of about eight guys and they'll average about 20,000 square feet per day."
A mid-sized company, Kirtley Roofing & Sheet Metal installs between 8 million and 9 million square feet of roofing systems on an average year. Its jobs range from installs a roofing system for $2,500 as well as one for $1.5 million.
"About 90 percent of our work is from new construction," Kirtley says, adding that the company has experienced a 15 percent growth in revenue on an annual basis for the past three consecutive years.
Aside from installing roofs, Kirtley Roofing & Sheet Metal provides 24-hour emergency leak repairs service with certified installers that apply roofing repair per manufacturers recommendations.
It also offers a wide-range of concealed fastener, architectural wall panels that can run either vertically or horizontally. The company can deliver multiple manufacturer designs with cost efficient aesthetics that can add value to any exterior wall project.
"Roofing is a cut-throat business," says Kirtley, who is a member of the Perfection Ten Council of Carlisle that focuses on quality in the roofing industry. "There's a lot of competition. But I think we set ourselves apart."