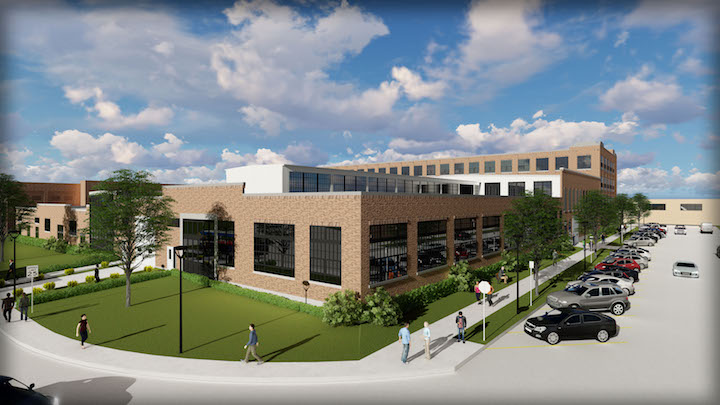 KCG Companies LLC – Badger State Lofts/Lofts at Globe Mill
KCG Companies takes pride in its new redevelopment projects in Wisconsin and New York.
KCG Companies is a relatively young company, but it operates with a team of industry veterans who carry years of experience. This gives the Indianapolis-based firm to the wisdom to make smart business decisions, Matt Gilhooly says.
"We have some really good building blocks in our principals and financial partners," he states. "Everyone on board with us now has come from a multifamily development or construction background."
Gilhooly is the vice president of development for the firm's KCG Development division. He explains that founder and President R.J. Pasquesi started KCG Companies in 2015 and has enjoyed rapid success in a relatively short amount of time.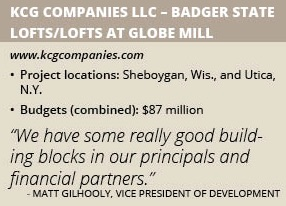 "In our four years here, we have closed on eight developments that will produce over 1,100 residential units and more than 20,000 square feet of commercial/retail space," Gilhooly says, adding that KCG Construction President Russell Maynard was a great addition to the team a few years ago.
"We were lucky to get Russell on board with us to provide direction on our existing portfolio under construction and to provide strategic direction in selecting which developments KCG Construction will build going forward," Gilhooly says. Maynard had already successfully built a construction team to serve as a sister company alongside a large development firm, which handled in excess of $200 million annually.
Unique Developments
One project that KCG Companies is developing and building is Badger State Lofts, located in the southern portion of downtown Sheboygan, Wis. The $33.5 million project will be the focal point in the city's new Innovation District, a home for innovation, entrepreneurism, employment and education.
For the project, KCG Construction will convert a nearly 100-year-old former tannery complex into a mixed-use development that features 118 living units and 9,000 square feet of commercial and retail space. "It takes up an entire city block," Gilhooly adds.
Because Badger State Lofts is a historic redevelopment, KCG Companies earned federal and state historic tax credits. "We were also one of the first projects to receive an allocation from the state of Wisconsin's new housing tax credit program as well," he adds, adding that it will be finished in summer 2020.
KCG Companies also is at work on the Lofts at Globe Mill, a mixed-use, historic adaptive reuse project in Utica, N.Y. Gilhooly notes that the project includes the redevelopment of the Globe Woolen Co. Mills, a former textile mill, into 149 residential units and approximately 9,500 square feet of commercial and office space.
In addition to federal and state historic tax credits, the project was enrolled in the New York State's Brownfield Cleanup Program due to residual soil contamination stemming from the facility's former uses, which also made it eligible for state brownfield tax credits. The project's capital stack ultimately included private equity generated from five different sources of tax credits (fed and state historic, fed and state housing, and state brownfield), a PILOT agreement, a sales tax exemption, a senior mortgage and soft debt from the New York State Housing Finance Authority, he adds.
The $53.5 million project is aiming for completion in 2020. "It has taken an army to get both of these projects to the finish line," Gilhooly says. "Both of these are going to provide very unique products at the end of the day."
Satisfying Work
The Badger State Lofts and Globe Mill projects have given Gilhooly personal satisfaction. "The idea of redeveloping under-utilized, historically important properties is unique and certainly very challenging, but at the same time very rewarding," he states.
"The end product is always worth the headaches and frustration along the way," he continues. "Everyone hates to see these old, dilapidated buildings falling into disrepair.
"Redeveloping them is something a lot of cities, counties and local stakeholders would like to see happen," he says, noting it is unique for projects like these to come together. "At the end of the day, the end products are not something that could be built from scratch."
Building Blocks
A longtime veteran of the construction industry, Gilhooly joined KCG Companies in 2015. Previously, he worked for City Real Estate Advisors in its construction and finance departments as well as for custom homebuilders in Charlotte, N.C. and Cincinnati, Ohio.
Since coming to KCG Companies, "It's really taken off here, we've quickly moved beyond just a start up" Gilhooly says, praising Pasquesi's leadership. "R.J. is a perfect leader for our organization. He's spent the better part of two decades in the industry, first in investment banking and then as the director of finance and development for a large multifamily firm, yet he's still a rather humble family man who makes it a point to connect with folks on a personal level and is genuinely invested in everyone's personal and professional growth."
He also praises the work of Maynard, who has more than 25 years of experience managing new construction and rehabilitation projects in over 30 states. That experience is "directly applicable to the multifamily industry and the tax credit industry," Gilhooly says.
KCG Companies also recently hired COO Peter Rutherford, who has held positions at Alliant Capital and Verizon Communications. "He brings a wealth of business knowledge and acumen to the team," Gilhooly declares. "We've really got some great building blocks that are providing the day-to-day direction."
The Right Path
Gilhooly sees a strong future for KCG Development and its parent company. "As developers, of course, you're always looking for that next project," he says. "Right now, we've got a new pipeline of developments coming in."
But the companies also will strive to maximize the efficiency of its operations so they can build projects that give them pride.
"It's really important to us that our tenants and local community are proud of the developments as well," he adds.
"We're trying to find the right path of how do we become the most efficient, how do we grow and how we ensure that we're providing the same level of services across our developments," he continues, adding that the companies plan to expand their reach. "We will double the amount of states that we're in and get another eight projects under our belt in the next two years."