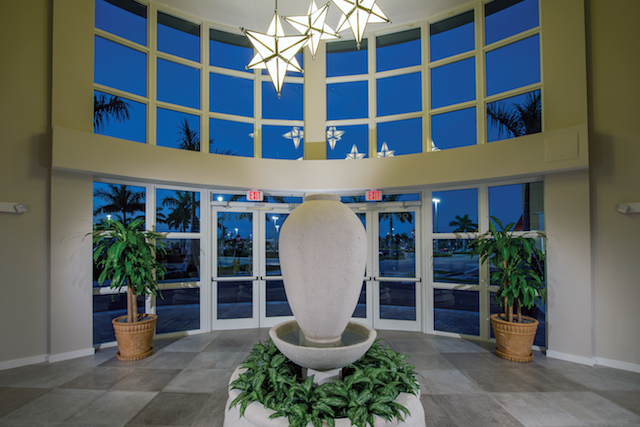 Kaufman Lynn Construction
Kaufman Lynn hires top talent and works in a variety of market segments.
When Mike Kaufman started Kaufman Lynn Construction in 1989, he had one push-button phone, a beeper and three employees. Thirty years later, the company has 207 employees, a well-known brand, a strong reputation and offices in Raleigh, N.C., and Austin, Texas, along with its Delray Beach, Fla., headquarters.
"The strategy was to create a company that would have market share in a wide number of types of construction rather than be a niche builder," Kaufman says. "While some of our niche competitors have done very well, it's been way more cyclical [for them]."
He adds, "Diversification helps us recruit and retain really top talent who have been subject to layoffs due to changes [in niche construction companies]. The more experienced folks get the concept of being active in multiple sectors."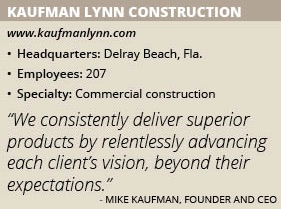 Currently, the biggest market segments for Kaufman Lynn are market-rate multifamily, senior living and general commercial, Kaufman says. The company is also engaged in construction for municipal, self-storage, universities and colleges, government, public safety, healthcare and parking garages. "It changes from year to year," Kaufman notes.
The firm conducts research to "peek around the corners" and see which market will do well next, Kaufman says. Staff pays attention to key economic indicators concerning the construction industry on both the micro level – such as project locations – and macro-economic cycles. "It provides us the data we can process to determine how the segment will evolve," he says.
While multifamily condominium construction is slowing down, the rental market is still very active and senior living is picking up dramatically with developers offering active adults lots of high-end amenities, he says.
Also, public-sector construction has had a resurgence. "For the longest time after the mortgage meltdown, public work basically stopped in 2010," Kaufman says.
Doing the Real Lifting
Besides being active in various market segments, Kaufman says there are three key ways that Kaufman Lynn differentiates itself from the competition.
First is culture, particularly career advancement. "The career-building we focus on keeps our people engaged and enthusiastic in moving up in their careers," Kaufman says.
Second is performance. "We build the buildings well," Kaufman says. "We have a unique and proprietary quality-control process."
Third is a focus on its clients' success. The company puts in the effort before breaking ground. "We are willing to do the real lifting in pre-construction," Kaufman says. "It takes a lot of focused effort and commitment to get the deals within budget."
For example, Kaufman Lynn engaged in two years of pre-construction work for the first phase of Siena Lakes, a $100 million senior living project. "There are very few companies that can commit and stay focused for a two-year stretch to work with the client and bring a project this size into budget," Kaufman says.
Finding Talent
As Kaufman Lynn marks its 30th year, it continues to grow, adding an average of five new associates per month. "Our biggest challenge with today's low unemployment is finding qualified construction professionals," Kaufman says. "Last year we hired an in-house recruiter. We are succeeding, but it is harder than it used to be."
Externally, Kaufman says the subcontractors it works with have the same challenges with retaining tradespeople and skilled labor. That's partially due to the severity of the Great Recession when many people left the construction industry. "We are learning to adapt and do more with less," Kaufman says.
Continuing Expansion
Besides staying diversified and continuing to recruit and retain employees, Kaufman says the longevity of his company is predicated on commitment to its clients. "We are committed to their mission, whether it's caring for seniors, educating students in a new school or helping corporate clients getting back to business in their new facilities," Kaufman says. "It's about fulfilling our clients' needs, desires and outcome for their facilities."
To do that even better, in 2017 the company opened offices in Austin, Texas, and Raleigh, N.C., and an office on Florida's Gulf Coast in the Fort Myers/Naples area.
That same year, Kaufman Lynn relocated from leased space to its own state-of-the-art headquarters building in Delray Beach, Fla.
Noteworthy Projects
Kaufman Lynn Construction has a long list of notable Florida projects including a top-to-bottom restoration of Miami's historic Freedom Tower that was originally built in 1925, Paraiso at Fountain Square apartments in Miami, the Moorings Park at Grey Oaks retirement community in Naples, the Florida Atlantic University Fitness and Recreation Center and the Pompano Beach Pier Parking Garage. The company was recognized for its work on behalf of both the School District of Palm Beach County and Miami Dade College and won several awards for its work on the Freedom Tower.
Kaufman Lynn Construction has several large projects underway. One is a $150 million renovation and expansion of the headquarters campus of JM Family Enterprises, Inc. in Deerfield Beach, Fla. Kaufman Lynn will construct eight structures, including three office buildings, a two-story dining hall, a 20,000-square-foot sports complex, a 900-vehicle parking garage, and a 55,000-square-foot conference and training center.
Additional projects in the works include 321 At Water's Edge, a collection of luxury waterfront condominium estates in Fort Lauderdale, Quadro, a 12-story mixed-use residential project in Miami, and Tower 155 in Boca Raton which has 133 opulent residences.
The company is working on a major upgrade of the Golden Glades Multimodal Transportation Facility near Miami for the Florida Department of Transportation, and a new hurricane-hardened police headquarters for the town of Jupiter, Fla.
Palm Beach State College selected Kaufman Lynn for its new dental and medical services technology building.
In North Carolina, Kaufman Lynn is partnering with WIMCO Corp., on the Pier 33 project along the Cape Fear River in Wilmington that includes six stories of luxury apartments and retail space. It is scheduled to open in fall 2020.