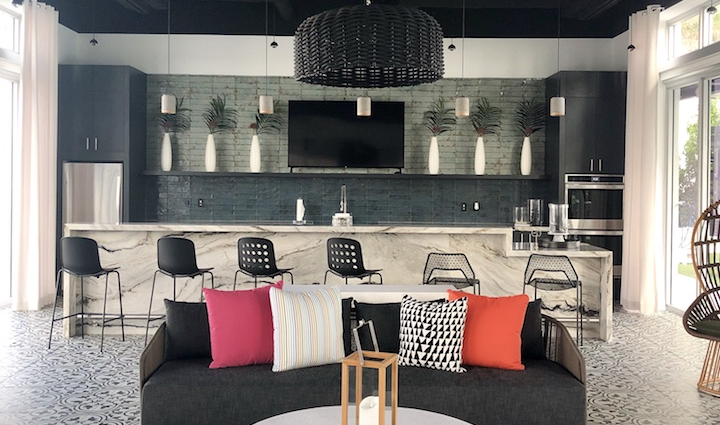 KAST succeeds by diversifying into multiple market segments and treating its employees' right.
Different construction firms start in different market segments and then expand. KAST Construction of West Palm Beach started in 2005 and was heavily involved with country clubs.
"Country clubs helped us grow early on when the company first started, West Palm Beach being such a big golfing community and all the country clubs there," Project Manager Bryan Mora explains.
Today, KAST Construction works in multiple market segments including multifamily, hospitality, commercial/retail, office, municipal, senior living, education and, of course, country clubs. Multifamily housing, particularly apartments, is KAST's largest single segment although the company tries – and succeeds – at staying diversified.
"The economy is doing pretty well," Mora says. "You can look any which way and you see three or four cranes going up. A lot of those are for multifamily. We are trying to get into government buildings, schools and transit projects to protect ourselves if the economy takes a downturn again."
Recently, KAST gained two school projects and a sheriff's office and completed work for a power company. "I think we're on the right track," Mora says.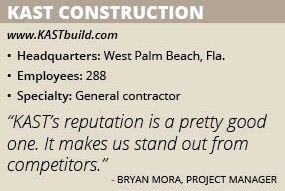 BIM Power
KAST has a strong and growing building information management (BIM) department that hired three people in the last few months. "We are definitely more hands-on," Mora says. "We are trying to get all the jobs into BIM to improve coordination and efficiency and reduce costs. Our technicians are constantly going to conventions and looking at new technology in the construction industry and vetting it for us."
KAST uses technology that offers time-lapse images of the project going up. Those images are sent to owners to help them visualize the status of construction.
In addition, KAST uses BIM to create videos to show to potential clients. "It lets other people visualize the work that is going to be done," Mora says.
To support these technology initiatives, the company recently upgraded its system for cloud sharing and documents.
Treating Everyone Right
In a tight labor market, KAST finds itself less challenged than the competition when it comes to finding both subcontractors and direct staff. The company's secret is simple: Treat people right.
"KAST's reputation is a pretty good one," Mora says. "It makes us stand out from competitors. Sometimes, general contractors in this area have a reputation of siding with the developers and owners and [taking advantage of] subs at the end of the day. We don't do that; we are nothing without subs. Our reputation is taking care of subs and trying to work together as a team. Subs are eager to work with us."
The same applies to its in-house staff. KAST recently hired a person from a large general contractor. Within a few months, three other people from that same contractor left to join KAST.
Besides internal referrals, the company attempts to recruit people early in their careers and train them. KAST also sends employees such as Mora to their alma mater and other schools to talk to students about careers in the construction trades.
To keep its workers safe on project sites, KAST holds a safety orientation for both subs and staff at the beginning of each project, followed by weekly safety talks. Safety managers visit the sites weekly – sometimes announced and sometimes not – and query all workers about whether they've seen any unsafe situations.
Midtown 8
In 2017, KAST started the Midtown 8 project in Miami, just north of downtown and within easy driving distance of Miami Beach, Miami International Airport and the gentrifying Wynwood neighborhood. The $85 million project consists of a 28-story apartment building of 457,720 square feet with 387 apartments ranging from studios to three-bedrooms. The building is located next to a 10-story garage and both structures have ground-floor retail. The project received a temporary certificate of occupancy in May and Mora anticipates the project will have its occupancy permit by early August.
Among its amenities, the Midtown 8 offers a co-working space, hammock garden, rocking chair lounge area, yoga studio, demonstration kitchen, juice bar, pool, gym, clubroom, dog walk and outdoor bar.
The exterior of the building features gray vertical stripes, balconies with mesh rail, aluminum canopy outside the retail space and seven pedestrian bridges between the building and garage with the top bridge being asymmetrical.
New tenants might want to take a trip to the top floor. "The views are pretty nice at the top," Mora says. "There is a view of Biscayne Bay, the Brickell area – which is what you always see in TV and in movies – and to the east you can see toward Miami Beach."
And then there are the apartments that Mora describes as luxury apartments with an industrial chic vibe. The poured concrete ceilings are left exposed rather than being ground down, the kitchens are done in Italian style with concealed cabinet handles and nicely designed islands, and the appliances are higher-end stainless steel.
Like any large project, Midtown 8 had its challenges. Among them was employee turnover among government agencies that regulated the project. A new fire chief asked his people to double-check on aspects of construction that his predecessor had already reviewed. City officials requested a change to the sidewalk that had already been preliminarily reviewed.
"We went to the city and said we are obeying the [building] code and working with you," Mora says. "At the same time, how can we meet in the middle? We needed to account for that time lost. As a result of these discussions, the City agreed to work with us to provide a conditional approval."
A more typical challenge was the weather. "During the first year, Hurricane Irma blew past us," Mora says. "It stopped work. We had to clean up, get things tied down and then ramp back up. We were able to take it in stride."