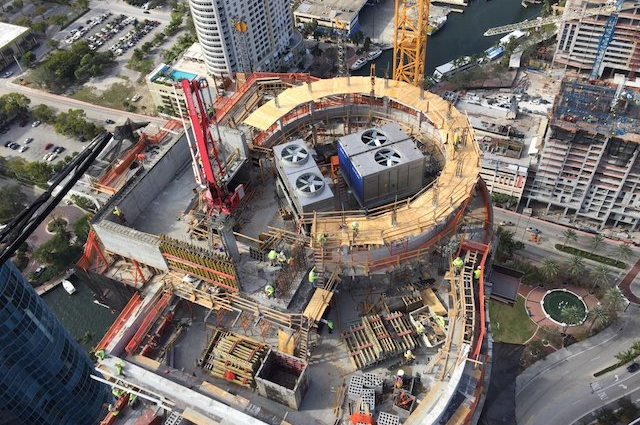 KAST Construction – 100 Las Olas
KAST Construction successfully navigates logistical challenges downtown Fort Lauderdale, Fla., where it is constructing the city's largest building at 499 feet tall.
KAST Construction builds for clients who follow a vision, tear down walls and build excellence. The company's mission is to bring those dreams into reality by developing projects that are a platform for economic growth and build better communities. "The culture among our ownership is really world-class, putting us in the right direction with good drawings and a great design team so we can succeed," General Superintendent Richard Chitwood Jr., says.
The West Palm Beach, Fla.-based company was designed and built in 2005 by top executives from the nation's largest and most prestigious construction firms. These industry leaders share a passion for continuous improvement, professionalism and attention to detail. "All the senior leaders who run the company are owners of the company," Senior Project Manager Diana Manning Yankee explains. "They are hands-on and our culture is very young, dynamic and energized because our leaders have ownership interest in the company."
At KAST Construction, everyone contributes to the success of a project and its primary focus on quality is what sets the company apart. A quality control manager is at the job site to ensure the process is done right, the building is durable for the long-term and the end product meets its clients' expectations. The company believes in offering the best construction services on a platform that empowers its employees to deliver unparalleled service to its customers.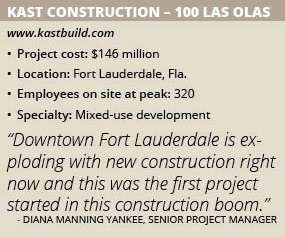 KAST Construction has made a point since its inception to not focus on a single sector, but ensure it remains diversified in many markets. The company has completed a number of condominiums, multifamily, hospitality, commercial, retail, office, municipal, healthcare, senior living and memory care, and education projects over the past 13 years. The company's services include preconstruction planning, construction phase services, virtual design construction, sustainability/LEED, safety and post construction services.
In addition to its headquarters in West Palm Beach, KAST Construction also has offices in Miami and Tampa. South Florida has been the main area of focus for KAST Construction, but the company is expanding to other areas of the state.
The Sky's the Limit
KAST Construction has extensive experience in the multifamily and hospitality sectors, which made it the ideal firm to oversee the construction of 100 Las Olas, a mixed-use development in downtown Fort Lauderdale, Fla., that when completed will be the city's tallest building at 499 feet. 100 Las Olas will be home to 113 luxury residences and 238 Hyatt Centric hotel rooms, fine dining and retail space.
"Las Olas Boulevard is the main street that runs through downtown Fort Lauderdale," Yankee describes. "The end where we are located has businesses, banks and law firms, and the middle section features shops and restaurants before finally arriving at the beach. We are only the second hotel on Las Olas Boulevard, and the other hotel opened 80 years ago. We have a relatively small lot that had been empty for over 10 years, and we are building it from property line to property line."
The 100 Las Olas lot has been a blank hole in Fort Lauderdale for years as projects that had been planned in the space never took off until The Kolter Group introduced a vision for luxury that is raising expectations for homebuyers and establishing new standards for the industry. "KG Las Olas, a Kolter affiliated company, is the owner of the project and a repeat client of KAST Construction," Yankee notes. "We have worked together on multiple projects, which gives us advantages in terms of efficiency like sharing a construction office for continuous interaction."
Construction at 100 Las Olas began in early 2017 and was the first of many projects that have begun in Fort Lauderdale over the past couple years. "Downtown Fort Lauderdale is exploding with new construction right now and has become all those things we talk about downtown cities being – walkable, interesting, energetic – and this was the first project started in this construction boom," Yankee notes. "Despite all the on-going construction, we are the only hotel project and the only condo project currently being built in the downtown area."
100 Las Olas will soar to 46 stories and encompass 760,229 square feet. The building will feature retail space on the ground floor and 436 parking spaces on floors two through seven, clad in custom lighted aluminum panels. The Hyatt Centric will be located above the parking area on floors eight through 15 and the condo units will span floors 16 through 46. 100 Las Olas will feature two pools – one for the hotel and one for the residences – as well as their own amenity floors. Hotel amenities include ballrooms, meeting rooms a lobby bar and a pool deck bar.
Careful Coordination
100 Las Olas' lot size encompasses only 38,327 square feet and the building is only eight inches away from the adjacent buildings. "We are lot line to lot line, so there is no laydown space and we had to secure a site offsite a few blocks away to use for parking and material staging," Yankee says. "Deliveries are one of our biggest challenges because we don't have space for trucks to standby and wait. Deliveries have to be scheduled precisely and they can't show up late because another one is scheduled right behind it."
KAST Construction used BIM to coordinate logistics and plan the hoist and cranes positioning. "We have three construction hoists on the outside, but the building does not have a flat façade. It was designed with radius balconies on the upper floors, which are set back from the lower floors," Yankee explains. "The exterior hoist runs straight up and down, so we had to leave out portions of the floor slabs on the first eight floors, which will be constructed afterwards."
KG Las Olas had to secure permission from the adjacent buildings for the two tower cranes to weather-vane over their buildings. The first tower crane was erected on Aug. 31, 2017, and Hurricane Irma formed a week later, tracking towards South Florida. "Unlike some other tower cranes in South Florida, our tower crane survived the hurricane with no damage," Yankee says. "KAST routinely requires our tower cranes to be engineered to a higher wind speed than the minimum required by codes, although this is an additional cost. During the hurricane, we were very relieved that our crane could resist higher wind speeds because three cranes fell down on non-KAST projects as a result of the wind. Ours was freestanding 200 feet without any damage."
KAST Construction prides itself on a culture of safety. 100 Las Olas has not had any significant safety incidents and received a Sunshine State Safety Recognition Award based on a voluntary safety audit. "Safety really is a culture and we focus on that 2/47," Chitwood says. "Safety is a major focus on every construction project and one of the things we are most proud of. We have a safety director on the job site three days a week and we also train the entire project team once a month."
KAST Construction held a top out celebration in December that included a barbecue lunch for 525 people who have been part of the construction so far. The company held a raffle for the workers, and prizes included gift cards, tools and over 40 flat screen televisions.
Construction of 100 Las Olas is expected to be completed early next year. "The biggest factor in maintaining a schedule is keeping everyone focused in the same direction and working to the end goal," Chitwood says. "Sequencing is the trick to making our schedule. We get answers to the field quickly so they can get materials procured. Keeping the whole project team – subcontractors, designers, owners and KAST – working closely together is the key to success."