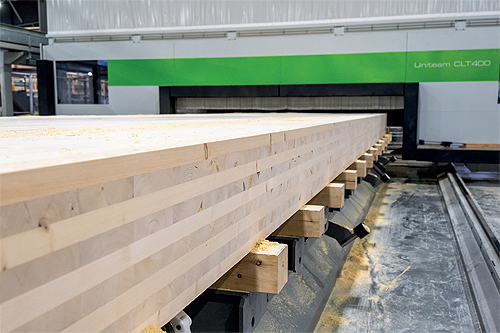 Timber that inspires
For more than eight decades, Kalesnikoff Lumber Co. has practised sustainable forest management, while supplying its customers with premium quality timber products
As the old saying goes, 'take care of the land, and the land will take care of you', and the land upon which Kalesnikoff Lumber Co. (Kalesnikoff) operates just happens to produce some of the highest quality fine-grained fibre in the world. That is because the land which this fourth generation, family-owned and operated timber business calls home is the forests of Canada's West Kootenay mountains, in southeast British Columbia.
Founded in 1939, Kalesnikoff is today North America's most advanced, vertically integrated, multi-species mass timber manufacturer. "The core of our business has always been forestry," explains the company's Chief Operating Officer,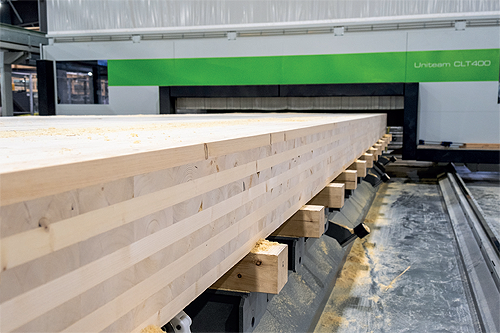 Chris Kalesnikoff. "Initially, we began life harvesting timber, before evolving into a fully-fledged sawmill operation and later adding our own mass timber plant. We are proud to say we are now fully integrated, from seedings to solutions. Throughout this journey, Kalesnikoff has remained a value driven company, and one that is focused on utilizing our timber in the best possible manner so as to service our global markets."
Kalesnikoff's reputation has been built on precision and quality, and coming from a strong entrepreneurial family, Chris is all too aware of the characteristics that have allowed the business to grow for more than eight decades. "Day in and day out, we are always looking at ways to maximize the value of our timber," he says. "We focus on speciality, high-quality products, such as cross laminated timber (CLT), Glulam beams, glue-laminated timber panels (GLT), Japanese grade lumber, and tongue and groove panelling. In doing so, we have established ourselves as a true multi-national business serving not only the North American market, but also customers in Japan – which has been one of our biggest markets for the last 20-plus years – as well as customers in Europe and Australia."
The company's resources and infrastructure today covers an area of land measuring approximately 40 acres. "For us – as you can probably imagine – it all starts with the forest itself, and we manage our own timber licence, harvest our own timber, and manage the land base through the re-planting of trees," Chris details. In 2019 alone, the company planted some 795,910 seedlings, equating to 657.5 hectares of forest.
"Next, we have our sawmill, which is one of the cleanest, well-run speciality mills in British Columbia," Chris continues. "It is here, within this modern, multi-species, 75 million FBM capacity facility, that we break the log down to create our initial lumber products. We then use our five premium steam injection dry kilns to dry all of our products to the tightest of specifications, before surfacing and planning them to create proprietary grades of wood.
"Finally, we have our 110,000-square foot mass timber facility, which opened its doors in late 2019. This is what we like to think of as our value-added site, and is where we work on our high quality, specialized, engineered wood products, such as CLT, GLT panels, and Glulam beams, and it represents a substantial investment in the long-term growth of the business."
Across both of its facilities, the company has also demonstrated its commitment to investing in state-of-the-art processing equipment, technology and other resources, again as part of its mission to maximize the value of the tree/wood itself. For example, it possesses one of three existing CLT presses in the world, which has been honed for the mass timber market, and allows the company to cure four meters in six minutes, with radio frequency and gluing techniques that let it cut, cure and process with extraordinary precision.
The first year of operation for the company's mass timber facility would, as fate had it, end up being the same year that the world faced the immense challenge of the Covid-19 pandemic. This, naturally, presented Kalesnikoff with a number of unforeseen hurdles to navigate. "What we found to our benefit," Chris reveals, "was that the companies that we partnered with in this investment and our customers very much understood our goals, believed in this new venture, and wanted to align themselves with it and with us. As a result, we secured numerous exciting contracts for 2020 and 2021, including an elementary school and a university residence. So, looking back now on 2020, we are incredibly proud of how our teams handled the difficulties faced, and are grateful to them, our customers and our partners for how the year ultimately turned out."
Looking ahead, the company is predicting a strong 12 months in 2021, both when it comes to its lumber activities and its end products lines. "We see strong levels of demand out there for sawed lumber and mass timber within our existing markets, and going forward I think there will be even more opportunities for us to grow and evolve as a business as further downstream channels open up to us," Chris declares. "Personally, I am excited to see how we will continue to serve the construction industry over the coming years. From starting life as a forestry company, Kalesnikoff has evolved into something that is far more than just a manufacturer of timber and lumber, and this pattern of growth will only gain momentum as we further refine our own expertise. This will allow us to serve our customers better-still as we help them to bring their projects out of the ground."
Kalesnikoff Lumber Co.
www.kalesnikoff.com
Products: Mass timber products and lumber company