JR Vinagro sees enduring success in the commercial and residential building markets
Superior site development
With a variety of specialized services, ranging from site development to demolition and recycling, JR Vinagro (JRV) continues to thrive in the New England construction market. Driven by efficient and effective teamwork, the company has built strong, long-lasting partnerships with a range of clientele in the public and private sectors.
"Based in Johnston, RI, JR Vinagro is amongst the largest independently owned and operated demolition, site development and crushing companies in New England," begins JRV's Vice President of Operations, Steven Lombardi. "We currently operate 100 trucks daily, and maintain an extensive inventory of heavy construction equipment, which we use on some of the region's most high-profile and demanding projects.
"We are proud to be a family-owned business. The company's owner and President, Joseph Vinagro, is committed to his customers as well as his employees. Safety and quality of work are extremely important values for the company, and we take them very seriously.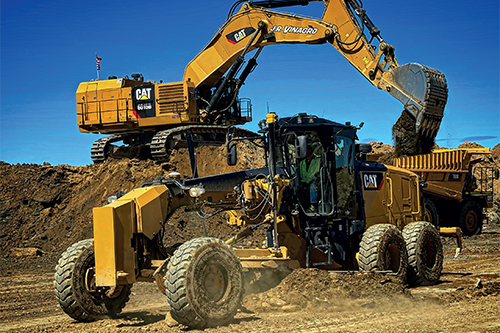 "Joe has a total hands-on approach when it comes to business. This ethos is shared amongst the employees and motivates all of us to strive for continuous growth.
"JRV also own and operate a C&D processing facility, which maintains an incredibly high recycling rate. With this addition, JRV has been able to build its own ecosystem, which allows us to be very successful, even on the toughest projects and schedules," he continues.
Offering a diverse portfolio of specialized services, and cutting-edge equipment, has helped JR Vinagro differentiate itself from the competition. As Steven discusses: "We offer a range of expert in-house services, designed to provide our customers with the most comprehensive support possible.
"We offer services in three main categories, the first being site development, which includes mass excavation, building excavation, underground utilities, and finish work. Secondly, we have expertisein demolition work, specifically withheavy civil bridge, highway and building demolition, which comes with full-service abatement.
"Our other services involve crushing, including portable rock and recycled product crushing, full-service quarry work, land clearing and recycling. Our land clearing services are diverse; we can support customers with logging as well as wood product processing. We also offer access to our state-of-the art recycling facilities in conjunction with any of our other services. Our recycling machinery is capable of processing tough material, including asphalt, and concrete making it ideal for reducing waste on large construction sites.
"We are excellent at what we do; our teams can perform large jobs faster and more efficiently than the industry standard by being in control of almost all scope items related to our work. Each division within JR Vinagro complements and supports the others, in a way that makes us exponentially more effective and successful."
With years of experience and an unparalleled reputation, it comes as no surprise that JRV is a trusted partner to many leading commercial and residential builders across the New England area. "Each division within JR Vinagro has a unique customer base," explains Steve.
"Our site development teams primarily work with private property owners, including landlords and developers. We have seen great success as of late in the public-school market, but due to the way these projects operate, they are also similar to our private customer base in terms of interaction and process.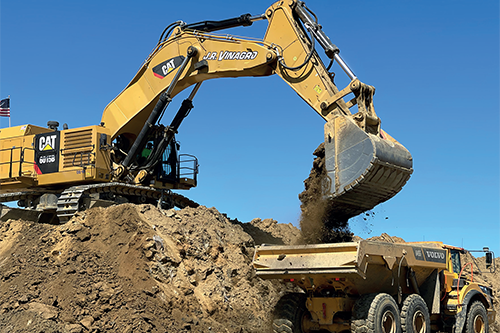 "In terms of demolition, we enjoy a mixture of public and private work, in a range of sectors. Similarly, our crushing department works with both kinds of clients. A considerable portion of our crushing customers are businesses, ranging from locally-owned facilities to internationally-owned corporations. We also get hired regularly as a subcontractor to other site development companies through this branch of the business.
"Finally, on the land clearing side of things, we also work with a range of public and private customers. This division works in collaboration with other site development companies most frequently. One of the reasons we have been so successful in this area is our ability to work effectively with, and integrate smoothly into, external projects," he elaborates.
In order to ensure it provides the highest quality service to customers throughout the business, JRV has made investments into leading GPS and data technologies. JRV uses a lot of cutting-edge software within the business, with the aim of optimizing our processes and supporting our clientele. Recently, we have made particularly effective use of our all-in-one GPS grade control system, which is used on much of the in-house equipment.
"Implementing GPS grade technology as a standard is a big commitment to make, but it has all been completely worth it. Similarly, we have also invested heavily into survey drones. These devices help track production, cost and are even used in simple record keeping. Their overall effect has been really positive for the business."
Efficiency is central to JRV's mission, as Steven affirms: "Getting the job done on-time is an important part of what we do as a site developer. We increase efficiency in a number of ways, including having a strong and positive company culture. We also make good use of the GPS software which is used to turn our drone work into simple and usable data. This keeps the company transparent and helps make important information legible to all parties.
"In a similar vein, we use Foundation Field Log for all of our timekeeping needs. This helps us manage our teams and ensure everyone is accounted for. We also use Bluebeam, which is a project management software. The program has become standard for most of our project management staff, as it helps streamline processes and promotes synergy between different teams within the business."
The strategic use of these systems, as well as its diverse range of capabilities, helped JRV successfully complete on two major projects this year. The company was contracted to work on the construction of a public school and a large-scale warehouse simultaneously, as Steven reveals: "Both of these projects required extensive time and resources, much more than we ever thought we'd need for a single site. We had to put the right people on these projects, without distracting from the various jobs we also had active at the time.
"An added challenge was the fact that both of these projects broke ground during the height of the supply chain crisis, which meant we had to be very creative, and think outside of the box, when procuring resources and labor for the jobs. It is one of our proudest accomplishments that we were able to get that massive amount of equipment secured in such a short amount of time, especially under such unique circumstances."
This ability to work under extreme conditions and problem-solve in the moment also helped JRV succeed during 2020's Covid-19 lockdowns, as Steven details: "Our biggest challenge during the pandemic came as a big surprise to everyone. When the government put the country into lockdown, the ownership agencies took advantage of the decreased traffic and pushed us to do double, or even triple, our usual production amount on high-exposure projects.
"As the world was shutting down, we were ramping up. It was definitely a surreal experience, but it taught us a lot about adaptability, and showed us what JR Vinagro is really capable of. Since then we have completed some of our biggest projects to date, and we are looking forward to more in the near future," he concludes.
JR Vinagro
www.JRVinagrocorp.com
Services: Heavy Earth/Heavy Civil Site Development