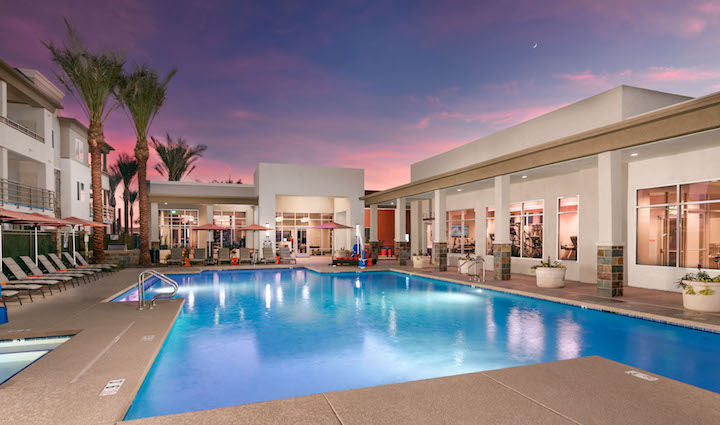 JPI leverages its 30 years of industry experience to continue developing in-demand Class A multifamily communities throughout the Dallas/Fort Worth area.
JPI specializes in the development and investment management of Class A multifamily assets, consistently ranking as the No. 1 builder in the Dallas/Fort Worth area as well as in the state of Texas. Celebrating its 30th anniversary this year, JPI prides itself on having an unmatched depth of industry-specific experience building "living experiences" with leading-edge services and amenities that provide a pleasing and responsive environment to its residents.
"We produce more units than our competitors by three or four times," Senior Vice President Regional Construction Partner, Central Region Scott St. Clair says. "We typically have 15 projects under construction in Texas, or about $1.2 billion, under construction at any given time. We have six to seven starts per year and by the end of August, we will have 15 projects under construction with four additional starts planned before the end of the year."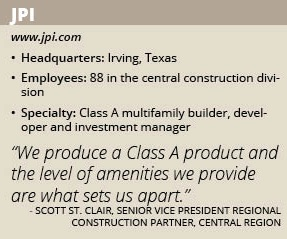 JPI specializes in garden-style communities, mid- to high-density wrap and podium projects, and mixed-use high-rise developments. The company was ranked the eighth-largest multifamily developer and ninth-largest multifamily general contractor in 2019 by the National Multifamily Housing Council.
"We produce a Class A product and the level of amenities we provide are what sets us apart," St. Clair says. "We are introducing newer and smart-home technology in our units and our total amenity space is 10,000 square feet."
Each of JPI's developments feature a variety of amenities, including a fitness center that would rival any 24/7 fitness facility in the market, club and pool areas, rooftop amenities, common areas, dog parks and washing stations, and more. "One of the things I hear quite a bit is people looking at different communities close to ours, but they always come back to us because our amenities really set us apart," St. Clair emphasizes. "The younger generations aren't buying homes right out of school, so most places are becoming more pet friendly and we make sure we have enough amenities to accommodate their pets, as well."
In addition to its headquarters in Irving, Texas, which oversees its Central Region, JPI also operates an office in San Diego that oversees its Western Region. "The Western Region does about half the work we do in the central division as far as number of projects, but in terms of dollar volume, we are about the same because the cost of land and building in California is much higher," St. Clair explains. "We have $1.2 billion under construction in each area, so we are about a $2 billion construction company with 15 projects in Texas and seven on average in California."
Solid Structuring
As a result of its growth and part of the company's long-range planning, JPI is expanding and adjusting its senior leadership team structure to focus on optimizing current and future market opportunities. These changes will be instrumental in maintaining the company's commitment to its mission and creed.
Within that creed, adopted almost 30 years ago, the first line reads: "It is our purpose to build a company that will endure for our friends and associates, that will command the respect of our peers, and that will quicken the pride of succeeding generations."
As JPI enters the next phase of its organization planning, it will establish a board of directors consisting of Bobby Page, Ron Ingram, Mark Bryant and Kirk Motsenbocker, who previously served as the company's executive committee. The board of directors will provide advisory support, consulting with the company's senior leadership team regarding strategic and operational direction and planning of the company, oversight monitoring of the company's performance and general corporate governance.
Brad Taylor, formerly JPI's chief development officer and national managing partner, was named CEO in July. In his new role, Taylor will lead the company's day-to-day operations. "The future is incredibly bright for JPI," he says. "I consider it an honor to lead this organization of talented individuals, and I believe that our people and their unwavering commitment to excellence will fuel the success of JPI for years to come."
St. Clair came to JPI in May 2015, bringing with him more than 29 years of construction experience, 17 of which were in the multifamily sector. He is responsible for managing all the construction activities performed in the Central Region, including preconstruction management, final design and budget from inception to acceptance of projects. "I am focused on the Central Region and have a counterpart in California," St. Clair adds. "We are one company with two separate divisions. Although we collaborate, we have two completely different organizational charts."
Hiring Top Talent
St. Clair oversees a team of 88 construction associates in the Central Region. "JPI was recently selected as one of Dallas Business Journal's 2019 Best Places to Work," he notes. "I think that's due to our reputation and culture. We are really focusing on the millennials getting out of college because they have to be managed different."
JPI has noticed a shift in the construction industry today due to the management of millennials, including a greater focus on culture and implementing technology. "I think construction historically has been a very positional, organized industry and we are moving toward more servant leadership," St. Clair explains. "People are more inclusive and being pulled into decision-making and getting buy-in and building trust throughout the team members. It's just a different way of managing people."
The company has become more flexible with people's time and creates individual development plans for all incoming associates. "Culturally, I would like to continue to develop JPI's Central Region and make it the best construction company to work for," St. Clair says. "We put a lot of value in our employees and really want to make it a place they want to come to work and stay. With the workforce coming out of school and the younger generation, there has to be a culture shift to attract and retain the best."
JPI's strategic business plan is continued growth, and it will continue to look at new technology in terms of building and how it manages and monitors its sites. "For example, we are using cameras and video surveillance for site security," St. Clair notes. "It's amazing the leaps and bounds happening in construction. The two things leading change in construction are culture and technology. If you are not investing time and development in technology, you will be left behind."
Changing Landscape
In the Dallas/Fort Worth area, JPI is starting to see rents stall while the cost of construction continues to rise. The company is also seeing a saturation in the types of buildings being developed. "Up to 2018, we were building the wrap-style projects where the building wraps around the courtyard and garage," St. Clair says. "We were building about 80 percent wrap-style and 20 percent garden-style, but with the shift in rents and market saturation, in 2019, we are focusing 80 percent on walk-ups and 20 percent on wraps."
Wrap-style developments are typically built in high-density, urban areas because there is a smaller footprint of land while walk-up garden-style developments may be on 10 acres or more with five to 12 individual buildings in the community.
JPI is adept at creating a business plan that looks out a year in advance and even further to see how the market will shift and how it will react. "That's another way we have been successful in staying ahead of our competitors," St. Clair says. "We make sure we are being proactive and focusing on the market in terms of rent and demand."
Developing in Dallas
JPI broke ground on the first phase of Jefferson West Love in October 2016, and with rapid success, the $200 million mixed-use development quickly became one of the most popular up-and-coming communities in Dallas. Supplementing phase one of Jefferson West Love's 368-home community, JPI will add an additional 354-home community to the west side of Mockingbird Lane.
"In one of the nation's most robust markets for multifamily homes, Jefferson West Love combines luxury, upscale living with the livable, walkable environment that the West Love development provides," says Matt Brendel, senior vice president and development partner at JPI. "There is no doubt that the West Love development is going to be a top attraction in Dallas, and we're extremely grateful to be a part of this exciting venture."
Jefferson West Love was named the 2017 Multifamily Development of the Year in the Mid-Rise category by D Magazine. It is part of a $200 million mixed-use development that, when complete, will include up to 200,000 square feet of office space developed by KDC, 65,000 square feet of retail and restaurant space, and a $40 million 244-room combination Aloft and Element hotel by Westin.
The development will be conveniently located near the Dallas Love Field Airport, the Stemmons Corridor, which is home to more than 5,000 businesses that encompass about 10 percent of Dallas County employment, and the Medical District that is undergoing an expansion that will employ more than 35,000 people.
Residents of Jefferson West Love will enjoy concierge service, a bike storage and repair room, a resort-style pool and state-of-the-art fitness center and yoga studio. Individual apartment homes will feature side-by-side refrigerator with icemaker, urban ceilings that are 10 feet or higher, granite or quartz countertops, designer appliance packages, urban mudrooms and separate showers in select homes.
The Las Colinas Boom
JPI recently completed Jefferson LasCo and will begin construction on Jefferson Innova in Las Colinas, the booming upscale community of Irving, Texas. "If you live in north Texas, you've probably noticed the explosive growth Las Colinas has undergone over the past few years," says Matt Brendel, division president and managing partner for JPI's Central Region. "Las Colinas is thriving. Given the addition of recently constructed entertainment venues, new restaurants and retail stores, as well as significant corporate relocations, it's easy to see why. Even with such impressive growth, this only marks the beginning for Las Colinas."
In April, JPI announced the sale of Jefferson LasCo, a 422-home, mid-rise apartment community distinctly designed to serve the residents of Las Colinas. The company developed and built Jefferson LasCo in 2018 and since then, it has been a top performer in the Las Colinas submarket.
Jefferson LasCo overlooks the scenic Campion Trail and is conveniently located near the Toyota Music Factory, the Las Colinas Urban Center DART rail station and Lake Carolyn. The development provides the perfect mix of stress-free living and abundant nightlife and outdoor recreation options.
Pacific Life bought the community with confidence, understanding the value of the excellent surrounding demographics, desirable core Urban Center location and best-in-class new construction, JPI says. "Add in the unmatched luxury finishes within the apartment homes and extensive amenity package, and you have a company that simply cannot be replicated," the company adds.
In August, JPI announced the close of construction financing on Jefferson Innova, phase two of its under-construction Jefferson Promenade in Las Colinas. "Las Colinas is JPI's most active submarket," says Miller Sylvan, senior vice president and development partner for JPI's Central Region. "The future is really bright for Irving. The dynamics and fundamentals of this area cannot be denied, and we look forward to continuing to play in this area's growth."
Jefferson Innova, the company's 11th community in Las Colinas, will consist of 433 apartment homes over a span of five acres and is scheduled to open spring 2021. It will feature a rooftop pet park with grooming station, Uber lounge, resort-style pool, business center, state-of-the-art fitness center with spin and yoga studio, coffee bar and two outdoor kitchens. The development will also offer residents access to the Irving Convention Center DART station and proximity to the Irving Convention Center and Elm Fork Trinity River.
On all of its projects, JPI takes pride in its long-term relationships with subcontractors. "We have long-term partnerships and use them continuously from project to project," St. Clair says. "Those relationships are one of things that have made us successful and part of our secret sauce. If you treat people right, treat your subs or trade partners right, they will take care of you."
JPI says it is humbled to continue working with a group of A-list consultants within the multifamily industry. Humphreys & Partners is the architect on Jefferson Innova and Studio Outside is the landscape architect.
"Las Colinas is a high-performing submarket for office space, entertainment and living," Taylor says. "This is one of the central hubs for the Dallas/Fort Worth metroplex and exemplifies our focus on ensuring a live, work, play environment for our future residents. We'll continue to be active in this area, which is in our own backyard, for the foreseeable future."
SIDEBAR – Giving Back
JPI doesn't just build communities, it actively pursues initiatives and causes that help support the larger communities. The company supports Vogel Alcove, which is on a mission to help children recover from the effects of homelessness. It also supports The Gatehouse community in Grapevine, Texas, which provides safe refuge and creates an environment for women and children in crisis to walk the path toward permanent change.
In San Diego, JPI donates to Discover Pacific Beach, a nonprofit Business Improvement District with a mission to revitalize and promote the Pacific Beach community physically and economically. The proceeds from JPI's Western Region are earmarked for Discover Pacific Beach's Clean and Safe Program. The Western Region also participates in building new homes and revitalization work for San Diego Habitat of Humanity.