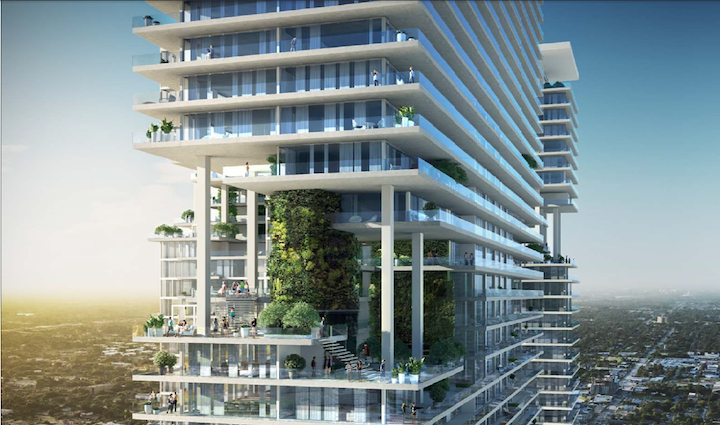 John Moriarty & Associates of Florida
John Moriarty & Associates takes on challenging luxury resident projects in south Florida.
Whether building complex co-living apartment buildings, constructing robotic garages or working on tight sites or near water, it is just another day on the job for John Moriarty & Associates (Moriarty) of south Florida. "Developers come to us when the job is a bit tougher than normal," Vice President Rick Schuerger says.
Moriarty works in the hospitality, office, mixed-use, cultural/institutional and residential sectors and has worked on such high-profile projects as a Perez Art Museum in Miami and Miami International Airport. The company is, however, best known for building high-rise luxury condominiums and apartments.
The competition is stiff in Florida with at least three other major general contractors and several smaller ones. Moriarty distinguishes itself in this crowd in a number of ways. "We are a hands-on, developer-friendly contractor," Schuerger explains. "All our projects are guaranteed maximum price projects. The contract price is guaranteed as long as the owner doesn't make any changes."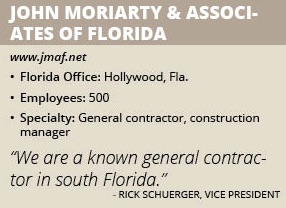 Moriarty likes getting involved early to help the developer complete the design and to suggest cost savings. The company works with the structural engineer, architect and mechanical engineer to make sure the systems are right for the building. Then, Moriarty builds fast while maintaining a high level of quality, Schuerger says.
Robotic Parking
One of Moriarty's current projects is the Elysee condo building in the Edgewater neighborhood of Miami for client Two Roads Development. The 585,665 gross-square-foot building has a construction budget "north of $100 million," Schuerger says. The company started construction in July 2018 and plans to complete the 58-story tower in July 2020. So far, Moriarty has built 46 floors, installed glass up to the 40th floor and drywall up to the 30th.
The luxury building will have only two units per floor. Amenities will include a pool deck on the seventh floor, exercise room, sauna, spa and outdoor kitchen.
But perhaps the most impressive amenity is a robotic parking garage that resembles something out of a sci-fi film. "The valet drives the car onto a tram, gets out and presses a button," Schuerger explains. ""It picks up the car and takes it to an assigned space on the appropriate level. When it gets retrieved, the owner punches in their unit number and the car is taken down to the ground level."
The tower is being built from property line to property line, which has been the biggest challenge of the project. That required Moriarty to initially stage the project in the space allotted for the seven-story garage and to squeeze delivery trucks through an alley to the loading dock.
Luxury Co-Living
On the apartment side, Moriarty is building X Las Olas, a 34-story luxury apartment building on the New River in the center of Fort Lauderdale for developer Property Markets Group (PMG), a frequent client. The 1.12-million-square-foot building will have 640 units and a "massive parking garage" nine stories high with 799 parking spaces.
The company began construction in 2018 and anticipates completion in April 2020. It recently topped out the building and took down three tower cranes. Moriarty is 95 percent complete on glass insulation and up to the 29th floor on drywall installation.
In addition to apartments, the building will include two floors of retail, a gym, restaurant space, 11th-floor pool deck, outdoor kitchen and office space.
Perhaps most interesting is that the units are set up in a co-living configuration. A three-room unit, for example, would be shared by three people, each of whom with their own bedroom and bathroom that can be locked. The three people share common space such as the living room and balcony. "It's like a suite within a suite," Schuerger explains.
In mid-June, Moriarty began the 400 Biscayne project, a 47-story luxury apartment building in downtown Miami, also for PMG. The company demolished an existing church on the site – part of which will be rebuilt on the east end of the tower – and installed deep pile foundations for the project, which is located across from America Airlines Arena and next to Miami Dade Community College. To keep the college students safe, Moriarty built covered pedestrian walkways alongside the construction site.
400 Biscayne will have 646 units and is expected to be completed in late 2021. It will include a 12-story parking garage, retail and office space, spa and pool deck.
Deep Dive
Safety is Moriarty's first priority. All workers participate in unannounced monthly safety meetings on each project. The safety director and project safety manager discuss next steps in the project and holds a safety orientation. Afterwards, workers are issued a safety sticker that allows them to work on the project.
Swing stages are inspected each time they are moved. No one is allowed to use a swing stage scaffold until a safety inspector has verified it is correctly installed with two tiebacks for every guide cable.
A corporate safety director regularly visits from Moriarty's main office near Boston and conducts safety inspections on several projects along with the local safety director.
Moriarty handles its own rough carpentry, earthwork and some safety aspects but subcontracts out 95 percent of the work. Like so many other general contractors in this busy market, its largest challenge is manpower.
Before Moriarty agrees to take on a project, it does a deep dive on its potential subcontractor, finding out how much work the subcontractor would self-perform and how much the subcontractor would hire out, what the subcontractor's backlog is and how the project fits in with their overall workload.
For the future, Moriarty of south Florida plans to keep taking on challenging luxury projects. "We are a known general contractor in south Florida," Schuerger says. "We do a lot of repeat work. We have projects in the pipeline or pre-construction."