Community driven
A second-generation, family-owned and operated business, Johansen Mechanical Inc. has built its nearly 40 years of success on the back of long-term connections with its customer base, its employees, and the communities that it works within
It was in 1983 that Allen Johansen established his Washington State-based business, Johansen Mechanical Inc. (JMI), primarily as a sheet metal and HVAC construction entity. "In its early days," begins second-generation President and Owner Keith Johansen, "the company mainly focused on delivering small, commercial HVAC tenant improvements. Over the years, it evolved to include HVAC service and maintenance, and custom architectural metals, along with controls and energy-saving retrofits. We have also become licensed as a General Contractor, performing select bid prime HVAC replacement projects, where the project scope is substantial in terms of mechanical and/or HVAC work."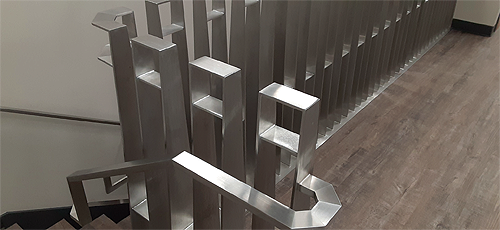 In 2004, Keith and his business partner – and now Vice President – Derek Holm formally took over the management/ownership of JMI following the retirement of Allen. Since that time, the company has remained profitable each year, including during the economic downturn of 2008 and 2009. "JMI has always promoted 'quality work' and a family culture, which in turn leads to a more personal customer service experience," Keith continues "We don't promote ourselves as being the lowest in terms of cost, but rather as providing real added value and ensuring that we take care of our customers in the long-term. The repeat business generated via this approach has helped JMI to survive economic downturns, including that which the world is currently facing with the impact of Covid-19 to the commercial construction industry."
Companies that JMI has performed work for over the years include the likes of CenturyLink, Verizon Wireless, T Mobile, Microsoft, Amazon, Google, Starbucks, Expedia, BPA and Boeing to name a few. JMI also carries out work on numerous public and private projects. At the time of press, it was working on a new Math & Science building for Overlake School in Redmond, two new Fire Stations for the city of Tukwila, and had recently completed the new Tulalip Gathering Hall in Marysville.
"JMI provides a great range of services, from our quality HVAC fabrication to custom stainless or blackened steel handrails and stairways, as well as 24/7 service and maintenance and round-the-clock customer care," Derek states. "Our HVAC ducts and fittings are professionally cut and processed, meeting or exceeding SMACNA standards, while our specialty metals division fabricates all types of products, from corner guards to radius hand and guard rail systems. JMI has a high degree of expertise in this area, with our professional welding personnel certified in all welding processes."
After operating out of its facility in Woodinville, WA for 37 years, it is perhaps understandable that the company would eventually find itself restricted in terms of things like shop space and outdoor storage. It was serendipitous therefore that an opportunity would present itself for JMI to purchase a larger, almost four-acre, facility with plenty of storage space, increased warehouse capacity, and ample onsite parking in Monroe, WA. Having completed a major office renovation in June 2020, JMI commenced in moving its entire operations to the new site.
"We didn't add any new equipment when we moved, but what we did do was carefully lay out all of our shop equipment to obtain the maximum productivity flow in the shop," Keith explains. "The new shop has a 24' wide roll up door for loading 20' sections of material, and we can now have delivery trucks drive right up to the front, whereas at our previous location we needed to block one lane of the street and offload trucks with a forklift. Needless to say, it has made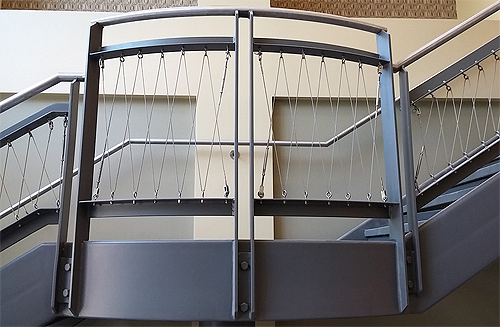 material deliveries flow in a much smoother way!"
The majority of JMI's custom metals projects are 'design build', where it works with architects and contractors to turn a concept into something that can be fabricated in its shop. For this reason, the company has endeavoured to remain at the cutting edge when it comes to its processes and technology. "Our computer operated Hi Def Plasma cutter, with its CAD expertise, can cut all metals with great accuracy," Derek says. "There is a catalogue of HVAC fittings and with CAD, JMI can cut anything that you can draw from the HVAC world. Having CAD and other modelling programs that drive our equipment allows JMI to be at the forefront of fabrication. Meanwhile, having the correct amount of space in our new facility allows efficiencies to increase."
Since the advent of Covid-19 – and more specifically late March 2020 when the pandemic began to take hold in the United States – JMI has further utilized its technological expertise to develop a new product to assist with PPE shortage challenges, one that it calls Hands Free UVC (www.handsfreeuvc.com). Sold through a new satellite company of the same name, it is a hands-free, stainless steel disinfecting chamber that utilizes UVC light at a particular dose to disinfect any items placed inside. One dose lasting 90 seconds will eliminate 99.9 per cent of most known pathogens, including Covid-19. In removing hand controls, the chamber prevents the transfer of pathogens from one user to the next, and with the UVC system remaining dry at all times, products that come out of it are ready to use, making it especially useful for the disinfecting of masks and sports equipment.
Drilling down into the multi-year success of the business, Keith draws particular attention to the efforts of its people. "It is 100 per cent true to say that employees can make or break a company, and we are fortunate at JMI to have a large number of dedicated, long-term members of our team," he enthuses. "They know our focus is on quality and customer service, and if we don't keep our customers happy we would not survive in what is a competitive construction market. Our goal is to create a culture of family and fun, where employees feel valued.
"Among the things we do to reward our people is hold an annual holiday party, normally in January, that the whole family is invited to. We have a company fishing trip to Chelan over in Eastern WA in late April, and we do monthly barbeques. At our new facility, we have a covered outdoor barbeque area with a water feature, and a second-floor mezzanine 40featuring a large break area complete with ping pong and shuffleboard table, and a Pacman/Gallaga arcade game. We also hold regular safety meetings, because everyone working and staying safe is a major deal here at JMI. We recently received an award from AGC for having an Employer Modification Rate that is as low as you can go. This benefits both the company and its employees, by having a lower cost for workplace insurance."
The company's approach to its people also extends out to its local community, with JMI having participated in numerous events and initiatives over the years, including supporting the local Sky Valley Food Bank, RAVE Foundation, various charities, and Boys and Girls clubs. In the case of the latter, the company has recently sponsored its countrywide virtual auction by donating two live auction items. In the near future JMI will also be building a custom stainless steel counter for an outdoor kitchen area for the World Relief Seattle community garden in Kent WA.
"Our motto of work hard/play hard has been another key to our success and has allowed us to have some fun along the way," Keith declares. "My own passion is fishing and being any place out on the water. I am a partner in a fishing lodge 'Screamin Reels' on Prince of Wales Island in Craig, Alaska (www.screaminreels.com), which is a great place to get away to for a few days, and be able to bring friends, family, and customers to experience this remote and beautiful part of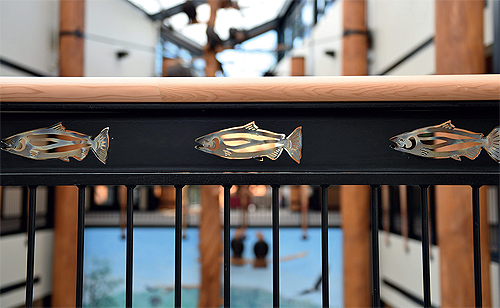 South East Alaska. Derek's passion is racing, which has been a family event with his wife Cindy and two boys since they were in pre-school 15 years ago. They started with quarter midget go carts, but have now evolved to race on the big track at Evergreen Speedway going 140mph!"
In the years ahead, JMI's focus will be channeled towards continuing to work with select customers and niche markets, as well as making an ongoing positive difference in its local community. During this time, it also intends to begin strategizing over an ownership transition plan to guarantee the long-term future of the business.
With this in mind, Keith has one other important message to share. "As anyone in a similar position will know, business is challenging, requires a huge time commitment, and can take a toll on you as an owner. I can proudly say, however, that the support and understanding of my wife Laura has made a big, positive difference and has influenced both our family and corporate achievements," he declares.
"The long hours away from home do, at times, get taken for granted," Derek agrees. "That is just one of the reasons why I am also hugely appreciative of my wife Cindy's support over the years."
Johansen Mechanical Inc. (JMI)
www.johansenmech.com
Services: HVAC and custom metals fabrication