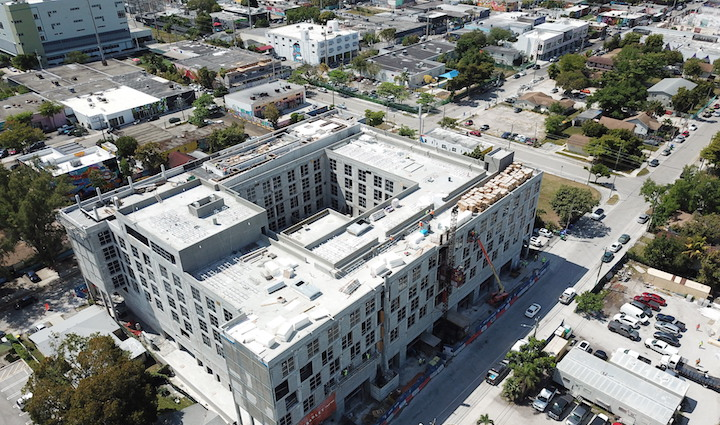 Quality, speed and dependability have led to growth for JGR Construction.
JGR Construction, which works mostly for general contractors, has about 10 competitors it sees on a regular basis but differs from them in several ways. "We focus on quality and speed, both of which are necessary for us to be successful at what we do," Co-president and Partner Antonio Obregon says. "We are extremely dependable. Dependability in construction doesn't come around often and it certainly doesn't come around easily."
JGR Construction is a concrete and masonry company that works mostly in Miami-Dade, Broward and Palm Beach County. The company largely builds for higher education, office and multifamily residential segments.
Between quality, speed and dependability, JGR Construction gets a lot of repeat business, something that Obregon is proud of. "We have a very good reputation in the market," he says.
That reputation has caused JGR Construction to grow. In the aftermath of the Great Recession, Javier Gonzalez founded JGR in 2009. At the time, all the jobs were small. "In 2009, there just wasn't a lot of work and there wasn't any big work," Obregon recalls.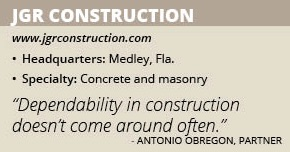 After initially being competitors, Obregon joined JGR Construction in 2015. "I am more administrative, sales and financial," Obregon says. "Javier is the builder in the group. We both get to work at what we do best and leverage each other strengths."
That partnership has worked. The company is now doing larger projects and more of them.
At the time Obregon joined, JGR Construction had 17 or 18 employees and limited assets and equipment. Today the company has hundreds of employees and substantial portfolio of equipment. "We don't own our own cranes or larger boom pumps but the smaller pumps and all the excavating equipment we own," Obregon says.
JGR Construction is particularly proud of a multifamily, mixed-use building in the edgy Wynwood neighborhood of Miami. The company started work on the 340,000-square foot building in April 2018 and poured the roof in November 2018.
A painter was scheduled to paint a mural on the four corners of the building, which led to JGR Constructions' main challenge. "Our coordination with the stucco contractor was pretty challenging," Obregon recalls. "When doing the walls, we had to get them extremely plumb and flat so there was a great surface to work on."
Technology Savvy
JGR Construction is technically proficient. The company formerly used a spreadsheet program to handle estimation and PlanSwift to handle the take-offs. Early this year, JGR purchased On Center software to handle both take offs and estimates and integrate fluently with their accounting software. Staff is currently undergoing training.
In 2016, JGR Construction decided it wanted to bring its rebar detailing in-house. To do so, it purchased and trained on both aSa software and AutoCAD. The company now provides its own fabrication cut sheets, providing better service to their clients in addition to flexibility in purchasing options.
For surveying and layout, JGR Construction uses Trimble Total Stations software. The company also uses telemetric equipment on its vehicles and drones to take photographs.
JGR Construction takes safety "extremely seriously," and takes a variety of steps to keeps its workers safe on job sites. The company has a full time safety manager and, on larger projects, also hires a full-time safety coordinator. All supervision personnel undergo OSHA 30-hour training, which is done in-house. The company conducts in-house training and certification on forklifts and other equipment and offers its own version of a Smith defensive driving course. JGR Construction has zero tolerance for drug use and does a pre-hire drug test and random drug testing.
Growing the Business
Like so many construction companies, the main challenge facing JGR Construction is recruiting enough qualified masons, carpenters and supervisors. "We are limited by manpower and supervision," Obregon says. "One of the things that helps us is our amazing culture, we have a fantastic organization. Our people get along very well together and they enjoy working together."
In fact, how a potential employee fits into JGR Construction is as important as their ability to do the work. A lot of the company's interview questions are targeted at determining whether the prospective employee will fit from a cultural standpoint. "Will the person make the organization better?" Obregon asks. "Those what won't we weed out pretty quickly."
Gonzalez handles most of the recruiting. "Javier has a ton of feelers out there," Obregon says. "A person might work on a job for a competitor and the job ends. He is always on the lookout for people. He works hard providing continuity amongst projects, giving our employees a strong sense of security.  When you have 125 people and a job doesn't start for another four to five months, that's a lot of payroll to carry. We are constantly trying to grow the business so we have a home for people."
Management also encourages referrals from existing employees. Besides that, the company hires an engineer directly out of college every six months and puts that person through a two-year training program. The training program is both wide and deep with trainees learning about estimating, how structural plans go together and doing shop drawings. They also spend a lot of time in the field working on foundations, form work and decks. "We try to give them as much exposure as we can," Obregon says.
For the future, JGR Construction might open a second office in Palm Beach. "I think it is something we could accomplish in the next 18 months," Obregon says.