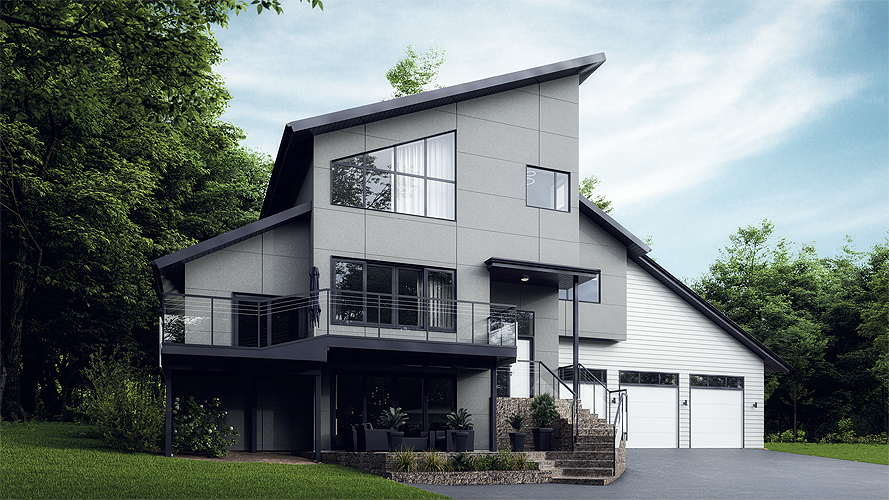 Agents of change
Under the guidance of its inspirational CEO, global building materials company James Hardie Industries is positioning itself to become a global trendsetter and influencer, changing the way that the properties of the future are constructed
Already the world's largest fiber cement producer, James Hardie Industries has a vision – to become a premier, consumer-branded company that offers endless design possibilities to the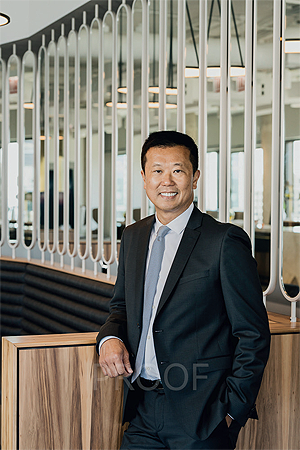 exteriors and interiors of the home. At the heart of the evolution of the company is a determination to become a true innovator and agent of change for the construction industry, a first stop for contractors and a known brand amongst consumers. Dr. Jack Truong is the man behind this ambitious strategy, and he is drawing on his years of experience at industry behemoths 3M and Electrolux to drive forward his impressive plans for this three billion-dollar business.
When he started his career at 3M, having already earned a PhD in chemical engineering, Jack's first mission was to 'invent new products that make a difference in society'. He began: "I was exposed to various divisions in my first two years at 3M, and I really had to learn and understand what the unmet needs were in those industries, and come up with inventions that deliver innovative solutions for those particular sectors." This approach – to find solutions to unmet needs – is something that Jack has carried with him since that time and is a theme to which we will return later.
In his early years at 3M, Jack truly embraced the problem-solving challenge and in just 24 short months he had earned 11 US patents for a diverse cross section of segments, including information technology, chemicals, and food science. "Those formative years really taught me to see things the same as everyone else, but then think differently about them," he told Construction Today. Always looking for a new challenge, Jack then moved into the business side of 3M, where he again worked across multiple sectors, as well as in various areas around the globe, including the US, Europe and Asia Pacific. "Running two global businesses for 3M gave me more great learning experiences and taught me that what is old in one area, is new in another," he added – a message that would become particularly relevant to James Hardie.
Having excelled at 3M, Jack then moved to leading global appliance company Electrolux in North America, where competing against exceptional competitors taught him another valuable lesson. "If you want to win and grow against tough competitors, you always have to find a different situation based on your strengths against your competitor's weaknesses," he explained. With Electrolux's products going into people's homes, Jack was exposed to the home building sector, albeit on the inside of properties – when he joined James Hardie his focus was then turned to the exterior as well, both in new construction and also in renovation.
James Hardie is now benefiting from the repository of skills, insights and dedication to innovation that Jack has nurtured throughout his career, and he is applying these to the business to guide it through the transformation currently underway. When he joined, he found a company with great quality products that were well-known by contractors, but whose progression had stalled. It had aspirations to become a new version of itself, enabling consistent, profitable, global growth. This required a change of direction and a unified view. "To be able to perform at the highest level you have to make sure that you make the best decisions holistically, reaching across all the different functions, markets, segments and geographies, so that you can really get the best out of everyone," Jack explained.
"This required understanding the strengths we have and also looking at what we don't have – working towards the goal of continuously improving, and connecting the entire enterprise to become a high performing global company that delivers value to the marketplace, consistently delivering strong financial results, every quarter and every year. We have to find those key missing pieces of the puzzle and put them together. It's a tough thing to do, but it's also a fun thing to do!"
Think global, act local
Jack's ability to have a holistic view of an organization and identify both the good areas and those that need improvement is one forte that he has truly exploited at James Hardie. "This strength is really about going into a business and seeing what is there currently and then visualizing what it could be. Every company, every business – it doesn't matter how bad or how strong it is – always has key assets and always has areas that can be cut out."
Using this approach, Jack believes that 'every company can be made into a business with good growth and strong profits'. He also had one essential piece of advice for business leaders: 'change is constant'. "To deal with this, you have to make sure that you are planning ahead; you have to know where you want to go and where you need to be," he emphasized. "You have to have a plan for the journey and then work every day to make sure that you build the capabilities to achieve it. Be consistent, and while you can make adjustments along the way, in the end your direction should be the same."
With operations on three different continents, James Hardie is one of only a few truly global firms in its industry, but as Jack noted, when he arrived this major benefit wasn't being exploited to its full potential. "What I saw at James Hardie when I joined was that it was almost operating like a regional company, focused on North America, doing one type of business in one way. I saw the opportunity at James Hardie to take something that was very singularly focused and silo-based and turn that into a global powerhouse for the long-term."
Having undertaken his analysis of its operations, Jack could see at this point that James Hardie was at its core a manufacturing organization, but with plants being run using different techniques and working independently of each other. "The first big change I made within the company was to turn it from the world's largest fiber cement producer, into a world-class manufacturer," Jack revealed. "We brought all the plants together, running the same operating procedure, all based on a lean strategy.
"By doing that we created a lot of standard work, and that means we can get a lot more out of the resources, as all plants make the same type of products. It also allows the plants to work together to consistently serve the customer in the right way."
Jack's plans additionally included closely partnering with customers via a push/pull strategy, as well as integrating its supply chain with customers. Implementing and embedding a globally integrated management system was also part of the strategy. He noted that this total change of approach was somewhat of a culture shock to the existing team, but while there may have been some initial skepticism about the new direction, as gains and progress were made, the employees started to get on board.
"Many of our operators were really dissatisfied with their jobs when I arrived, as there wasn't a standard way of running things," he said. "The lean approach simplified a lot of wasted time, resources and money, and thousands of our manufacturing employees really bought into the change, creating positive momentum, which gave us something to build on."
Seeing this culture change and how the staff are really now investing in the new approach is a source of great satisfaction for Jack. "Changing the culture is probably the most difficult thing to do, and the beginning is the most challenging, but when it happens it is the most rewarding," he said. "My experience is always about showing and demonstrating results, as I find that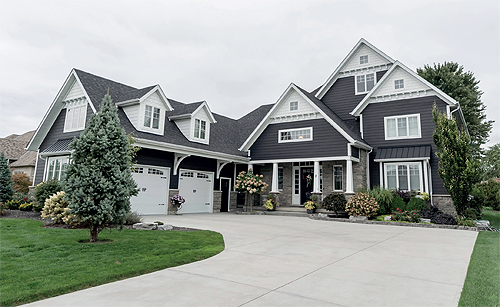 results speak for themselves. Once that happens then you start to get 'lead change agents' at the middle level who begin to believe in the process and the program. Once you pepper those throughout the company then you get more buy-in."
Global outlook
With the lean program streamlining operations and increasing efficiencies, and the three separate regions working strongly together, Jack's focused vision of implementing a 'think global, act local' philosophy across the entire James Hardie operation gained further traction. While integrating its operations wasn't straightforward, Jack believed it would reap rewards, and his confidence was not unfounded. "Once we connected our three regional businesses into one, our footprint across these areas gave us the benefit of having a front row seat to seeing what is going on globally," he said, before going on to give a real-world example. "About seven or eight years ago in Australia, particularly in Sydney, there was a design trend for darker colored, modern homes that were very open plan, with a lot of windows. This home design then moved into Scandinavia and spread to Western Europe, and now it has moved to the West and the East Coasts of the US. If you go to Seattle, Washington or Portland, Oregon, or down to the coast of Southern California, you will see a lot of those modern homes popping up in exactly the same colors and structures as Sydney and Copenhagen.
"Our global outlook means that we can see these trends evolve, develop innovative products in one area and then introduce that trend to a new location. This gives us the opportunity to become a driving force to create design changes around the world, and that is a key advantage of being a globally connected company."
A further example of 'think global, act local' and one that is unique to James Hardie is that its manufacturing plants are strategically located around the sources of supply and customer bases. "Within any of our fiber cement manufacturing plants we source over 80 percent of our raw materials within 100 miles of our plants and then we ship over 60 percent of our finished goods to customers located within 500 miles of each of our plants," said Jack. "So, we do have a really local approach. We hire highly-skilled local employees and build and invest close to one billion dollars annually in the communities around our plants. Now the facilities all run the same global strategy of lean execution, but we act and execute in a local way."
This of course also adds to James Hardie's green credentials – the company is committed to improving its sustainability performance and to proactively and carefully manage its social and environmental impacts. Focusing on the four key pillars of Zero Harm, environment, communities and innovation, the sustainability strategy was formalized as recently as 2021 and as Jack noted, this approach covers not just operations but also products. "Our products key ingredients are cement, sand, cellulose fibers and water," he said. Furthermore, they have a market leading warranty, so they offer a very environmentally sustainable option. Sustainability and compliance are also gaining in importance to homeowners, and as Jack noted, if they choose a pre-finished product with ColorPlus® technology, for example, they may choose to repaint less frequently, reducing another key environmental impact.
Industry change agent
While discussing the further effects of James Hardie's evolution into a global operation, Jack highlighted a connection to a wider industry issue. The tendency for the construction and building materials sectors to be localized meant that historically the rate of change in the industry has been quite slow. "But as we are becoming more globally connected, a lot of the best practices in one area can be replicated into another area very quickly, so from that perspective we also have the capability to be a change agent for the entire industry," declared Jack. This is of particular significance as the building materials industry is facing disruption right now, with challenges in the form of a lack of materials from the supply chain perspective, as well as a lack of skilled labor. "These challenges are really going to drive the rate of change in the industry faster," said Jack, "and we have the opportunity to help lead the industry to a newer, better place."
Indeed, Jack was able to pinpoint three current, common global issues – the lack of affordable homes, the lack of skilled labor and also, thanks in some part to the coronavirus pandemic – a desire from homeowners to have a different aesthetic to their homes. "Those are the three key trends that really affect the industry today, and we are right at the cusp of being able to fulfill those unmet needs.
"When you talk about the lack of affordable homes and the lack of skilled labor they are connected by the fact that brick houses take a long time to build, they are expensive, and there is a shortage of bricklayers in the UK, the US, France and Australia," Jack continued. "In addition, the days of driving through the outskirts of London or the suburbs of New York and seeing cookie cutter homes of all brick is no longer the case – the desire to be different is really growing."
Delivering value to contractors
But how can James Hardie's solutions assist the contractors who are facing the challenges on the ground? The answer lies with its total dedication to new innovation, and ultimately its range of innovative and problem-solving products. "We are building our innovation based on our proprietary and unique fiber cement and material technologies," said Jack. "Our material is lower maintenance, durable, non-combustible and it is engineered for different climates from cold to hot, wet to dry. We also build in innovations that will allow builders and installers to create homes a lot more quickly and use less available labor to do it, all while offering better quality. Essentially, we are innovative along the whole value chain of home building.
"Based on the technology development that we have right now, we believe we are the only company that can deliver the different looks and alternative aesthetic home exterior requirements for homeowners and architects while providing superior protection of the home exteriors with durability, low maintenance, and non-combustibility."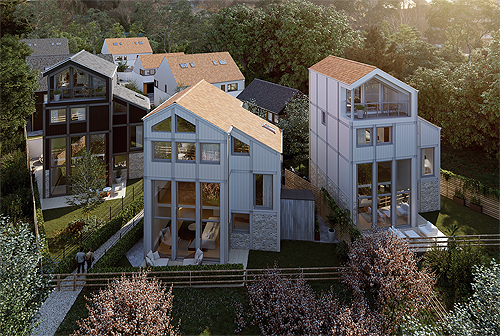 The name James Hardie and the Hardie brand already have a strong standing with professional builders, contractors, installers and the dealer community, who are familiar with the multiple benefits of its range, which includes Hardie® Plank Lap Siding, Hardie® Shingle Siding, Hardie® Panel Vertical Siding, Hardie® Trim Boards, Hardie® Soffit Pre-Cut Panels, Artisan® by James Hardie, Hardie® Wrap Weather Barrier and Hardie® Backer Cement Board.
Contractors turn to James Hardie's products because they trust that its fiber cement offerings combine beautiful design with high performance. They know that for curb appeal and durability they are unsurpassed, and thanks to technology advancements, they are several generations ahead of generic fiber cement. Already America's most popular brand of siding by sales, James Hardie products grace the sides of more than eight million homes across the country, and with Hardie® Plank lap siding backed by the Good Housekeeping Seal from the Good Housekeeping Research Institute, it is also endorsed by a distinguished third party that is recognized as a reliable mark of quality. This recognition comes as a particular point of pride and James Hardie is determined to live up to that honor every day.
Dedicated to ensuring that it has the right products to enable contractors and homeowners to achieve their dreams, James Hardie has invested approximately $150 million in research and development over the past five years and continues to invest in product advancements. The latest release from the business is a new product that aims to shake up the market. "This range allows a switch to fast, lightweight construction from slow construction such as stucco and brick, while still delivering the look and the protection that homeowners are demanding, at the right cost and always at superlative quality," Jack was able to reveal. Called Hardie® Textured Panels in the US and HardieTM Fine Texture Cladding in Australia, this integrated solution of panels offers unique combinations of contemporary textures and architectural lines. With a distinctive, modern look that expands design possibilities, the new products also provide improved productivity with fewer trades to manage on the jobsite. "Our solution isn't just about delivering a less expensive stucco or brick home more quickly – it is about supplying innovation that leapfrogs what is available now and takes it into a new space that delivers value to the homeowners, installers and builders and then to James Hardie," added Jack.
Renovate and remodel
With contractors and builders already familiar with James Hardie products, Jack and his team now have their sights directly set on the large numbers of consumers who are thinking of renovating and remodeling their homes. "This is a huge opportunity for us to really expand," said Jack. "North American market data reveals there are approximately 80 million owner-occupied homes in the US today, and 44 million of those are over 40 years old and probably need to be re-sided. Of course, not every home will be re-sided, for a variety of reasons, but if we take just five percent of that total, we are left with 2.2 million homes that can and should be re-sided every year. This is essentially twice as many as new homes being built, meaning the opportunities are much bigger in the renovating and remodeling marketplace."
Reaching homeowners to tell them that James Hardie has the solutions they need is the challenge that Jack is now addressing. "We want them to know that we can deliver value to them, so they can make the decision to remodel more quickly," he said.
With the ambition to familiarize homeowners with the multiple benefits of James Hardie products, the team worked to create the newly launched 'It's Possible™' marketing campaign, targeted directly to a specific demographic of creative and imaginative homeowners. "The message is that with James Hardie and Hardie brand products, there are endless possibilities for designing your own home in exactly the way you want," said Jack. "We try to tell a story to show how our existing portfolio of products will help protect a home better than competing products – they are durable, low maintenance, non-combustible, resistant to pests and termites and all those positives – but they also make the home beautiful. With our ColorPlus® Technology products for example, homeowners can have any dream color they want, as they are available in over 700 different shades!
"This integrated marketing campaign is designed to show that anything is possible with James Hardie, and it represents the start of our ambition to build Hardie as a consumer brand in the minds of homeowners and again, really find and address the unmet needs of the marketplace. Once we get that going, we can put the new products on top of it, too."
The 'It's Possible™' marketing campaign should also be bolstered by the 'Covid effect'; over the past 12 months as more people spent increased time in their homes, they decided that they needed to make improvements and changes to their living spaces. Jack acknowledged that James Hardie began experiencing this phenomenon around the middle of 2020. "For the first two months at the onset of the pandemic the market just dropped, but then around June 2020 the pent-up demand accelerated, and with people working from home having more disposable income thanks to a lack of commuting, holidays or dining out, they targeted their attentions to where they live. We are seeing a huge amount of construction activity and renovation in the US, Australia and Europe, so it is really a good time to be in this industry right now," revealed Jack.
Creating value
Considering the massive changes that have already occurred at James Hardie, it is almost hard to believe that it was less than three years ago that Jack initiated his transformational plans. Today standing as a successful multi-billion-dollar business with over 4800 employees in four continents, it is also now establishing its role as an innovator and change agent in the industry, with its products and their benefits ready to influence the entire market. Furthermore, the organization has experienced eight straight quarters of delivering organic growth above market and strong profitable returns. "A lot of us are very proud of how much value we have created for our company over the last 29 months, with its market capitalization having more than tripled, from $4.5 billion to now over $15.3 billion," said Jack. "We are not just creating value for the market and our customers, but also value for our investors and employees as well as the communities where our products are being manufactured and used."
2021 stands as the final year of Jack's initial 36-month plan for growth and development, and as the end of that period advances, he has recently [at time of writing] shared his vision for the next three years with the market, with the 'It's Possible™' marketing campaign and more growth for the renovation and remodeling sector at the top of the agenda. "We also are focusing on commercializing our new innovations that will transform the way the world builds," Jack added.
Clearly the global construction sector should have high expectations for future developments at James Hardie Industries. Having already delivered $107 million in cumulative global lean savings, driven profitable growth in North America and APAC, significantly expanded the European business, and delivered record operating cash flow of $787 million in FY21, Jack and the team look set to deliver further game-changing transformations, revolutionizing a market that has traditionally been slow to change. The future looks very bright for Jack's strategy to evolve James Hardie Industries into a high-performance global company that delivers organic growth above market, with consistently strong returns. With plans to continue building on the 133-year legacy created by company's founder and namesake, Jack has even more ambitious goals to achieve by 2024. It seems certain that in the future, any project manager or homeowner requiring exterior cladding will be stating that the products used have to be James Hardie.
James Hardie Industries
www.jameshardie.com
Products & Services: The world's number one producer and marketer of high-performance fiber cement and fiber gypsum building solutions