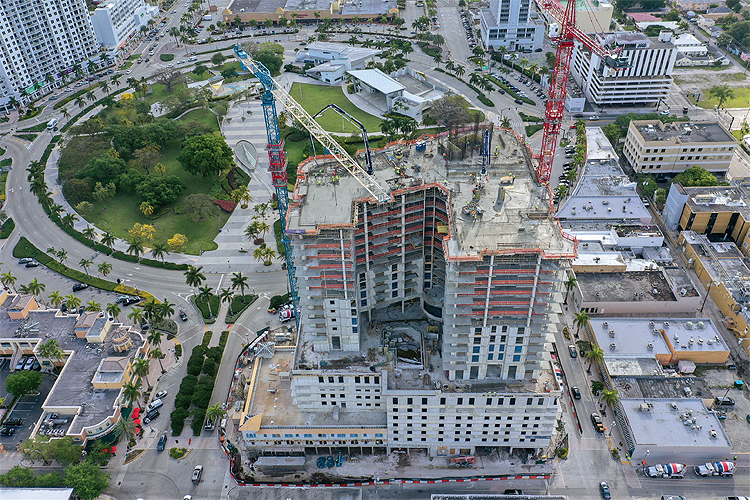 Laying down strong foundations
The Mecias children are continuing their parents' legacy by reinforcing JA&M with the diligent and dependable work ethic for which the family name is known
To deliver a sound building, the construction process should be done with meticulous care and consideration, and the same has been applied to the sturdy framework of JA&M. "Our foundation goes back more than 50 years when our mother and father began in this industry. Fleeing religious and political persecution from Cuba, they went after the American dream and started a construction company, which means that building is really in our DNA," says Annie Mecias, Co-Owner and President of the Florida-based business. Both her and her brother, John Mecias, who serves as Co-Owner and Executive Vice-President, play hands-on roles in running the business that created spectacular multi-story buildings such as the Hollywood Circle,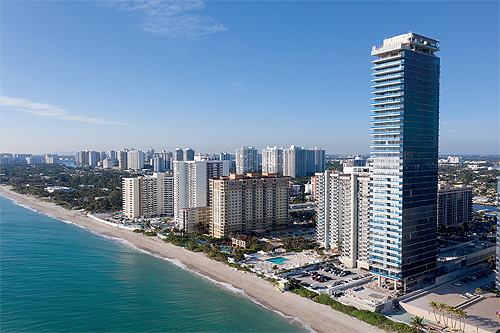 2000 Ocean and Block 40. In 2005, the Mecias siblings' father took a back seat, leaving his children to grow into his proverbial shoes and continue the legacy he began. "We didn't go to summer camp, we went to building camp (although much to John's dismay) and our parents taught us from the basic level of being a laborer , so we knew what it meant to work hard, which is what we put into this business," Annie adds.
JA&M is a shell contractor that offers a full range of service for its clients, from value engineering, to complicated site logistic analysis. JA&M brings two generations of experience to the table. "We provide complete turnkey solutions and include those in our building projects and in some cases, also include trusses and other scopes depending on our clients' needs. We incorporate our system and procedures to provide solutions for clients and ideas," Annie shares with us. Above all, JA&M believes itself to be ahead of the competition as a result of its commitment to being accessible to clients.
Ivan DeJesus, Vice President of Operations notes that before plans are released for construction, the team sits down with the engineers to carefully plan each square foot and determine the necessary elements required that would be of higher efficiency to save as much money as possible for the client. "That's one of the things that makes us better; our ability to work with the site owners in an ever-changing business and provide solutions to their needs in real time," he says.
According to Annie, clear examples of how well the company works with its customers can be seen in recent projects such as Block 40 and 2000 Ocean, both of which the JA&M team are incredibly proud. "Block 40 is the second building we have done for the same developer and owner. The first one was across the street – Hollywood Circle. The challenge with this new one is that it is part of a historical structure, even though the building itself has changed and become quite modern, certain aspects needed to remain intact. During the design process, there was a lot of back-and-forth between us and the client to manage the details. We didn't start this out as a design-build project, it just became that while laying down the foundations and we still managed to deliver on time with minimal impact to our schedule," John Mecias, informs.
Another example of the company's effective service delivery took place on Hallandale Beach, Florida and occurred during Covid-19. "This project had the largest continuous concrete pour for the City of Hallandale. The mat foundation consisted of 2500 cubic yards and over 500 tons of steel to serve as foundation for the 38-story building; 250 trucks were continuously poured for 13 hours, but what was really interesting was the geometry of that particular building. It's incredibly slender and tall shearwalls were casted with 1200 PSI concrete, which is the top of the range for our concrete distributors. This made the project a very technical build and an intense schedule at 11 months. The team was able to maintain and even improve on the schedule considering Covid-19, we had to ensure that everyone in the team was kept safe. Fortunately, we have an incredibly devoted team, and everybody pulled together to make that schedule successful," Javier Guerrero, Project Manager tells us.
It goes without saying that the pandemic was a crucial time for many businesses, especially for those working in construction. JA&M had to negotiate the importance of continuing its work during a period when most close-contact businesses was forced to shut down. "We worked with organizations and spoke to local and state municipalities to explain the myriad of reasons as to why it was vital to keep construction open. With folks stuck inside, there were always cases when they needed assistance with AC maintenance or plumbing, and you cannot call an ambulance or the police; that's a contractor's job. Thankfully, we were able to prove our case and the Associated Builders and Contractors also played an enormous role in assisting with that," says Annie.
As we move away from the technical side of the company, Annie places an enormous emphasis on how the involvement of her team is just as fundamental as the materials needed to get the job done. In this aspect, Annie and John are determined to uphold their parent's values of supporting their employees and giving back to the community. "There's a balanced relationship we have here: our priorities are looking after our own families, so we bring that back to the JA&M family and we look after each other here first. We keep ourselves accountable, we push each other to be better and stronger and help to fix our weaknesses and that is how we succeed through something like Covid-19," Annie explains. On the note of the pandemic, she further
highlights that although there was a great deal of uncertainty in the beginning, the JA&M team ensured that communication was the leading strategy to provide as much reassurance as possible for every employee; a clear demonstration of the sort of leadership she knew her parents would have shown as well.
However, the employees are not the only people that JA&M supports. The business is passionate about encouraging up-coming generations who are looking for careers in construction. "Young people have always been a passion of ours and we believe so strongly that helping them is crucial for any society," says Annie. She continues to note that a particularly special organization for JA&M is the Broward County Boys and Girls Club, whose main mission is allowing young people – especially those from disadvantaged backgrounds – to reach their full potential as productive and responsible citizens. "As well as being on their board, I am also currently the treasurer for the Associated Builders and Contractors Florida East Coast Chapter and their upcoming chair for 2023. One of the most rewarding things is exposing young people to a host of opportunities in this sector. I have often explained to them that whether they enjoy math or accounting or whatever they are interested in, there are ways of bringing those interests to construction, and it blows their mind! They get really excited, so being able to volunteer at these events and be part of programs where many inspiring professionals are leading scholarships and mentorships for these kids are all things that JA&M loves doing, not just with our time but we are also happy to be financially involved," explains Annie.
As the business looks further ahead, it will continue to prioritize effective and efficient service delivery, as well as continually find unique ways to stay ahead of the curve. "We are constantly investing in different types of formworks. Whether it is tables or self-climbing sheer walls, we always want to be bringing in state-of-the-art equipment because this is an evolving industry and we pride ourselves in being dynamic, adaptive and industry-leading in the way we get the job done," John says. One such way in which the company is already proving its capabilities in achieving this can be seen in how it has tackled the impact of Covid-19 on the construction sector. The business noticed that the economy for infrastructure development took a massive hit, which, owing to the drastic price adjustments within the market, now means that many projects moving through the first phase of build do not receive real-time budgets and struggle when development reaches later phases because their budget has run out. "What appens is once you've completed the design and you put the prices into today's market, they are not the same compared to what they received when the original budget was drawn up, so most of the projects have to go back to the drawing board or set aside because we cannot build the project for the money they have. Of course, this has a huge impact on our operations; we need to increase the amount of product we evaluate, and we price that. This led us to developing our 'price of estimation' platform, which allows us to manage the increase and helps the client have a more well-rounded and realistic expectation of the cost of the project," shares Ivan.
Having said that, with Florida's population growing rapidly, the construction market is well on its way to become a thriving economy in the near future and JA&M has every intention of being at the front of its industry. "We want to be the contractor that will be a dependable go-to for information and advice in the early design stages as well as the construction," Annie says and coupled with that, the company is determined to achieve these goals with the Mecias mindset forming the foundation of JA&M's success: family always comes first.
JA&M
www.jamcontractors.com
Services: Shell Contractors & General Contractors