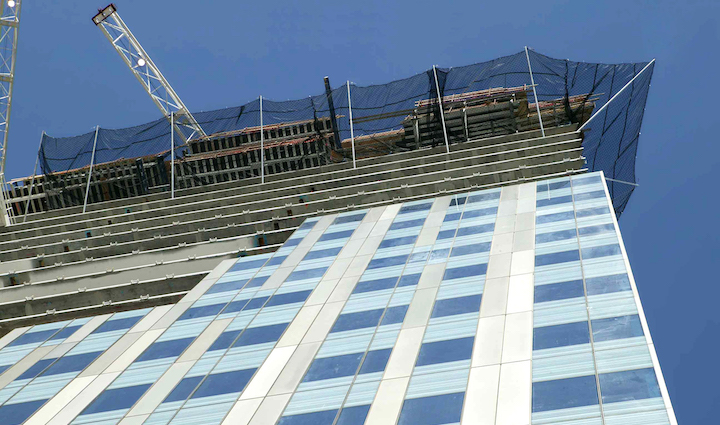 InCord's Walk-On Netting helps contractors safely work at high points.
These days, builders are more concerned than ever with keeping their sites accident-free. "Twenty-five years ago, when somebody was putting up a skyscraper, safety was typically the last concern on the job," Brian Hillery recalls. "Nowadays, it's the first thing that gets bid."
Hillery is the sales manager of the construction division of InCord, which plays an important part in keeping those sites safe. Based in Colchester, Conn., the company provides custom netting for builders, as well as the environmental, amusement, specialty, sports, material handling and theatre markets.
Founders Bob Martin and Ed Ritz started InCord in 1995 with the goal of supplying the best safety netting solutions at the best prices. Initially, the company brokered netting from a fabricator, but over time grew to manufacture its own products.
Currently, "We're the largest netting manufacturer in the United States," Hillery says, adding that the company has two production facilities and an administrative facility in Colchester, which have helped make it one of the top employers in its home state. "It's a cool place to work."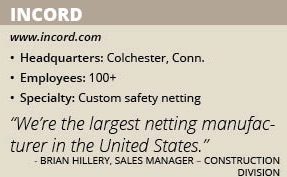 A Broad Reach
Today, InCord carries the most inventory of any company in its niche. "Ninety-nine percent of what we sell, we make," Hillery says, noting that it can quickly produce netting to meet its customers' specific needs.
For example, if a builder needs to obtain netting to cover a 10-foot by 10-foot hole on a job site, "That's what we're good at," he says, noting that InCord can meet their needs with only a seven- to 10-day lead time.
"That's the fastest in the industry in terms of manufacturing from scratch," Hillery says. "We're typically a lot faster than that."
He adds that InCord's products have been used for many prominent projects, including work at the Tappan Zee Bridge in South Nyack, N.Y., the Pearl Harbor Memorial Bridge in New Haven, Conn., Disneyland Park, Six Flags and many waterparks across the country. Its nets also have been used to maintain safety on the sets of famous movies, including the "Spider-Man" and "Avengers" films.
The company's work also extends to netting under conveyor belt systems in manufacturing facilities as well as fall protection nets for orchestra pits in venues such as Radio City Music Hall in New York City. "The guy who has a $2 million Stradivarius violin doesn't want anybody falling on him," Hillery says.
Built to Last
One product InCord takes pride in is its Walk-On Netting, which it has brought stateside from Europe. "They use it on every single soccer stadium that is built on the other side of the Atlantic," Hillery says.
Not only can the product be used to keep workers safe, but it also can be walked on so that builders can complete work at high points. "Instead of using a 300-foot-tall boom, they'll put netting two to three feet under the structure and perform what work they need to do," he explains.
The Walk-On Netting, Hillery notes, gets its strength and durability from high-tenacity polypropylene provided by Huck, a firm based in Germany. "They make it from the polypropylene pellets that go into a high-speed centrifuge," he explains.
The machine then dissolves the pellets and creates thread, which is used to create the netting. While its competitors' products can suffer from ultraviolet degradation, "What we use has a UV inhibitor," Hillery says.
It also can be used over and over again. "At the end of the job, they take this stuff down, but they can use it again as long as you don't burn it or run it over with the crane," he says.
So far, the Walk-On Netting product has been used for projects at the U.S. Bank Stadium in Minneapolis, as well as the LA Stadium & Entertainment District at Hollywood Park in Inglewood, Calif. Hillery adds that it is especially useful when installing solar panels and sprinkler systems. "They go up and use the nets all day long," he says. "It's a huge money saver."
A Cool Place
A 30-year veteran of the netting industry, Hillery joined InCord 14 years ago, after working for Sinco Industrial Safety Solutions. He notes that he appreciates the family environment at InCord.
"It's a cool place to work," he says, adding that the company often rewards its employees with events such as pizza parties and ice cream socials. "They're all about the people who work for them."
He praises his team, which includes Inside Partner Patti Lombardo, who often trains new associates on administrative tasks. "She's the go-to for training on the computer systems and the products," he says. "She's pretty much indispensable."
No Roadblocks
Hillery sees a strong future for InCord, which is seeing an increase of competition in its niche market. "Fourteen years ago, there were about three players and now there's 15 to 20," he says, noting that the company is planning to grow its footprint.
"We've purchased a couple of buildings around us," he says, noting that one will be used for storage while it will also dedicate space to test its products to meet industry certifications. "There's no reason why we shouldn't do it ourselves."
But the company also expects to see its business grow, which has stayed steady over the years, even during the Great Recession. "We've grown every single year, whether it's been five or 15 percent," he says.
According to Hillery, its clients' push to avoid accidents will keep it busy. "There's no roadblocks on that," he says. "They just keep pressing forward on everything towards safety."