Improving asset mobilization
Rachael Plant highlights the benefits of clear communication and data transparency
Contract mobilization takes a lot of effort and cross-departmental coordination, from administrative tasks and setting project expectations to ensuring fleet assets are lined up and ready to work. Calculating mobilization fees is difficult enough before considering fleet; however, if a piece of fleet breaks down while delivering equipment — or the equipment itself breaks down on site — businesses may have to tack on remobilization fees. Additionally, fleet asset breakdowns can throw an entire project off schedule and negatively impact the company's reputation.
Mobilization time and costs relating to transportation, petrol, off-road equipment, and tools can be optimized through proactive Preventive Maintenance (PM), clear communication, and fleet data visibility.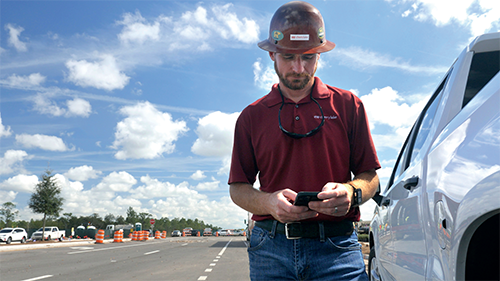 Proactive maintenance
In recent years, fleets have been switching from reactively addressing asset problems, to proactively preventing them. This is largely due to the rise in available fleet solutions, such as Fleet Management Software (FMS). These technologies allow fleets to comprehensively monitor any aspect of the operation, including service histories, asset use, fleet utilization, and Total Cost of Ownership (TCO). Fleet solutions take all collected data and automatically render it actionable through customizable reporting to meet your specific goals — meaning clearer insights and less work to get them.
Having comprehensive service histories for your fleet assets allows you to determine high-fail items and recurring issues so you can tailor PM schedules to the needs of the asset or asset type. Such service-related data as parts used can help you identify if lack of parts durability is the cause of recurring issues, or if you should look at driver behavior or the OEM as the source.
FMS uses service and other fleet data to inform fleets of service spend and downtime. Fleets can further categorize service in FMS to determine causes of failure with reason for repair, repair priority class, and system/ assembly/component codes. This data provides deeper insights into why the service was needed, whether the service was scheduled, unscheduled, or emergency-based, and what part of the asset was serviced. Automated reports around these key metrics allow fleets to optimize PM programs and increase uptime for efficient mobilization.
Clear workflow communication
Clear communication around project goals and blockers is a huge component in successfully completing a contract on time and within budget. Streamlining communication around asset service tasks is equally important to avoid fleet-related delays. Vehicles and equipment deployed to worksites should be safe, reliable, and in optimal operating condition. In addition to implementing proper PM schedules, fleets can improve uptime by automating service workflows and improving communication regarding service needs.
Using digital inspections in FMS, employees can quickly surface asset issues, and failed inspection items automatically notify the manager in real time to kick off the service workflow. Inspections in FMS are customizable, so managers can tailor forms to specific asset types or even individual assets for enhanced monitoring. Employees can attach documents and pictures, as well as leave comments, in inspections so managers and technicians know exactly the part needed for service.
With FMS, in-house technicians can clock on and off jobs within specific work orders so fleets can compare active time on the job against service duration (i.e. the amount of time the asset spent in the shop from drop-off to pick-up) to determine workflow inefficiencies such as understaffing or unnaturally high workload volume. This data allows fleets to pinpoint shortcomings in process and analyze a solution based on detailed information for improved uptime and mobilization.
Data visibility
Improving data visibility around fleet assets helps companies easily determine which assets are available, in the shop, sitting in the lot waiting to work, or in use on other contracts — including to whom the asset in use is assigned. In addition to providing asset status and assignment information, FMS can integrate with other fleet and business technologies to improve data consolidation, aggregation, and visibility. This allows managers to quickly view what assets are available for contract mobilization and what will need to be procured. Business integrations within FMS also provide the added benefit of finance and HR-related fleet data transparency for improved mobilization cost estimates.
While contract mobilization hinges on multiple departments across the business, the reliability of fleet assets can impact the entire job. Improving uptime through proactive maintenance, clear communication, and data visibility allows fleets to schedule maintenance downtime appropriately, minimize unscheduled downtime, and hit mobilization goals.
For a list of the sources used in this article, please contact the editor
Rachael Plant
www.fleetio.com
Rachael Plant is a content marketing specialist for Fleetio, a fleet management software company that helps organizations track, analyze and improve their fleet operations. With a mobile-first mindset and focus on automating the fleet operations process through seamless integrations with business solutions like telematics devices, maintenance shops and fuel cards, Fleetio's software powers public and private fleets in more than 80 countries.