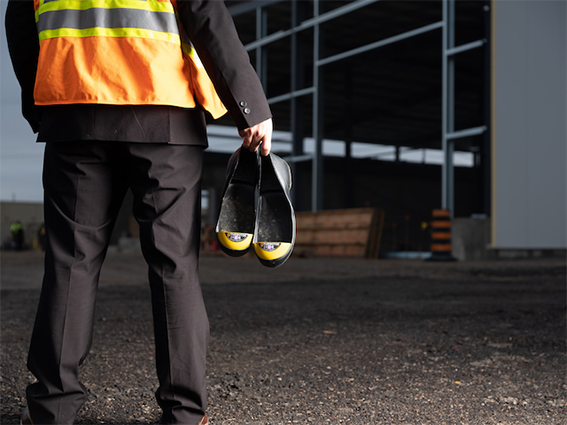 Impacto Protective Products Inc.
Impacto Protective Products takes pride in its high level of quality.
One only has to speak to a few contractors to understand a key value to the entire industry: safety. The same goes for manufacturing companies. Whether a company is building homes or large capital projects, or assembling machine tools, it is important that workers go home safely at night. Impacto Protective Products Inc. understands this well, which is why it has focused on the design, production and distribution of specialized ergonomic products for more than 30 years.
Based in Belleville, Ontario, Impacto developed the first gloves and wrist supports to help prevent vibration-induced injuries. It continued to grow in Canada and into the United States, and has expanded to offer a wide range of products, including personal protection from cumulative trauma and repetitive strain injuries. Focusing on product design and materials that optimize worker comfort and protection, the company also offers therapeutic specialty products.
"We have always been on the cutting edge of impact-resistance safety with the gloves, but we realized that we needed to be global to sustain the business," President Eric Lehtinen says. "Now we are in 40 countries worldwide, and we manufacture 50 percent of all the products we offer. We also operate packaging, warehousing and general assembly facilities in the U.S.
"We still make anti-vibration and anti-impact gloves – and they are still a top-10 selling product for us – but we recognized we could offer protection all over the body," he adds. "Things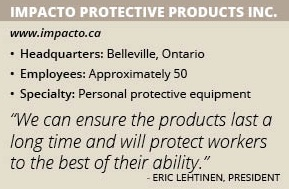 like insoles for comfort and to stop punctures, knee pads, back support and steel toe caps for visitors who come to a site. Footwear and foot protection is the fastest-growing area of our business, and we are getting more into products that provide ice traction, protecting workers from slips and falls."
High Standards
Impacto takes pride in the manufacturing it maintains in North America, because most of its competitors import 100 percent of their product lines. Lehtinen notes the company also will do as much manufacturing as it can because of its dedication to quality.
"We're able to very quickly catch any quality concerns and we can ensure the standard of quality is the same every time," he says. "We are proud of making products in the United States and Canada, and we are still price competitive. We can ensure the products last a long time and will protect workers to the best of their ability."
The company's focus on manufacturing and quality also allows it to create custom goods for clients. Impacto's R&D department can respond to specific needs, such as designing products for people who lost a finger or were hurt some other way on the job. The R&D team can modify a product so it still offers protection and is comfortable for the user. Impacto also created a three-finger glove for a microchip factory because the workers needed protection, but a full glove was too bulky for the application.
"By having manufacturing here and having a team of sewers, cutters and managers who have years and years of experience, we can turn these products around quickly," Lehtinen says. "We enjoy solving problems for our customers and for the end users to help ensure they are working as safely as they can. A lot of these products are led by our end-user clients, they come to us through distributors. We might hear someone needs extra padding in the palm of a glove because of the job application, and that is something Impacto can do. Once we solve that problem, that customer will consider us for other things in the future."
Expanding Footprints
Impacto has been making a number of investments to ensure its ongoing growth. On the sales side, the company has added to its team so clients have someone local to speak to, and it has spent a lot of time and resources to enhance its website and catalog. It is updating its photos and videos with 360-degree photography, so customers can see every degree and angle of a product, helping them decide if it's right for them. Impacto also has updated the search engine on its website so users can search by the type of protection they want.
On the operations side of its business, Impacto has digitized all of its patterns to ensure it is making its products the same way every time. It also has improved the feel of its gloves, enhanced its packaging operation and added a warehouse in Upstate New York to reduce shipping time.
"If we're not growing, we're getting smaller, and we want to grow our sales footprint as well as our employee footprint," Lehtinen says. "We've succeeded in a few different ways – in terms of organic sales with new products and finding companies that match up well with us for acquisitions. By winning on those fronts, we can keep growing and bringing innovative products to the market."
He notes that many of the company's employees have been with Impacto since it started, and the family-like culture will ensure the business remains strong. "Through a lot of adversity, we've been able to maintain a North American-based manufacturing operation, while the vast majority of our competitors get almost all of their product overseas. We have very, very low staff turnover, and we are proud of the products we make here. For the products we do import, we are very particular about the manufacturers we work with. As a result, we put through high-quality products."