The smart solution
Working across the US, Hylan is a leading provider of full-service, turnkey communications solutions and electrical infrastructure design and construction services
Originally founded as Hylan Datacom & Electrical 60 years ago in New York City, Hylan now serves a wide variety of end-markets throughout the US. Headquartered in Holmdel, New Jersey at the Bellworks complex (the former home of Bell Labs) the business also has offices and facilities in New York, New Jersey, Arizona, California, Illinois, Maryland, Pennsylvania, Utah and Virginia, with many of these organized as field locations where crews are housed along with hundreds of vehicles and pieces of equipment. This national reach means that customers can approach Hylan for all their needs from coast to coast.
In 2018, Hylan – supported by private equity firms Flexis Capital and TZP Capital Partners – acquired three companies to accelerate its growth strategy, making Hylan the parent company to four divisions: Hylan Datacom & Electrical,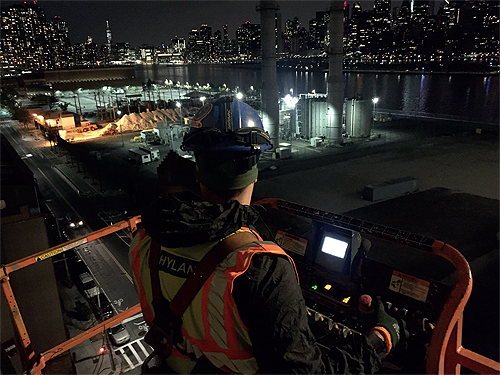 Hylan West, Down Under Construction and Western Utility.
Through its divisions, Hylan is able to provide a range of comprehensive services, as Joe Cecin, Chief Executive Officer began by explaining. "We work across the Wireline, Wireless, and Municipal/Smart City segments and can assist clients in a number of areas. So, for example, we undertake Telecom Outside Plant Construction – underground and aerial fiber construction and splicing; and Small Cell and DAS design and construction on behalf of the nation's largest wireless carriers. We can perform electrical contracting for bridges and highways, as well as engineering, utility construction and maintenance and upgrades to critical network infrastructure."
What unites these areas is Hylan's commitment to reliability and quality and Joe confirms that these traits have been the foundations for its ongoing growth. "Our success has been rooted in our ability to complete difficult projects on time and on budget for our customers. We are known as a 'can do' organization, and our field teams are second to none," he stated, identifying another area that differentiates Hylan from the competition – its staff. "Our success is all because of the hard work and dedication of our Hylan Family, and we tell them often. At Hylan, we treat all of our employees as family. We started off as a family-owned and operated business 60 years ago and we have worked to keep that feeling strong, even as we have continued to grow. We also encourage our shared Mission Statement, and our Shared Values: Character, Competence and Commitment. We highlight our people's efforts to live those values through our work, and it drives a common sense of purpose and engagement throughout the team.
"I appreciate this opportunity to talk about our amazing team. None of this would be possible without the dedication and support of our men and women in the field who are getting the work done in difficult circumstances."
Having raised the issue of today's current working conditions and the inevitable specter of coronavirus, Joe described how Hylan's operations were impacted by Covid-19, and what the organization had to do to overcome the challenges it faced. "As a construction company building the very infrastructure that we have come to rely on even more during the pandemic, Hylan was deemed essential from the beginning," he explained. "Our work never stopped, as we have to carry out maintenance and complete projects that directly affect the ability to connect to the internet. However, we have had to limit how many workers are at sites, provide PPE to all of our employees and keep our office employees working remotely from home. It has been a tough year, but we have never stopped working. Our team has risen to the challenge and taken the proper precautions to make sure the Hylan Family has remained safe and healthy."
Looking in more detail at some of Hylan's projects is a good way of highlighting the capabilities of the Group, and Joe identified a selection that showcases the essential and complicated nature of its work. "We have completed a number of high-profile projects on behalf of our customers across the country," he said. "In New York City, we completed the buildout of an Amazon fulfilment center, as well as numerous lighting and intelligent traffic system (ITS) projects in and around New York. In the DC area, we are involved in the buildout of fiber and data centers in Northern Virginia, helping to expand internet infrastructure and electronic commerce. In the Chicagoland area, we are working to improve the communications infrastructure along the Illinois Tollway system. Moving out west, we have installed distributed antenna systems (DAS) to improve communications inside several malls in California, as well as digital display boards along the Los Angeles Metro system."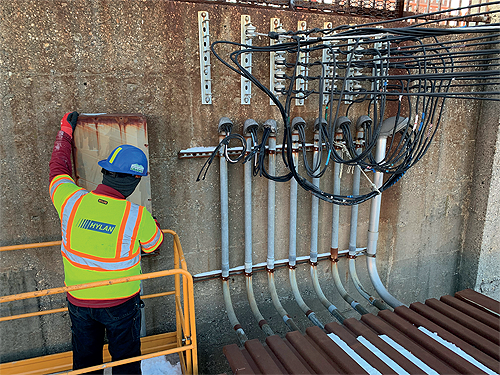 Another exciting area is also developing for Hylan as the world continues to look for new alternatives to fueling transportation and the evolution of electric vehicles speeds up. "As infrastructure providers, Hylan is well positioned to participate in the rapid expansion of electric vehicle charging stations and associated infrastructure," Joe revealed. "We have already participated in numerous charging station projects and are involved in bidding on some very large projects for municipalities looking to increase their fleet of electric cars, taxis and buses."
Echoing this wider green remit, Hylan has its own environmental strategies, and as Joe noted, the business operates in a very regulated sector when it comes to the environment, requiring vigilance and attention to detail on its projects. "Those requirements vary on a state-by-state basis," he said, adding another degree of complexity. "We abide by very stringent restoration guidelines whenever we plow, trench or bore in the ground, to return the land to a pristine state after our work. We are also optimizing our fleet for lower emissions, and employing field force automation to reduce fuel consumption and miles driven."
The dedicated approach that Hylan adopts across its operations has not gone unrecognized by the industry and it has received numerous awards over the years, all of which make the business very proud. "It is always an honor to receive an award and be recognized for your hard work," agreed Joe. 2020 saw another accolade bestowed on the business when it was presented with the Best Staten Island Electrician Award, and this one in particular resonated with Joe and his team. "This award was an acknowledgment of our 60-plus year history proudly serving the electrical, telecommunications and construction industries. Hylan was founded on the principles of a powerful work ethic and a strong customer-centric approach, and we are proud to carry this tradition of excellence into 2021 and beyond. Winning awards like this is thanks to our incredible customers, partners, stakeholders and our Hylan Family."
As 2020 draws to a close, Hylan is leaving the year with ambitious aims for its next era of growth, with plans for additional expansions throughout the US on the agenda for 2021. "I am very proud of all we have accomplished in 2020 and am looking forward to the future with great excitement!" exclaimed Joe. "We have learned to safely operate in the 'new normal' that is Covid-19 and our people are involved in the largest expansion of communications infrastructure in history. We welcome that challenge.
"Down the road, in three to five years, I can easily see us doubling the size of the company organically and through acquisitions as we continue to establish Hylan as a 'go-to' communications and smart city infrastructure provider for 5G and beyond."
Hylan
https://hylan.com
Services: Provider of full-service turnkey communications solutions, electrical infrastructure design and construction services