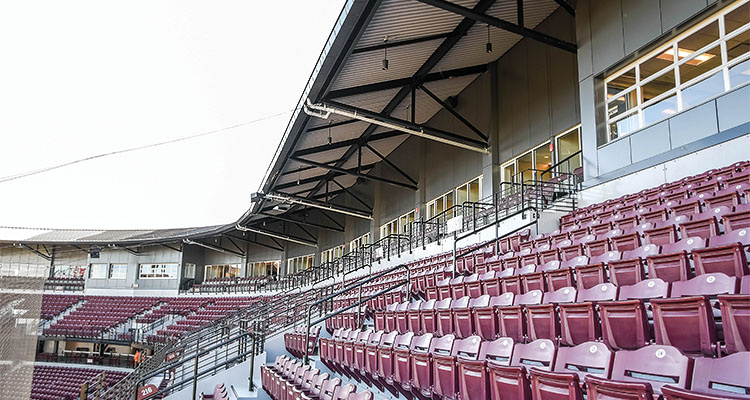 How to get ahead in the construction business with FL Crane & Sons 
FL Crane & Sons is an employee-owned construction company specializing in commercial construction. Founded only two years after the end of World War II by Floy Lee Crane in Fulton, Mississippi, the firm has since grown year-on-year, becoming one of the leading construction companies operating in the southeastern United States. 
Last year, the FL Crane & Sons' team celebrated 75 years in business. But that wasn't the only reason for merrymaking: the firm also had its most successful year in terms of revenue ever recorded. 
The construction company's scope of operations and services range from Texas to Florida, then along the coast up to Tennessee. There's a valid reason behind such a wide locus. FL Crane & Sons has a big goal: to become a leading authority when it comes to the fabrication and installation of prefabricated wall panels and exterior metal panel systems. 
At the same time, the company also offers its customers first-class workmanship and intends on setting the highest level of safety protocols for the construction industry.  
Extensive services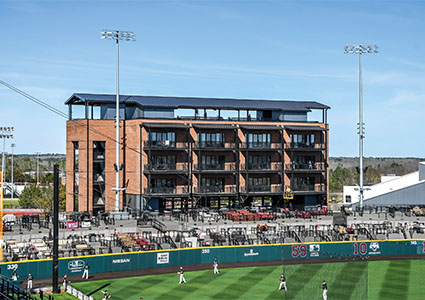 To that end, FL Crane & Sons has been actively taking major strides in both areas with the help of its three in-house prefabrication shops. Supporting these shops is a team of technology experts and network of 11 company branches. The company has consequently managed to carve out a strong reputation in myriad fields, such as healthcare, hospitality, education, entertainment, and industrial.  
FL Crane & Sons has offices in many locations: Fulton, Jackson, Cleveland, and Gulfport in Mississippi; Tuscaloosa and Huntsville in Alabama; New Orleans in Louisiana; Nashville, Memphis, Knoxville, and Middleton in Tennessee; Melbourne in Florida; and Austin in Texas. 
It carries out a range of traditional work (metal stud drywall framing, drywall hanging and finishing, acoustical ceilings, soft and hard flooring, exterior insulation and finish systems, and exterior metal panel systems) and non-traditional work (robotic layouts, prefabricated finished exterior wall panels, prefabricated load-bearing wall panels, prefabricated interior wall panels, and custom crating). 
Industry experience 
To take a look inside the business, we recently spoke with Ty Crane, President at FL Crane & Sons. But before we begin talking about the company's exciting projects, we ask about Ty himself. As he makes clear, he's no stranger to the firm. 
"My earliest memories of FL Crane & Sons include roaming the halls of our office and visiting jobsites with my grandfather, Johnny Crane," recalls Ty. "I started working at the firm in earnest during a long hot summer. 
"It was 2006 and I had just turned 18," he continues. "I worked as a laborer on various job sites every summer while I was also busy studying. That was until 2010. During that year, I transitioned to office-based estimating work. 
"I graduated from Mississippi State University's Building Construction Science program a year later – after that, I joined Broaddus and Associated, a construction program management firm, and worked on an important disaster relief project. 
"Upon coming back to the family business in 2012, I started as an estimator and project manager," he goes on. "I stayed in that role until 2016, ultimately moving into an operation officer role where I was tasked with improving company operations." 
Family atmosphere 
In 2019, when Mike Heering retired, Ty was an excellent candidate for the role of President. Since his appointment, he's made it his mission to strategically navigate the family-run company on its continual pursuit of innovation, while also reinforcing the familial culture that previous generations worked so hard to cultivate. 
That culture is important, Ty explains: "The involvement of family members at FL Crane & Sons plays a significant role in shaping our organizational culture. Our office premises witness the daily presence of members spanning second, third, and fourth generations.  
"We pride ourselves on fostering a family atmosphere and prioritize the welfare of our employees – above all else. As a result, we have engendered a sense of loyalty among our workforce, thereby establishing a workplace culture where employees take pride in being associated with us." 
In what part does Ty take most pride? "My favorite part of the job is working with our incredible prefabrication team developing new formats of construction to separate us from the rest of the industry," he says. 
"Conversely, the most difficult part of the job is managing different personalities and the character of those we employ, to ensure that we protect our culture that we have worked so hard to maintain, which then goes back to the importance of maintaining that family-like feeling." 
When we talk over the firm's portfolio, some impressive structures come up. For the Memphis division, there's the Methodist University Hospital. In Texas: the Municipal Police Station, built with cutting-edge BIM coordination software and clash detection drones. 
Then with the Fulton Division, there's the MSU Dudy Noble Additions & Renovations project – a historic development, including the building of the Omaha Club. In Jackson, FL Crane & Sons was awarded an ABC Merit Award for its renovation of Millsaps Christian Center. 
Impressive projects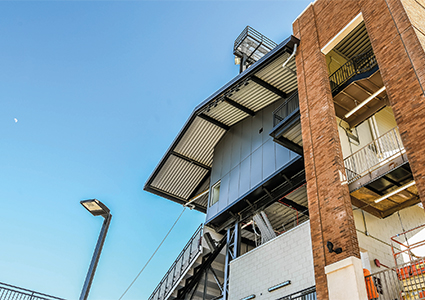 For Ty, though, the first big project to demonstrate the company's capabilities is a student housing development completed for the University of Alabama. 
"It was a game-changer for us," he recalls, "and our largest load-bearing project utilizing off-site construction ever. It's around 366,000 square feet and stands five stories tall, with the capacity to house over 1200 students for the university.  
"We produced more than 4500 interior and exterior load-bearing wall panels for this project, while utilizing 75 percent less manpower on-site. We were able to validate our off-site construction capabilities through this development while also continually gaining maximum exposure." 
Ty is also keen to point out a few current and upcoming projects. "Our metal panel division has two high-profile projects going on right now," he reveals.  
"First, there's the Peninsula Condominiums in Jacksonville. It's a re-skin of a structure that stands 450 feet tall. It'll be the tallest structure the division has ever worked on.  
"The team is also busy doing great work at the Superdome in New Orleans," Ty goes on. "The scope includes some high-end work on the inside of the structure with a specialized product. 
"We've also got a hotel going up in Panama City Beach, Florida. This is a Residence Inn where we are providing all the load-bearing walls through our off-site construction capabilities; one of our conventional divisions will finish all the miscellaneous framing, drywall, and ceilings. 
"Our contract also includes all the decking and structural steel work. This allows us to provide more of a turnkey solution to the owner and general contractor. Having one point-of-contact for both parties is a real plus." 
Projects such as these are pushing FL Crane & Sons towards its goal of having another record year in sales. "With this new growth, you'll see a lot of exciting projects where we have incorporated our prefabrication capabilities," concludes Ty.  
"You'll also see exponential growth in our exterior metal panel systems work. Pending an economic shutdown, I'm putting my money on a boom for FL Crane & Sons in prefabrication and exterior metal panel systems. We intend to increase our market share and become a force in these two areas."