How Harold K. Jordan pivots to keep pace with the changing face of construction
FIRM FOUNDATIONS
Harold K. Jordan & Company (HKJ) is a general contractor that specializes in both public and private, multi-family residential communities and commercial housing. Founded by Harold K. Jordan in Apex, North Carolina, in 1989, the company has grown to include offices in Wilmington, North Carolina, and Myrtle Beach, South Carolina.
Despite decades in the industry, the last couple of years have seen the business thrive exponentially to grow to almost double in size from $150 million to $300 million. As Director of Business Development, Scott Niebauer, explains: "We have been fortunate to sustain a large growth pattern while we experience growing pains from it. Finding new qualified staff has been a challenge, and right now, it's all hands on-deck. Most of our clients are repeat customers, and we have managed to maintain those relationships and our reputation throughout the growth process. Of course, there have been challenges, particularly surrounding schedules, pricing and the supply chain. As a third-party contractor, we are at the mercy of our clients' and partners' schedules. From architects and engineers to local municipality inspection departments, everyone, like us, is busy. Our goals require tighter management of schedules and trying to complete our projects as quickly as possible. We're always innovating to resolve issues for our clients."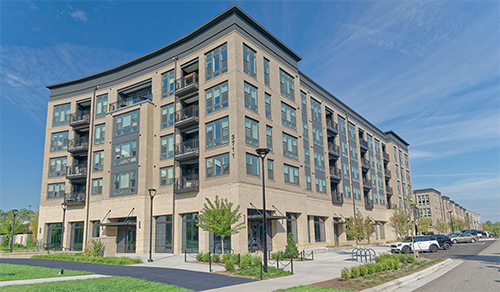 Scott is proud of the service HKJ provides. From simplifying the construction process to completion and handover, the business strives to ensure seamless project delivery. "We always make sure we meet and exceed the expectations of every single client. What sets us apart from the competition is, we are able to finish the job. Most contractors can achieve 95 percent completion, but always seem to struggle with the last five percent. We don't have those struggles. We achieve 100 percent," he enthuses. "Our goals are to turn over units during construction, so our clients obtain income to pay down the interest from their loan. This process requires extensive planning and execution."
One recent project is The Artreaux complex in North Carolina. Located in the Industry Hill neighborhood, in Winston-Salem's downtown arts and entertainment district, the 242-unit complex boasts five stories with a parking deck. Scott elaborates: "Right now, we are in the finishing stages of that project. We are framed up, the roof is on, exterior façade almost completed and the subcontractors are currently finishing in the interior units. We are very close to substantial completion leading to a final CO."
An equally exciting project is The Residences at Glenwood Place. This 275-unit, high-end project promises a superior aspect and finish, as reflected in the top-end market rates. The Residences at Glenwood Place has contemporary architecture, unrivaled amenities, local retail, and a beautiful landscape design. It is located inside the beltline and connected to the Greenway in the heart of Raleigh. This multi-faceted lifestyle destination with airy, thoughtfully finished apartments places residents in the middle of The Triangle's finest culture, cuisine, and entertainment. This is truly one of the best projects HKJ has built.
Accomplishing the impressive scale of these projects involves collaboration. As Scott explains: "We work closely with our clients and their design teams to accomplish their vision. There are always initial expectations of their vision, and while we work to achieve those expectations, we always must factor in additional changes or considerations due to the increasing cost of materials. For the project to be successful, we need to ensure the design aligns with the proposed budget."
This unique way of working filters down to all members of staff and is cemented within the company culture. "We don't micro manage our employees," Scott highlights. "We have an expectation that they will represent HKJ, at its finest, and we allow our people the freedom to work on a project. Our employees are empowered to take ownership and make decisions to accomplish our tasks. Challenges are presented on every project. We focus on resolving those challenges early and proceed with meeting our goals. While our culture is generally laid back, we are focused on getting the job done."
This culture of ownership and empowerment is reinforced and rewarded with staff benefits. Scott continues: "Our employees have great benefits. We offer competitive pay, insurance, 401ks, and great potential to advance within our company. We make sure our people feel valued and reduce turnover within the company. Our staff are truly a talented group that enjoy their careers with HKJ. HKJ is committed to creating the best work environment – a place where everyone's voice is heard, and where communication, feedback, and employees are free to talk with any manager at any time about any topic.
"We also hold an annual event that includes announcing awards based on health and safety achievements. We are a safety-driven company and are always looking out for the best interests of our people. We believe it is important to recognize achievements of our talented employees."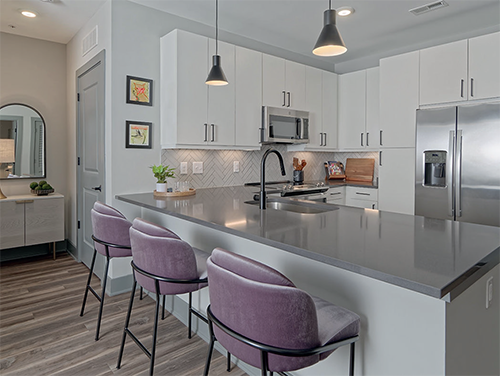 The pandemic is a pertinent example of a pressing health and safety situation, and HKJ responded with the safety of its workforce in mind. As Scott explains: "From face coverings to testing, we paid close attention to what was required of us, and that attention extended to our sub-contractors. It was a challenging time. Communication became key to the successful management and control of the infection. While we're getting back to normal now, we're still feeling the effects of that time."
Future predictions
The supply chain was hit hard. Materials and delivery delays and availability forced the business to reassess its procurement and planning processes. "The pandemic caused attention to potential scheduling and procurement issues. We took the necessary steps to ensure materials were secured for our projects. This included subcontractors and labor in our process. As mentioned before, it's been all hands on-deck, with existing staff working across multiple functions, hiring more people, and opening our vendor relationships to reach out to other subcontractors. The rising price of materials and labor has been a challenge. In some cases, we've had to renegotiate contracts to account for those increases, and this can only happen with open communication across the board."
With three new projects in the pipeline, and currently, at full capacity, business doesn't look set to slow down any time soon. Looking to the future, Scott believes that multi-family housing will continue on its trajectory. "Primarily because interest rates are increasing, it's making it tougher for individuals to move into single family homes. However, as things stand, at some point, the market will drop. What's going to happen when it does, is something I can't predict. Five years from now however, I would like to think that HKJ will have the same clientele. While we strive to secure new clients, our current customers are ecstatic with the work we do, and our ongoing projects with them leave little capacity for widening the gene pool. One challenge, which is out of our control, will the banks continue to lend to commercial construction? I think contracts will still get signed but the loan structure will be different. In the next five years, we will continue to grow, but perhaps, there will be a greater concentration of affordable housing, as well as alternatives for new market rate product."
www.HKJconstruction.com