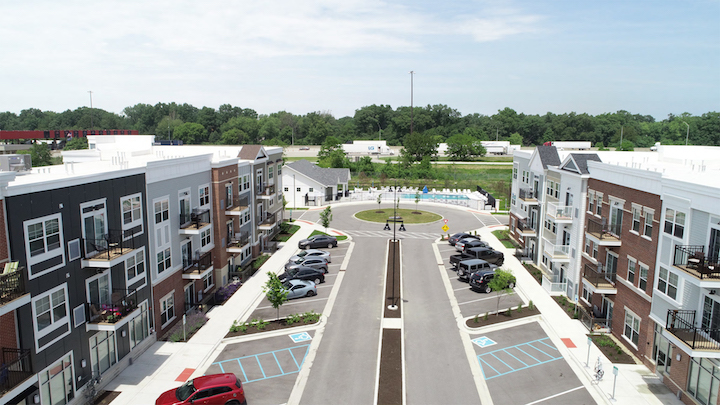 Holladay Construction Group
Holladay Construction Group leverages an extensive history in property development to turn concepts into reality, meeting all of its clients' expectations.
Born out of one of the leading real estate development and property management companies in the industry in 2007, Holladay Construction Group's unique history provides it with the experience and operational skills from an owner's perspective to offer extended design/build support. "The key is to deliver a quality project and treat it like you were paying for it with your own money," President Scott Trueblood says.
In 1952, Wallace Holladay and Norbert Grant founded Grant-Holladay Construction Group in Washington, D.C., to build single-family homes for United States veterans. The Holladay Corporate was formed five years later when Holladay bought out Grant and the company began the development of mid-income single-family homes in the Midwest.
In the late 1970s, John Phair joined The Holladay Corporation and the company expanded largely into the Midwest. He proposed a separation of the Midwest and Washington, D.C., operations in 1999 and became president of Holladay Properties. Today, the company has more than 30 offices located throughout the United States and has uniquely positioned itself to handle all aspects of the real estate life cycle.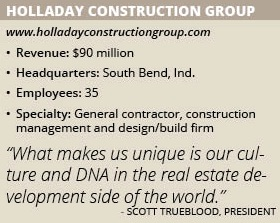 Holladay Construction Group was established 12 years ago as a general contracting, construction management and design/build firm working throughout the country from multiple office locations. "In real estate development, there's always construction, so construction has been in our DNA since the development firm started in 1952," Trueblood says. "With development at the core of our background, we are so diversified and have followed market trends. We have extensive experience in many project types: Multi-tenant office buildings, ambulatory care centers, medical office buildings, cancer treatment centers, industrial mixed-use spec buildings, hospitality, restaurants and multifamily projects."
Following the Trends
Hospitality and multifamily developments have been Holladay Construction's biggest growth segments recently. To capitalize on the growth of these two segments in the Midwest, The Holladay Group opened a new office two years ago in La Grange, Ill., which will also oversee one of the company's largest multifamily projects to date – Quincy Station in Westmont, Ill.
Holladay Properties is the developer of Quincy Station, a five-story, $30 million development that will include 94 luxury residential apartment units designed to provide a variety of living spaces suitable for a broad spectrum of residents. Quincy Station will include below grade parking at the basement level and a first-floor enclosed parking garage, as well as immediate access to the Westmont train station, an on-site restaurant, formal lobby with concierge and business center, fitness facilities and more.
"This prominent and exciting development will serve as a vibrant community hub and gathering place for new and existing residents of Westmont," Holladay Properties Partner and Vice President of Development Drew Mitchell says. "Quincy Station will create an artistic landmark and community gathering destination while setting a new standard for residential living at this important gateway to the downtown area."
Holladay Construction is currently in pre-construction meetings with Holladay Properties and Tandem Architecture. Although it varies year to year, 50 to 60 percent of Holladay Construction's volume consists of Holladay Properties projects and the remainder consisting of third-party projects.
"What makes us unique is our history and shared culture in the development side of the world," Trueblood notes. "Our core values stem from the Holladay brand and include integrity, trust and customer service. Our tagline is 'Creating Solutions and Building Relationships,' and that's really us. It's all about how you treat other people – coworkers, subs and vendors – because it's our people who make the brand."
Promenade at Founders Square
Holladay Construction is nearing the completion of the Promenade at Founders Square in Portage, Ind., for Holladay Properties. The $35 million mixed-use development began in April 2018 and will feature 304 residential units spread over nine buildings and 10,200 square feet of ground floor retail, commercial and restaurant space.
One of the most notable challenges on the Promenade at Founders Square project was bringing the cost down to budget during pre-construction. "It was over budget in the beginning, so we proposed a redesign of how the building was framed and structurally supported," Trueblood remembers. "Although it caused some delays and headaches, we saved $1.5 million. That's why our team is valuable to architects and owners when we start at the pre-construction phase to work together with the engineer, owner and architect."
The residential community at Promenade at Founders Square goes beyond merely providing a luxurious place to live, but offers an array of common amenities exclusive to its residents. Tenants at this unique community will have a wide variety of units to choose from that feature open-concept living with nine-foot ceilings. The apartments will feature Energy Star-rated appliances.
At peak, Holladay Construction oversaw 120 employees on site that included a mix of new subcontractors and those it has been partnering with for years. "Communication is key when dealing with subcontractors to make sure everything is understood," Trueblood says. "We have weekly meetings, keep everyone focused and treat people fairly."
As it does on every project, Holladay Construction employs best-in-class jobsite management personnel. "It's critical to a project's failure or success," Trueblood adds.
Hospitality 
Holladay Construction is seeing an increase in hotel and hospitality developments throughout the country, but especially in the Midwest. For example, the company recently completed its sixth WoodSpring Suites extended stay hotel in the greater Chicagoland area.
WoodSpring Suites hotels are four-story developments that offer about 120 rooms. One of the biggest challenges in hospitality construction is staying on schedule. "You commit to a completion schedule and delivery timelines of all FFE when you break ground, no matter the weather or challenges, it's critical the project meet its deadlines," Trueblood says.
In addition to WoodSpring Suites, Holladay Construction has also overseen the construction of numerous other hotel projects, including Hampton Inn & Suites, The Inn at Saint Mary's in South Bend, Ind., Country Inn & Suites, Affordable Suites of America, Holiday Inn, DoubleTree by Hilton Hotel and Hilton Garden Inn.
Moving forward, Holladay Construction anticipates the hospitality and multifamily sectors to continue to thrive. The company will continue to broaden its portfolio of high-quality developments for Holladay Properties and third-party clients that showcase why Holladay Construction is the general contractor of choice.