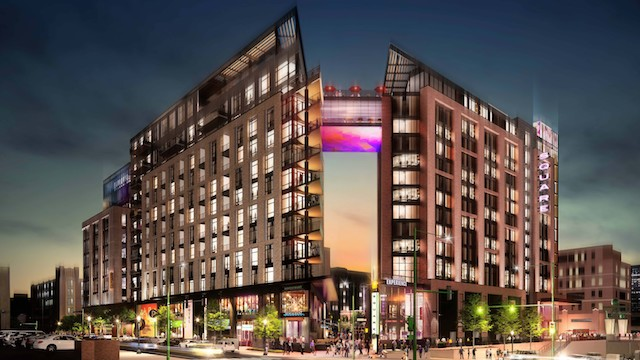 Hensel Phelps breaks ground on a $250 million Colorado Rockies Development in Denver.
Baseball fans of the Colorado Rockies rejoice. Hensel Phelps, one of the largest general contractors and construction managers in the United States, broke ground on a $250 million mixed-use development that will change the face of Denver's downtown.
Known as the Colorado Rockies Development at McGregor Square, it also promises to enhance fan visits to Coors Field, the home field of the Colorado Rockies, the city's Major League Baseball team.
Visitors to the ballpark neighborhood have probably noticed that the so-called "west lot," just south of the stadium, has been a flurry of activity since construction started in October.
"This is going to be a big economical driver for the downtown area," says Kurt Seeman, operations manager at Hensel Phelps. "There are various projects that have really activated and energized the area and I think this will do the same thing."
What used to be a lot with roughly 300 parking spots is being transformed into a development featuring condos, office space, retail space, restaurants, a hotel and a Rockies Hall of Fame. Plans also call for an outdoor entertainment plaza where families, fans and residents will be able to linger, talk and celebrate the uniqueness of their community. The plaza will also have a giant video screen that will broadcast sports games.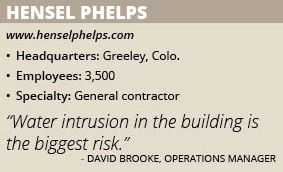 "The Rockies wanted it to be more than just a few buildings," Seeman says. "They wanted the buildings intertwined with the plaza to make it a space that people want to go to and hang out."
The plaza is designed to be a pre- and post-game gathering place for Rockies fans. Beyond baseball, it will serve as a new "outdoor room", a year-round destination that can host neighborhood concerts, festivals and other public activities.
The west lot has been slated for redevelopment since the Rockies signed a new lease for Coors Field in 2017. Along with a 30-year pact to keep the team playing at the ballpark, the arrangement netted the Rockies a 99-year ground lease for the west lot, which is owned by the state's Denver Metropolitan Major League Baseball Stadium District.
General Contractor Hensel Phelps is converting the city-block-sized site from an industrial property to a planned-unit development that will make up more than 450,000 square feet of new mixed-use space.
The 2-year project, targeted for completion in January 2021, will consist of three towers and an outdoor plaza. One of the towers will be a 13-story hotel, another 13-story tower will be home to condominiums and a third 11-story tower is slated for office space. All three towers will have a certain amount of retail space.
Construction already started on a common concrete podium which the three buildings will share, along with parking stalls and back of the house support services.
Individual Style
When design of the hotel tower stared, it was decided that it wouldn't fall under a well-known corporate flag. Instead, its creators envisioned a boutique hotel. Known for their intimate atmosphere and individualized style, boutique hotels distinguish themselves from larger chain hotels by offering personalized attention and styled accommodations which play on a motif.
"Given the fact that it's right across the street from the ballpark, it will most-likely have a subtle baseball theme," Seeman says.
The luxury hotel, which will have more than 170 keys, will be operated by Sage Hospitality, a Denver-based hospitality management, investment and development company. The ground floor will feature a lobby, bar, restaurant and retail space. The Colorado Rockies Hall of Fame will take up the entire second floor.
Hotel rooms and suites will be on floors four through 12. The 13th floor will house six for-sale units that could include condos and/or company apartments. The third floor is designated for ballroom space. It will have three ballrooms, an executive boardroom and some pre-function space.
"The ballroom space will have access to an outdoor terrace with a view of the plaza," adds Seeman.
The eighth floor will be known as the "5280 floor" because it will be at elevation of 5,280 feet above sea level, and feature a different design from the rest of the hotel.
Living in Luxury
The 13-story condo tower will offer more than 100 units that range from studios to three bedrooms on the third through 13th floors. The first and second floors will contain retail space. There will be a rooftop pool with firepits and other amenities.
A bridge will connect the condo tower to the hotel at the 12th and 13th floors. The bridge will also house a fitness center on the 12th floor which will be shared between hotel guests and condo occupants. In addition, there will be a large amenity room and party room.
The third tower will be dedicated to office space from the third to 11th floors and have some retail space on the first two floors.