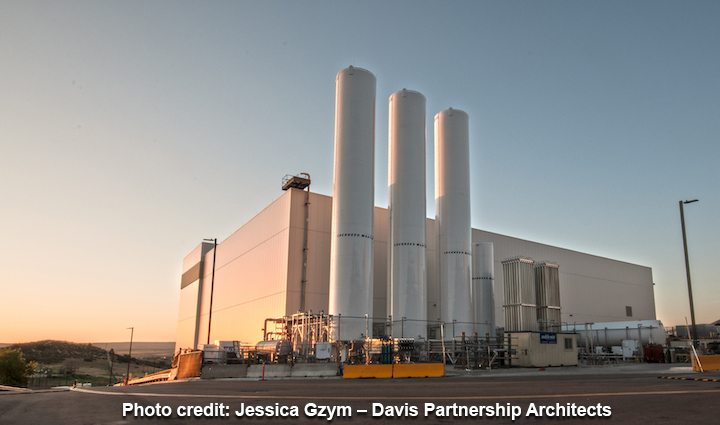 Hensel Phelps is partway through building a $350-million satellite manufacturing facility.
Any construction project requires building to customer requirements but sometimes those customer requirements are unusual. A checklist for the Gateway Center project in Littleton, Colo., would include:
* Chamber that can withstand the vacuum of space;
* Chamber that withstand the temperature of -454; and
* Vacuum-jacketed piping that can transport liquid nitrogen at -321 degrees and 150,000 gallons of liquid nitrogen storage.
Hensel Phelps of Greeley, Colo., is about two-thirds through doing design/build of the Gateway Center, a satellite assembly and test facility for defense contractor Lockheed Martin. Planning for the $350-million facility started in November 2016 and construction in June 2017.
In addition to office and mechanical space, The 266,000-square-foot Gateway Center is largely composed of three main spaces, each of which is five stories tall. There is a high bay clean room used for assembling multiple large and small satellites, a thermal vacuum chamber that simulates the environment of space and an anechoic chamber for testing sensors and communications systems.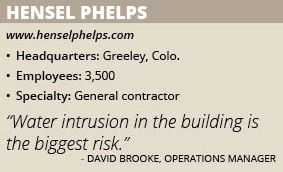 As Operations Manager David Brooke describes it, the thermal vacuum chamber is "a big stainless steel box capable of handling large temperature extremes, while maintaining a vacuum similar to the vacuum of space. When under test vacuum, if you drop a bowling ball and a feather, they would hit the ground at the same time."
The anechoic chamber is likewise a large steel box with waveguides at all penetrations to restrict outside electronic interference.
Hensel Phelps has built similar facilities for both Lockheed Martin and other clients in the aerospace industry. The company has many employees with aerospace expertise and for the design included several key architects, engineers, and specialty designers. The company did hire a specialty firm to design vacuum-jacketed pipe – essentially a pipe within a pipe – to transport liquid and gaseous nitrogen. In liquid form, nitrogen is -321 degrees.
While building a facility that manufactures satellites might seem exotic, Hensel Phelps largest concern in construction might be the same as a builder of single-family homes. "Water intrusion in the building is the biggest risk," Brooke says. "These are very expensive satellites and you don't want leaks."
To prevent leaks, the company hired a third-party water intrusion consultant that sat in with the Hensel Phelps design team to develop the details. That's a bit unusual as most such consultants work remotely, doing periodic reviews at design milestones. "We integrated their comments into the design details as we progressed the design," Brooke says. "We ended up with an extremely robust building envelope."
Lockheed Martin wanted the Gateway Center constructed in two phases so the defense contractor could begin producing satellites while Hensel Phelps completed the facility. That accounted for one of the company's biggest challenges.
"From a life safety, electrical, mechanical and plumbing standpoint – how does it support the part of the facility being used but not impact the rest of construction?" Brooke explains.
Hensel Phelps began designing early, considering where to locate mechanical/electrical rooms and other equipment and how systems were zoned. As they turned on systems, they refined the work. Ultimately the company was successful and turned over the first phase – which accounts for two-thirds of the facility – to Lockheed Martin three weeks early in June. The company anticipates completing the remainder of the Gateway Center construction in February 2020.
While building information management (BIM) modeling has become common among construction firms, Hensel Phelps found itself using BIM more than usual on the Gateway Center. "This project really developed a high level of trust in the BIM model," Brooke says. "It was the No.1 go-to reference versus the construction plans. When I started seeing superintendents and the foreman looking at the model together in the field rather than looking at the construction plans, that was an eye opener for me."
Staying Diverse
Hensel Phelps, which was founded in 1937, became an employee-owned company in the 1980s. "With that, our people care a lot about the company," Brooke says. "Most start right out of college and work their way up. They start as field engineers and office engineers and learn construction all the way up – including our CEO and board members. They day-to-day operating processes become second nature."
The employee-owners are also loyal. The average tenure at Hensel Phelps is an impressive 17 years. "We don't hire people for specific projects," Brooke says. "It creates a long-term culture."
The company has eight districts across the country and works in numerous market segments including aviation, commercial, education, government, healthcare, hospitality, infrastructure, transportation, science and technology. Hensel Phelps is careful to maintain that diversity. The company is currently the largest builder of aviation projects in the United States, Brooke says, but in California it also builds a lot of healthcare facilities, in Colorado a lot of aerospace and technology and in the mid-Atlantic region does a lot of public and federal work.
While Hensel Phelps has built a lot of private facilities the last several years, it is seeing more public work in Denver and the Great Plains states along with public-private partnership projects. The company is also seeing an increase in design/build projects. "It was prevalent before the recession," Brooke says.
Whatever the project, Hensel Phelps exhaustively reviews it. "Do we have the resources," Brooke says. "Would our trade partners (subcontractors) have the capacity and available backlog to support it as well. Also, is there the workforce. We support many of the construction association workforce initiatives."
In addition to BIM, Hensel Phelps is a technologically sophisticated company. It is working with groups to develop artificial intelligence to create a cloud point model that would overlay a construction site and show whether installed components such as walls and pipes are in the correct place.
The company also uses drones. In June, the Federal Aviation Administration issued a waiver to Hensel Phelps, allowing it to operate a DJI Phantom 4 drone, equipped with a parachute, over people. This is the first such waiver the FAA has ever issued, according to FAA website. "Normally, you need a permit for each such flight, depending where you are," Brooke says.