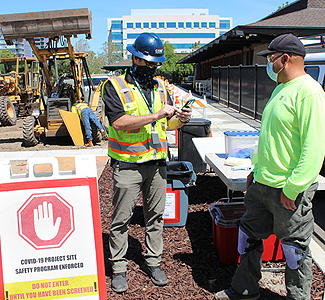 Helping sites reopen safely
The BuildCenter Health Screening Tool is a best practice tool for construction businesses. The app is available for any Apple or Android phone or tablet. It streamlines the health screening process of every person who enters a job site and quickly logs in those that have been to the job site before. The app also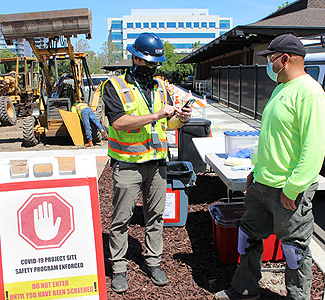 enables fast 'contact tracing' by making it easy to identify and notify anyone who is exposed. If there is exposure, some mandates require companies to shut down a job site to clean and disinfect immediately.
"The mandates make sense, but they also create a compliance challenge to construction companies," says Shaun Olson, CEO of BuildCenter. "It quickly becomes overwhelming to collect this information on paper. It's even more challenging to sift through files to find if anyone on a job site is exposed should an infection break out. Some records may even get lost. Cloud-based records are easier to maintain and more secure."
How it works
A designated person takes the name, address, phone number, and email of each person entering a site, followed by asking questions related to COVID-19 symptoms such as fever, body aches, shortness of breath, sore throat, or a recent loss of smell or taste. Each company can add their own custom screening questions or modify them as recommended by the CDC. There is another critical question, too: "Have you had contact with anyone who has tested positive for the virus?" If the person does not pass the screening, the company recommends getting a test or consulting doctor. Should a person complete the assessment and later develop symptoms, companies can quickly begin contacting people who were possibly exposed. The information resides in a cloud database that the company can access by name or job site.
"The BuildCenter Health Screening Tool gives a high level of confidence to companies and clients," says Olson. "It's in all of our best interests to help each other adapt to new work environments and help our industry get back on the road to normalcy. We all want to be able to safely work again, and if we don't follow the new safety protocols, our job sites will get shut down and that should be avoided."
www.BuildCenter.com