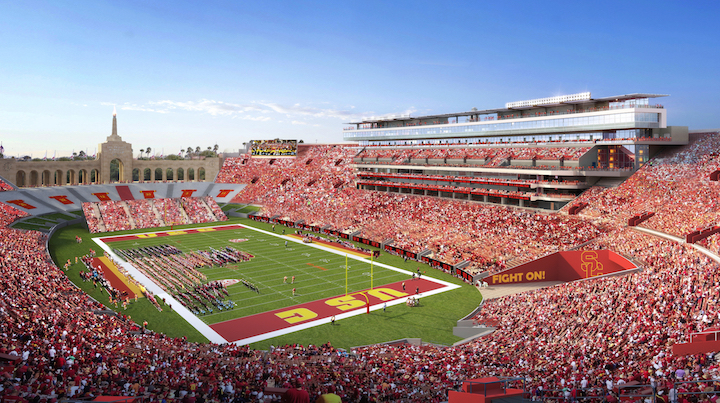 Hathaway Dinwiddie AECOM HUNT – Los Angeles Memorial Coliseum
Hathaway Dinwiddie AECOM HUNT worked closely with its team and USC to successfully complete its work at the LA Coliseum.
Project Manager Rafi Halajian graduated from the University of Southern California (USC), and he can't wait to see the football team of his alma mater run the field after Hathaway Dinwiddie-AECOM HUNT's renovation of the iconic Los Angeles Memorial Coliseum. The project is on target to be completed in time for the 2019 football season, so Halajian and other fans will soon get their wish to see the USC Trojans on their renovated and expanded home turf.
"We were on another USC project – the USC Village – and got the call that they selected us and AECOM as a joint venture to work on the renovation of the coliseum, so we picked up and moved a block or two down and started working," Halajian explains. "That was two months prior to ground breaking. Our success with this comes down to working with a repeat client. There is great leadership and USC trusts we will deliver. After a year-and-a-half of construction, we are ready for game day."
The project team broke ground in early January 2018, a day after the last playoff game of the season for the Los Angeles Rams NFL team, which is also using the Coliseum. Hathaway Dinwiddie and AECOM Hunt's scope for the project involved adding a 240,000-square-foot, eight-story building within the existing bowl, which will have 44 luxury suites, 24 lodge boxes, 1,100 premium club seats, a club-level party deck, restaurants, catering kitchens, new press facilities and a rooftop party deck. The joint venture also replaced 76,600 seats in the historic venue, which has been host to two Olympic Games, two Super Bowl games and a World Series since its initial construction in 1923.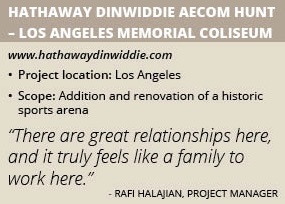 The Trojans and the Rams continued to play their 2018/2019 seasons during the project, which also involved installing handrails, adding aisles, increasing legroom, restoring the iconic peristyle, upgrading entry concourses, installing field and stadium lighting, improving Wi-Fi and replacing the electrical, mechanical and plumbing systems to meet current standards. Chicago-based DLR Group was the architect on the project.
"Hathaway Dinwiddie does a large volume of work, but most of the work is with repeat clients," Halajian says. "The company's goal is to be the contractor of choice, and we want our clients to come back to us and work with us again. Our goal is always to have repeat clients by meeting their needs with exceptional services and exceptional staff."
Staying on Schedule
Any construction project has challenges, and the main one on this project was the schedule, Halajian admits. Not only did Hathaway Dinwiddie – AECOM HUNT have to complete the Coliseum so it would be ready for the 2019/2020 football season, it also had to perform some work while the 2018/2019 season was underway.
"The schedule was definitely our big challenge," he says. "We had to erect structural steel and top out the new structure to place the stadium lighting at its permanent location, while also replacing 14,000 seats and making temporary press boxes ready for game days during the 2018/2019 season. Now, we are finishing replacing all the seats, finishing the new building and getting all the inspections signed off."
Hathaway Dinwiddie – AECOM HUNT also needed temporary certificates of occupancy for the press boxes during the 2018/2019 season, given LA Department of Building and Safety guidelines. The press boxes had to comply with ADA, fire, life and emergency requirements, so they needed sprinkler systems, ramps, elevators, and safe evacuation plans. The project team had to treat the press boxes as permanent structures, even though only members of the press and coaches were allowed to occupy them.
"Another challenge we saw was that even though there is a lot of real estate at the Coliseum, we were limited to a very small area for material lay down and storage on site," Halajian explains. "So, we had to consolidate and make sure the materials only arrived when we needed them. The broadcast trucks set up in our lay down area two to three days before each game, so we had to accommodate them and move our materials to other parts of the site very often."
Respecting History
Even with a challenging schedule and site, Hathaway Dinwiddie – AECOM HUNT is completing its work on time and taking pride in what it has delivered for the university, teams and community. Halajian says the project remained on track with "great communication" between the project team, USC Athletics and USC Coliseum operations. USC helped Hathaway Dinwiddie – AECOM HUNT by alerting the team ahead of time of the game schedules, and other events such as concerts and shows.
"There are great relationships here, and it truly feels like a family to work here," he stresses. "Everyone is always aware what is happening because of the daily meetings and ongoing communication."
As Halajian and his team went through the final punch list in time for the first game on August 24, they wanted to make sure they met the expectations of USC and the fans. "This is a historic structure and park, and a lot of people are attached to it," Halajian says. "It was built for WWI veterans and by working on a historic project like this, we had to respect the history and preserve it. The challenge was how to build a 21st century structure in an early 20th century structure, and how we did it is something I will cherish for the rest of my life."