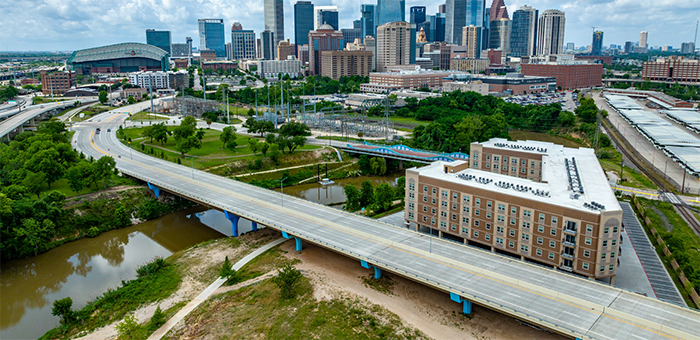 Through impressive growth, Gulf Coast Housing Partnership has been uniting residents with its unique people-centric approach
Gulf Coast Housing Partnership (GCHP) developed as a consequence of a conversation in the fall of 2005. The discussion was held among members of the Housing Partnership Network, which is a business alliance of the US's most accomplished affordable housing developers, service providers and lenders. This group sought to assist with rebuilding efforts along the Gulf Coast after Hurricanes Katrina and Rita left many communities torn apart.
After securing start-up grant funds from Freddie Mac and the John D and Catherine T MacArthur Foundation, the Housing Partnership Network successfully recruited New Orleans developer and community lending expert, Kathy Laborde, to launch and lead this new 501(c)(3) real estate development company. Kathy assembled a board of directors, which comprised respected national and local real estate development, finance and community leaders. This team, together with capital from the Housing Partnership Network and Enterprise Community Partners, led to the creation of GCHP, which officially opened its doors on Oretha Castle Haley Boulevard in January 2006.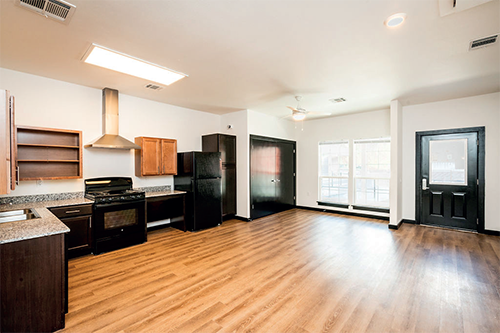 Today, GCHP is a mission-based regional real estate development company, headquartered in New Orleans, and focusing on producing mixed-income communities, and complementary commercial and community space.
The business has worked with 51 partners in 13 communities to develop and preserve more than 3800 affordable homes and over 447,000 square feet of commercial facilities in Alabama, Louisiana, Mississippi, and Texas. "We are a developer and property manager," shares Kathy, who serves as the President and CEO of GCHP. "We assist partners with everything, from feasibility studies and financing procurement to project completion, stabilization, and property and asset management."
As the name suggests, the company works in the Gulf Coast region, which faces significant housing, health, and quality-of-life inequities. According to Kathy, the mission is to work in partnership with others to support the housing needs of low-income and vulnerable groups.
An example of this work can be seen in New Orleans where GCHP has been revitalizing its central-city, (specifically the Oretha Castle Haley) neighborhood, since 2007. In the early 20th century, the area was a bustling commercial corridor of culturally diverse businesses. In the late 1960s, 70s, and 80s, the area went the way of many inner-city commercial neighborhoods that fall victim to neglect, and as businesses moved out, poverty moved in. "Through a mix of affordable housing and commercial space, GCHP has invested more than $192 million into the boulevard, including H3C, a 192-unit affordable housing community with an on-site community healthcare center that is currently under construction. In a similar neighborhood, mid-city Baton Rouge, Louisiana, GCHP has invested $118 million," she expresses.
Health and housing
Currently, in Mississippi and Alabama, GCHP has two developments taking place under its inhouse initiative known as Health + Housing. "This initiative uses preferential debt provided by healthcare payors, like Medicaid Managed Care Organizations, to develop affordable housing with accessible healthcare provided by culturally competent healthcare workers."
Kathy goes on to explain that GCHP became interested in embedding healthcare facilities within the affordable housing developments through partnerships with community health and mental health providers. "Through our developments with them, we saw first-hand how social determinants of health, particularly housing and access to quality healthcare, can impact someone's life expectancy.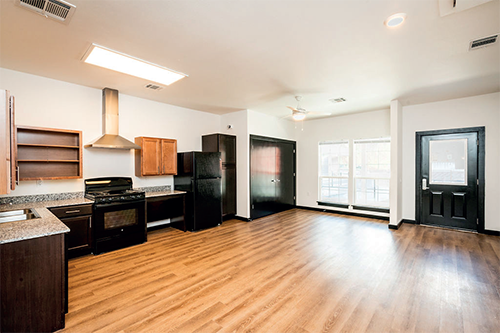 "With the support of two large MCOs in Louisiana and Mississippi, we broke ground in 2022 on two Health + Housing pilot projects. In New Orleans, with one of our partners Aetna/CVS Health, we started work in January 2022 on H3C. This location has 192 units, where 100 units are reserved for workforce housing, and 92 units are reserved for seniors. In Jackson, Mississippi, we broke ground on the Pearl in May 2022. The Pearl is a 76-unit senior affordable housing property, where we teamed up with partner UnitedHealth Care. Both properties will have on-site community health centers that serve residents and the surrounding community. We are using these as demonstration projects to quantify the health outcomes when vulnerable populations have access to healthcare."
Providing this level of health care construction would not be possible without sound values that anchor the business to its purpose. Kathy shares that GCHP believes that everyone should have a safe place to live regardless of race, age, or economic status. "We don't just mean four walls and a roof, but also a community where people feel safe, and have access to supportive services. Our work is complex, and our developments can take years of planning and conversations before breaking ground. We stay energized and focused by celebrating the success of our team members and reminding each other that the work we are doing matters and is providing homes and making a lasting impact on families and communities where we live and work."
For GCHP, ESG is embedded in its ethos and is something the company has been committed to since its inception. In addition to that, diversity is just as important. "That goes for our staff, our leadership, the contractors we hire and the populations we serve. We are advised by a 15-member board of directors that is also diverse, and represents various sectors, including non-profit, healthcare and the government. We've talked a lot about how we value our partnerships with the organizations we work with, and we show that by giving them a portion of our development fee so that we can help further their mission," Kathy explains.
There is another aspect that GCHP is proud to support when it comes to its community building: a healthy and safe lifestyle. "We promote physical activity at our developments, which is why we establish amenities like walking trails, playgrounds, and exercise rooms. Currently, we are implementing Fitwell certifications into our two Health + Housing pilot developments. These will be the first Fitwell designated projects in Louisiana and Mississippi. The Fitwell initiative focuses on design techniques that promote the well-being of building occupants and tenants and encourages movement. These features include prominent and inviting stairwells and outdoor greenspace to promote activity and spending time outdoors."
Secure, sustainable construction
One final aspect that GCHP ensures is covered, is the security and the sustainability of its construction. According to Kathy, the way the business builds its developments is focused on the physical and living environment, which is why it works to ensure that its buildings are sturdy in the wake of natural disasters. "Because our developments are located on the Gulf Coast, and at risk of damage from tropical storms and hurricanes, we use FORTIFIED construction methods, including impact protection for windows and locked down roof edges."
In five years', time, Kathy believes GCHP will be expanding its areas of impact, while increasing the number of community partners with which it works. "We will continue to invest in our staff and our systems to support the continued growth of our organization and our long-term success. We also think the data from our Health + Housing innovation will show the desired outcomes, and that combining affordable housing, with accessible, culturally competent healthcare, with the funding support of healthcare payors will become a routine transaction that will ensure better health outcomes in our region," she concludes.
www.gchp.net