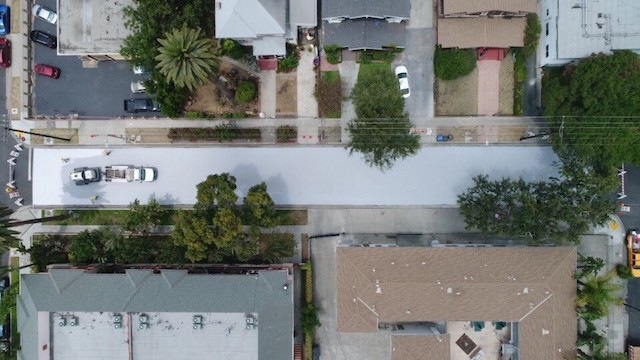 GuardTop leads the way with safer, environmentally friendly products.
Many companies in the sealcoat industry focus on being the lowest-cost provider, but GuardTop has become the leader of its market by following a different path. "We do it by offering the highest quality, not the cheapest price," CEO Robert Koleas says.
Not only does the company use higher-quality material in its products, but it backs it with strong service. Although some manufacturers ship out product that ends up being over-diluted, "We'll show up and make sure our product is being diluted properly," he says.
Based in Dana Point, Calif., GuardTop specializes in environmentally friendly asphalt sealcoat products. Koleas notes that the company's current incarnation was formed from the combination of two companies, including Industrial Asphalt, which was founded by the Hunt family in 1970s.
Over the years, Industrial Asphalt changed owners before Vulcan Materials sold it to Koleas in 2009. "They were going to close it down or sell it to us," he recalls. "They knew we would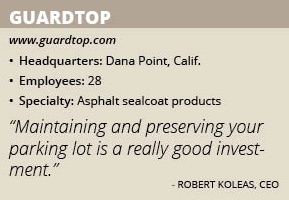 take care of the business and the customers that were Vulcan Materials customers."
In 2016, he bought GuardTop, after having long admired its product. "It had a different edge because it was a high-quality, sustainable product," he recalls, noting that the product used many recycled materials.
That green focus continues to this day, as GuardTop operates from locations in California, Arizona and Georgia, and sells into all of its surrounding states, as well as Hawaii and Australia. "We've also had huge interest around the world," Koleas says, noting that these have led to projects with its CoolSeal product.
The company is currently expanding with a new location that it is building in Phoenix. When it is completed, "We'll manufacture all our GuardTop product lines there and distribute to our customers in the Arizona market and Las Vegas," Koleas describes.
Product Pride
GuardTop focuses on staying innovative by adding new materials to its product lines. While the company offers a standard premium sealcoat that protects and beautifies existing asphalt surfaces, "We're going to introduce a GuardTop product that uses recycled tires," Koleas reports.
He also highlights GuardTop Ultra, which is a step above the regular product thanks to the inclusion of certain polymers.
"We see that as our biggest growing product out there, because for a small increase in price, we give more performance," he explains.
Another source of pride is the CoolSeal product, which was developed to achieve lower surface temperatures through a lighter color and reflectivity. "We use that for reversing the heat island effect in cities," Koleas describes.
Currently, the city of Los Angeles is using CoolSeal in a pilot program. "We also apply that to areas like schools and walking paths," he states, adding that EPA and climatologists have proven that products like CoolSeal can result in reduced energy consumption and less greenhouse gases.
"There's a lot of benefits to putting down cool pavements with CoolSeal," he continues. "We think we're taking the lead with a product that can be used in streets and parking lots."
Koleas also highlights GuardTop's Tire Rubber Modified Surface Sealer, which it is introducing in Southern California. "That has a minimum of 10 percent recycled tires," he says. "We're seeing huge interest in it and just finished a huge project with Caltrans with that product."
He also is proud of how much safer GuardTop's products are than those offered by its competitors, which have high polycyclic aromatic hydrocarbons (PAHs) levels in them. "Those were found by the EPA to be very harmful to people who are living around parking lots or shopping centers," he says.
These, he states, also are known to be cancer-causing agents. "They can wash into our streams and affect the wildlife," Koleas says, adding that GuardTop's products do not have these harmful materials. "They have all the benefits of the other sealcoats, and we cost similar or less."
Satisfied Customers
GuardTop's client base includes general contractors and subcontractors who appreciate its product quality and services, which include the use "tanks on site," Koleas says. "We do the sampling and assistance with their customers to let them know they're using the right product."
Many GuardTop clients exclusively use its products. These include a contractor in Atlanta who sought to use the most environmentally safe products he could find. When The Home Depot's corporate office did not want coal-tar products being applied, GuardTop was chosen as it was the safe option.
A major concern for the contractor, Director of Communications Natasha Koleas notes, was the safety of his employees. "The dangers for his workers when they work with other products include harmful PAHs and cold tar that could burn their skin," she says.
But that is not the only danger. "There's also inhalation, if you're inhaling the fumes from some of our competitors' products," Robert Koleas says. This can result in conditions such as bladder, kidney, stomach and skin cancer.
Wise Investments
GuardTop has seen changes in its market, including the rise of material costs. However, many of the company's customers are willing to pay extra for its products.
"Maintaining and preserving your parking lot is a really good investment," Koleas says, adding that he has found the public to be more educated on the advantages of these investments. "We're seeing a growing awareness around the country that it's more important to spend a few pennies on your parking lot to maintain it than it is to let it sit there and age."
GuardTop, he notes, makes it worth their while. Replacing the asphalt is dollars per square foot versus pennies for sealcoat. If clients were to use some of its competitors' products, they might have to reseal it twice as frequently over 10 years. But with one use of GuardTop's products, "You're going to extend the pavement life three to six years," he says.
Its Ultra and CoolSeal products, Koleas adds, will add dimension to the pavement's life. The company's current strategy, he notes, is to make more property owners aware of the importance of maintaining their asphalt.
"We like to let them know using a higher quality material actually helps," Koleas says. "There can be a tendency for people to come in, paint it black and collect a check."
GuardTop also wants to make more people aware of the environmental benefits of Cool Seal. "Climate change is a huge, huge issue," he says, noting that it is seeing interest nationally and internationally for the product. "It also meets EPA and the LEED Green building standards for solar reflectivity."
The Family Business
GuardTop's ownership has nurtured a family environment in its workplace. "We like to think that all of our employees are an extension of our family," Koleas says.
"Our employees say, 'It's great to work for the Koleas family,'" he says. "We treat our customers, our suppliers and employees all with the utmost respect."
This has helped nurture a low turnover rate at GuardTop. "You can tell everybody's happy to come to work every day," Natasha Koleas says.
Some of the key members on its team include Vice President of Sales Jeff Luzar, who joined the company in 2010, but has been in the sealcoat industry since 1992. Today, he oversees sales and customer relations at all the GuardTop locations.
Luzar also works with the company's production and plant sites to manage quality and performance. "[He] does a great job with his sales team," Robert Koleas says.
Making a Difference
Koleas is proud of GuardTop and how it provides customers with products that are environmentally friendly and safe. "There's a benefit for our products in society," Koleas says. "Even though people may not notice them, we're making a difference in people's lives."
He predicts growth ahead for GuardTop, as it continues focusing on making a difference through its work. "I see continued expansion around CoolSeal," he says. "We're constantly innovating and improving all GuardTop products."
But GuardTop has even more on its plate. "We have several recycled products that we're evaluating and expect to roll out in some of our formulations," he says. "[We'll] keep the quality of product while at the same time being a good environmental citizen."
SIDEBAR – Rave Reviews
GuardTop has earned rave reviews from its clients, which include Carol Netta, the board president of the Newport Ridge North Maintenance Association. When its organization conducted a seal coating project, "GuardTop provided the specifications for our project to ensure that the proposals we received were all equal comparisons, which was extremely helpful in determining which contractor to use," she recalled in a statement.
The company also made sure a GuardTop representative was onsite every day over the course of the project, collecting samples of diluted materials. This allowed the firm to verify that the contractor provided the proper dilution ratios in accordance with GuardTop's specifications. "These value-added services gave our association the peace of mind that we were getting what we paid for," Netta said.
She noted that the association was pleased with the final results. "We are looking forward to working with GuardTop for years to come and we recommend their products and services," Netta added.
Anthony Mazza, the regional manager of FirstService Residential, also praised GuardTop. "As a community manager, I strive to work with manufacturers and contractors who make my job easier," he stated. "GuardTop did just that when it was time to sealcoat one of my communities in Newport Coast."
The company's knowledge and expertise in seal coating helped Mazza when it was time to him for to go to bid. "GuardTop assisted in writing the specifications for the project, and even provided me with a preferred contractor list, which put my board members' minds at ease," he recalled.
"GuardTop's seal coat material is second to none, but more importantly, they stand behind their product," he added. "During the project, GuardTop was on-site, every day, testing their seal coat material to ensure it was properly diluted with the correct amount of water by the contractor, and to ensure it was being applied properly. GuardTop's product, experience, and staff are the reasons I will continue to use them for many years to come."