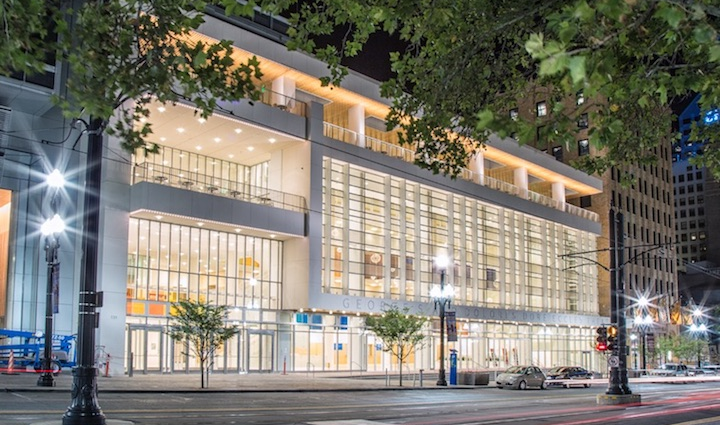 GSL Electric distinguishes itself with lean construction, employee ownership and in-house engineering.
GSL Electric has no trouble distinguishing itself from the competition. The company, which was founded in 1981, handles electrical construction and engineering, low voltage systems and offers 24/7 service.
There are at least five factors that set GSL apart. First, GSL distinguishes itself by its efforts in embrace of lean construction principles. "Constant improvement is the message," Vice President Phil Capell says. "We are constantly trying to adopt Lean principles into our operation."
Another distinction for the company is that it converted to an employee stock ownership plan (ESOP) last year. "We feel like it fits our company," Capell says. "When we hire people, we are looking for a business partner, not just someone to fill a position. Someone who wants to be part of what we are doing, believes in our vision and wants to stay here and have an impact and make this their home."
Under an ESOP, employees gain stock that they can sell back to the company on leaving. In effect, it operates as a second retirement plan. So far, the changeover to ESOP is going well, Capell says, although he adds that employees are still learning its importance to them.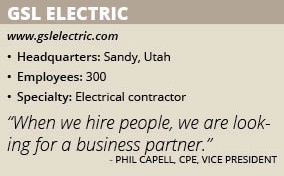 "As they begin to see the value of the stock increase, it's really going to mean something to them," Capell says. "Then they will begin to feel like an owner and feel pride in the company and want to make GSL a better company."
A third distinction is GSL's ability to work in a variety of market segments including commercial, education, industrial, manufacturing, healthcare, religious, office, retail, hospitality and multifamily. "We are really set up to handle the ebbs and flows of the market," Capell says.
Fourth, GSL has in-house engineering department and is capable of going the design/build route on projects.
Finally, while much of its work is in Utah and Nevada, GSL is quite willing to travel. GSL is licensed throughout the western states and general contractors have hired the company to work on projects in Colorado, Wyoming, Oregon, Texas, Arizona, Idaho and California in recent years.
Hiring Strategies
Safety is important at GSL and its electricians receive extensive safety training. That includes safety training by the National Safety Council, National Fire Protection Association, Mine Safety and Health Administration and OSHA.
Aside from keeping employees safe, GSL's biggest challenge is finding qualified electricians. "If an electrician is out there, he is working," Capell says. "It's tougher to find people to add to your workforce."
The ease of hiring has ebbed and flowed over the years, Capell says. In 2002 it was difficult but not as difficult as now while in 2008, at the beginning of the Great Recession, hiring was easy. Capell notes that it is not just electrical contractors finding it challenging to hire in today's busy climate but all trades.
In the short term, GSL hires entry-level apprentices and more experienced electricians. The company also offers incentives to current employees for offering referrals.
In the longer term, the company is going to high schools and even junior high to talk to students about a career as an electrician. "For the longest time it's been programmed into kids that if they don't go to college, they are a failure," Capell says. "College isn't for everyone. They can make a really good living by entering the trades."
Power and Performing
GSL is known to take on challenging and sometimes unusual projects. Among them was the replacement of a hydroelectric power plant at the mouth of Provo Canyon south of Salt Lake City.
The project involved building a new 40,000-square-foot power house with two hydroelectric turbines to replace a century-old power house. GSL's portion of the project was budgeted at $2.25 million and required 12,000 manhours between September 2016 and June 2018.
There were extensive challenges on this job. "It had to be completed without impact to the existing power grid or to the Provo River," Capell recalls. "There were no closures to trails or roads. And it took a lot of planning and coordination among the trades."
Another interesting project was electrical construction for a new performing arts center in downtown Salt Lake City that took place from 2014 to 2016. The project required 100 GSL employees at its peak and was budgeted at $13 million just for electrical work.
The 185,000-square foot center required GSL to install 6,000 light fixtures, 605,000 feet of conduit and 807,000 feet of total wire and cabling.
The project had its challenges, perhaps chief among them the five-story lobby and performance space. "The floor, being for a theater, slopes down," Capell says. "We used a temporary dancefloor to give us a platform to work on."
GSL learned things from the project that it could apply to other projects. These include the nuances of technical lighting installation and working alongside other trades on a tight schedule, Capell says.
SIDEBAR – Foundational Information
Phil Capell of GSL Electric is president of Great Salt Lake Chapter 51 of the American Society of Professional Estimators (ASPE).
Though the estimator position is vital in the construction industry, there is no college program to learn the work. The ASPE is the only organization that provides certification, guideline and ethics. "It is foundational information that you need in construction regardless of the position," Capell says. "If you want any type of management role, you need a basis in estimating."
Capell joined ASPE in 2012, became a Certified Professional Estimator in 2015 and became president of his chapter in 2017.