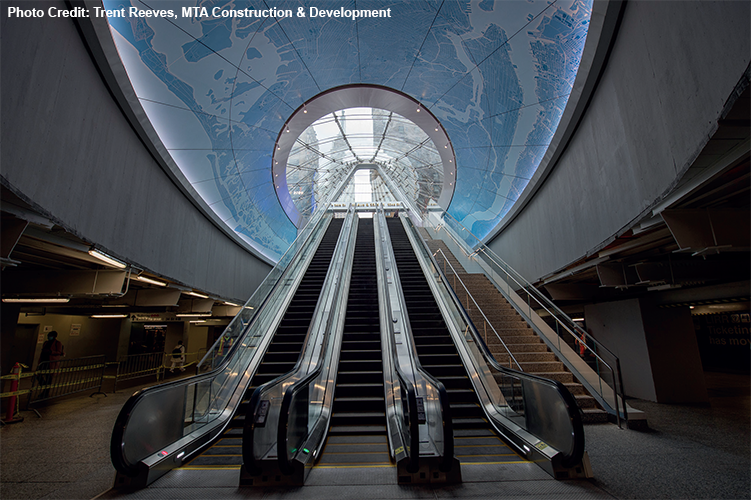 Shared success
One of North America's leading providers of management, consultancy, and leadership services to the built environment, Group PMX plays a key role in delivering some of New York City's most prestigious projects
It is 12 years now since Farid Cardozo and Michael Giaramita co-founded Group PMX. Backed by a vast pool of combined industry expertise, the pair launched the business intending to establish it as a force in the project, program, and construction management arena, as well as a consulting services provider to clients across a variety of market sectors.
Farid and Michael laid the groundwork for what they hoped would be a proactive, client-driven organization and a valuable partner in the delivery of quality construction. The company's focus on partnerships is one of many long-standing success factors that endures today.
"Group PMX is a company with a reputation for collaboration, partnerships, and delivering excellent services," Michael declares. "We are not all that interested in being competitive, but in being a valuable partner of the highest integrity. As a certified MBE, we have the added value of contributing to the diversity of our industry and on projects.
"A lot of our business comes through partnering with other consultants and contractors in the industry because they see the stature of the people working with us, which is the biggest compliment. People come to Group PMX and ask to work with us because they like our people, they like our culture, and they like what we do."
As a virtual business, Group PMX places more emphasis on culture than most of its peers. More specifically, when talking to employees about the nature of the firm's culture, one word comes up more often than any other – transparency.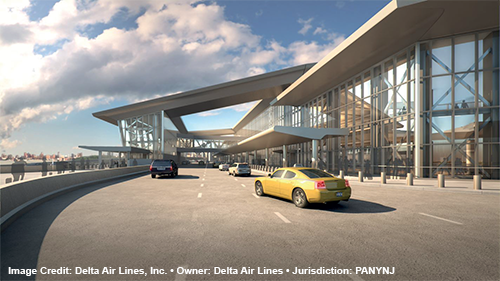 "Whenever someone asks, 'What are the secrets behind Group PMX's company culture?', I always think 'secrets' is quite an ironic word to use because the biggest strength of this business is its embrace of transparency," explains Anthony Manganiello, the company's Director of Aviation. "We provide transparent information to help our clients with decision-making, offer regular project updates and open lines of communication for staff and partners, and possess a remarkable ability to promote and create innovative ways for collaboration across all facets of a project.
"We are a virtual business and have been since our founding. There is nohome office where people can gather, so culture is everything. We tried to define it recently and settled on the mantra 'One Team. Shared Success'. Wherever we go, whoever we work with, we are one team that celebrates collaborative successes."
The virtual nature of Group PMX and its familiarity with remote work have been highly beneficial to the organization during the Covid-19 pandemic. While many businesses were forced to completely overhaul their ways of working, Group PMX continued in a manner much more reminiscent of 'business as usual'.
"As a virtual company, we had all the necessary systems in place at Group PMX before Covid-19 forced people to start working remotely," reveals Associate Director of Business Consulting Adis Sehic. "That was a huge advantage to us during a challenging time and enabled us to carry on working on some huge projects in the city."
One of the projects Adis refers to is the Borough-Based Jails Program, a multi-billion-dollar effort to overhaul New York City's aging, ailing jail system. The ground-breaking initiative, the City of New York's first-ever design-build program, is being managed by the NYC Department of Design and Construction (DDC), with the joint venture of AECOM and Hill International serving as Program Manager.
Group PMX is working as part of the AECOM-Hill program management team to support the closure of the Rikers Island jail complex and replace it with four newly developed facilities in the four boroughs.
"Each new detention facility will be smaller and state-of-the-art, offering people in custody more chances for educational, health, and therapeutic programming," Adis states. "And one key thing about this program is that the new sites are located in communities, right next to the courts, which will enable a much faster process when it comes to detainees going in front of a judge.
"The community connection is really unique. It will make the jails more accessible to visiting family members and ensure that detainees feel more connected to surrounding neighborhoods. These are not going to be unapproachable barbed-wire facilities. Local community members will even be able to take classes and programs at these new sites." (Each facility will have allocated community space.)
Using the latest technologies, including information modeling and risk analysis, Adis and his team are set to play a vital role in the efficient delivery of a transformative project.
"Our role at PMX during this project will be to support various aspects of project controls, including the development of a project dashboard, so that the client can easily access the latest project information," Adis reports.
"These are the types of projects I love being a part of," he adds. "Once these facilities are constructed, they will be here for years and years to come. Working on them makes us a part of history!"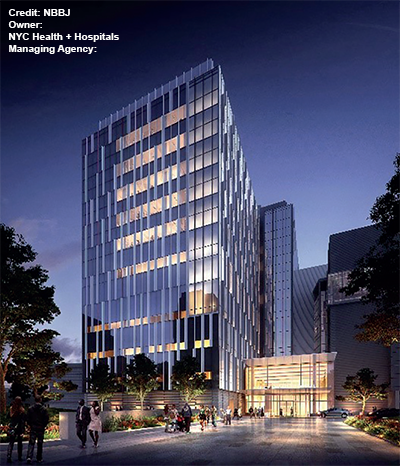 A highly versatile organization capable of taking on projects across a broad range of sectors, Group PMX is also working on a major healthcare development. Director of Life Sciences & Healthcare Michael Kimura explains more:
"We are currently working as a subconsultant to STV, providing program management services for New York City Economic Development Corporation, as well as New York City Health and Hospitals," Michael says. "The City received a $1.7 billion FEMA grant to restore four of their facilities – one of which is NYC Health + Hospitals/ South Brooklyn Health, Ruth Bader Ginsburg Hospital, a site set to welcome a new eleven-story, 350,000-square-foot inpatient tower.
"Group PMX provides a wide array of services for this project, including help with budgeting, scheduling, general oversight, monitoring, and risk reporting. We are already deep into construction and are slated to open the extension next year. Upon completion, demolition of an existing building, and final site work, which will take us into 2023, we are looking at a year for the new building and then two years for the full campus completion."
While Michael and his team plan to expand the firm's strong presence in the healthcare and life sciences market, two of Group PMX's largest ongoing projects as of December 2021 can be found in the transportation sector. Anthony Manganiello, for instance, is hard at work on the Delta Air Lines Airfield Reconfiguration Project at LaGuardia Airport.
"Here in New York, there is currently a big push on airport construction," Anthony reveals. "Group PMX is playing a leading role in the phased construction of the new Terminal C at LaGuardia Airport for Delta, providing construction and project management services alongside STV, Turner Construction and other construction management partners. Having broken ground in 2017, the $4 billion project is set for completion at the end of 2024.
"The key nuance to the Delta/LaGuardia project," he continues, "is that we are constructing a brand-new terminal while the airport's two existing terminals remain fully operational on the same footprint. There is no staging area – every square foot occupied during construction eventually becomes a permanent element of the campus."
Benefitting from detailed planning and regular communication among the project team, Delta has already opened the first of the site's concourses, as well as a new roadway network. The airline is on track to launch the second concourse and main check-in area in 2022, giving visitors the chance to enjoy a revitalized, 21st-century airport.
Certain to have a lasting impact, the Delta/LaGuardia project has already led to opportunities for Group PMX at other New York airports, including JFK.
"The adoption of new technology will, no doubt, be a hallmark of these aviation projects," Anthony adds. "At Group PMX, we are experienced and nimble enough to support rapid, well-informed deployments of innovative technology in the construction space, specifically for aviation. All of our staff are challenged to be innovative and to optimize, wherever possible, any processes that deliver the end product more successfully for our clients."
An organization responsible for transforming New York for a decade now, Group PMX's growing portfolio also includes a project at one of the Big Apple's most famous landmarks and most utilized transport hubs – Penn Station. Heading up the Group PMX team working on the Penn Station East End Gateway LIRR Concourse Project is Simon James, the firm's Project Controls Manager.
"Penn Station is a massive transportation hub with a huge passenger flow, but like a lot of New York facilities, it has very small, narrow spaces and low ceilings that create an almost claustrophobic feeling for guests," Simon remarks. "MTA Construction and Development came up with a plan to turn this around and provide better access and circulation into Penn, so that's where we got involved as part of the project management team led by WSP USA.
"Phase One of the development involved opening up the entrance on 33rd Street leading into 7th Avenue, putting in a new entrance, with three new escalators, a stairway, and a big glass swooped architectural canopy, which allows for a lot of air and light. That section opened to the public in December 2020.
"Phase Two started in January of 2021 and should be completed by March 2023. It involves widening the 33rd Street Concourse, taking it from 30-feet to 57-feet in width. We have also relocated the street utilities, which allowed the concourse ceiling height to be increased to 18 feet across the entire concourse, and added modern finishes like white sintered stone soffits, luminous ceiling panels, a platform viewing window, and intuitive wayfinding signage.
"Along with the rebuilding of four elevators, and installation of a new elevator, expanding ADA access, this section of the station now benefits from three fresh air intakes, providing the site with the best airflow it has had since the 1960s. All in all, it makes for a much more welcoming, inviting station with better access to platforms, passenger circulation, and egress."
Having deftly negotiated the challenges of the Covid-19 pandemic throughout the life of the Penn Station project and supported efforts to keep the railways running and passengers safe, Group PMX looks forward to the majority of Phase Two coming to fruition and opening to the public by March 2023. Revitalized, the newly transformed station is a crowning achievement for Farid and Michael's young business and serves as an illustration of what Group PMX can achieve in the future.
"We are committed to this industry and our business," Farid asserts. "Recently, we established a Board of Advisors, optimized our processes, and implemented a new HR system, which is focused on training and promoting our staff to improve their skills. We've got a lot of great initiatives and opportunities in front of us.
"The primary thing for us now is geographical expansion, and we are focusing on five areas in that respect – the East Coast, the Northeast, the Mid-Atlantic, the Southeast, Saudi Arabia, and Europe," he says in summary. "Most importantly though, I think we're making all the right moves to grow the business in a way that is sustainable and manageable, including through the recent launch of an ESG initiative that will support those goals. We don't have a lot of the pressures other businesses have, which helps. Do we have anyone to report to? Not really. We get to decide and act upon what we think is right for the business. We plan, we move purposefully, and it usually pays off with positive results."
Group PMX
www.grouppmx.com
Services: Project, Program, Construction management, consultancy, and leadership services