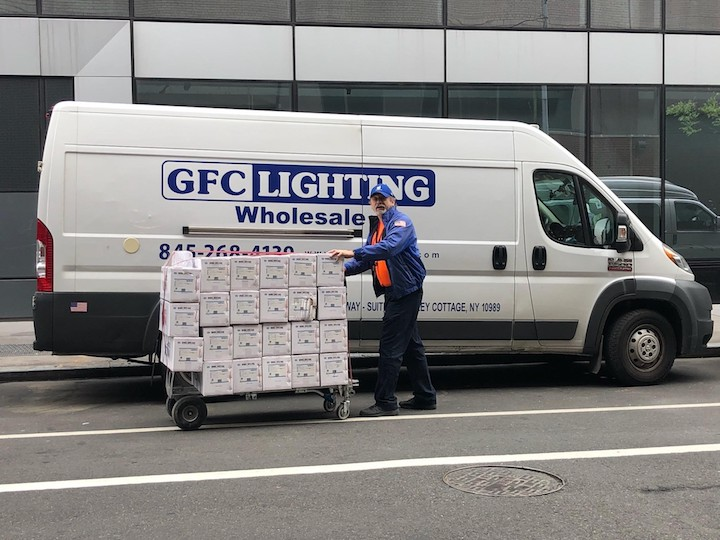 GFC Lighting succeeds with low prices and a high level of customer service.
GFC Lighting is much more than a lower-cost lighting supplier. "'Wholesaler' doesn't encompass it," Vice President Chris Heisey explains. "We are more like an outside consultant."
GFC likes to get involved with a client as soon as pre-construction documents are available or even earlier. "It's not just about quoting [a price on] a job," Owner Gerald Camhy says. "We don't just quote what we see on the drawings, we are reviewing everything about the project to ensure that we are accurately quantifying what is shown on the drawings and what the actual intent is."
That's something that GFC's competition can have trouble with, Camhy says. "Our designer-specified package might be slightly higher in cost than our competition but this is because we correctly interpret what is actually required, not just what is shown," he says. "It doesn't happen often, but when we lose projects like this it is because our package varies from what the other companies were quoting. We stay in touch with the owner throughout these projects and they will often later say, 'You were right,' because they awarded a project based on the lowest price but didn't really understand the bill of materials that they were buying."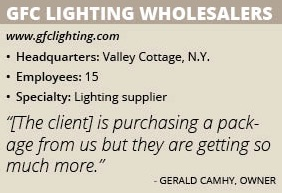 One of GFC's strengths is its ability to value-engineer lighting packages. Camhy explains that the process usually starts with a lighting wish list but the final design ends up being a compromise between the wish list and the project budget.
"We look for value-engineering opportunities in conjunction with ensuring that the specified fixtures are purchased at the best price possible," Heisey says. "Value-engineering is the hard part – we have to make sure we meet the architect's vision, the client's needs and the general contractor's budget all at the same time."
Through its research, GFC finds secondary-market factories that manufacture fixtures that match the quality of better-known brands but at a lower price. "We make sure we are in control of the budget going in," Heisey says.
While a lighting design might look good on paper, it might not work in a real world application. "We know that some lighting designs will look great once they are installed, but there is no practical way to access the fixtures in the future," Heisey says. "When this happens, the true cost of that design becomes so prohibitive that it would rarely be used for fear of the repair or replacement expenses down the road. We bring these things to the client's attention and let them know that they should revisit the lighting design."
An integral part of lighting a building is knowing where each lighting element will be installed. "There are literally thousands of items on these job sites," Heisey says. "We know the exact fixture that needs to be installed into each room of the building and what its function is."
GFC handles everything from start to finish including design, coordinating the ordering and delivery of materials to the job site, ensuring tradespeople and project managers meet deadlines and support throughout the project. "We are so proactive that lighting designers and architects tend to lean on us to make sure the jobs are done well," Camhy says. "We are involved in everything until the last lamp has been put in on a job. We are a hands-on operation."
Research Oriented
Gerald Camhy was honorably discharged from the Navy in 1977 and worked with an energy management company before deciding to train as an electrician. While learning his trade, he still needed to earn a living. "It was difficult getting a job and I had $500 to my name," Camhy says. "I started banging on doors, selling lightbulbs. I didn't have the money to buy boxes so I had to jump into dumpsters to get boxes to ship the lightbulbs."
Camhy decided to transition and began bidding lighting packages for new construction. Initially, he was unable to get pricing from the lighting factory reps that would allow him to be competitive so Camhy started doing research. He found that there are lesser-known lighting factories that supply lighting fixtures of equal quality at a much lower cost. Some factories in China, for example, could supply lighting fixtures at one-third the cost. "We are constantly doing market research," Camhy says. "We have to know the factory has been around at least 10 years, has solid financial statements and can provide us delivery when we need it."
Today, GFC has more than 100 clients from New York to California which include developers, architects, lighting designers, electrical contractors, general contractors and building management companies.
Intangibles and Low-Cost
Over the years, lighting has changed from incandescent to compact fluorescent to LED, with the next potential step being laser diode lighting. LED's have allowed designers to provide more involved and complicated lighting packages – with which GFC has to stay familiar.
One challenge for the company is to understand the cost level of the light fixtures, which involves understanding the factories, their representatives and even the manufacturing costs. "The ideal is to really understand the cost of lighting by getting involved in the manufacturing," Camhy says.
"We follow trends so we can change with the market," Heisey says.
The larger challenge, however, is getting general contractors to understand that GFC is more than a competitively priced supplier. "We provide project management, storage, delivery coordination and attend job meetings," Camhy says. "We are there to help the client out when they are in a jam and find that the fixtures that the lighting designer required don't really fit. [The client] isn't just purchasing a lighting package from us, they are getting so much more because we are providing intangibles that aren't talked about."
Those intangibles include product and procedural knowledge that eliminate problems in the design and also during construction. "There are always things you can't anticipate that occur during the normal construction process," Heisey says. "By that time, some lighting designers have already left the process."
The company is growing in leaps and bounds, Camhy says. The company recently added two new delivery trucks to its fleet, expanded its office and took over an additional 20,000 square feet of warehouse space.
The secret to GFC's success is competitive pricing and high customer service which the company provides through its transparency with clients. Part of the lighting game that gets played is that "You are not allowed to know that light fixtures are more affordable than what they are being sold for," Heisey says. "We are kind of like the guy at a magic show who pulls back the curtain to show what's going on back there."