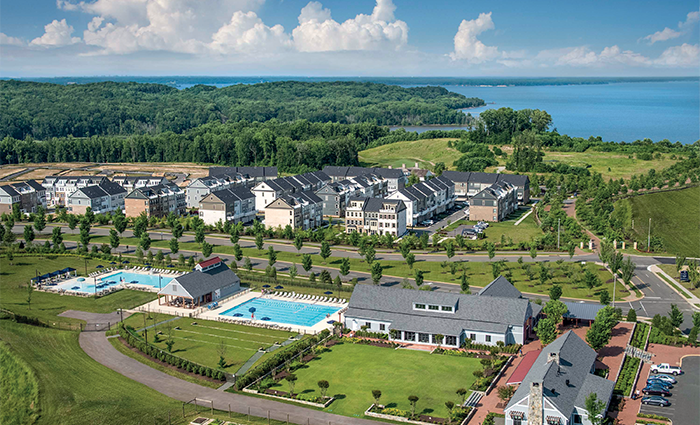 Get to know Stanley Martin Homes, one of the largest homebuilders in the US, and its work constructing a community in Virginia
Founded in 1966 by Martin Alloy and Stanley Halle, Stanley Martin Homes (Stanley Martin) has navigated recessions and housing booms, growing to a top-25 home builder in the US, with 12 divisions across seven states. After the Covid-19 pandemic delayed construction of multiple projects, Stanley Martin is heading into 2023 with a vision to complete over 3,600 homes with the help of its 800-strong team.
Its latest project, Potomac Shores, located in Dumfries, Virginia, will form part of a picturesque riverfront community, consisting of single-family and town homes with access to resort-style amenities. Stanley Martin's Neighborhood Construction Manager, Matthew Blake, joins us to talk about all things Potomac Shores, as well as company culture, values, and green strategies.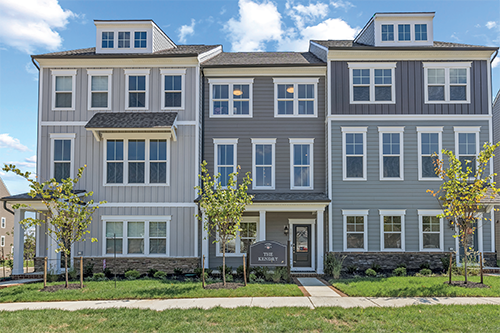 "2022 was a unique year for the construction industry," begins Matthew. "We were still able to meet our sales and construction goals though, which indicates how successful our team were in overcoming supply chain issues and uncertainty surrounding mortgage rates. We continued to out-perform competitors in terms of customer satisfaction, which is exemplified through an excess of positive reviews and ratings from consumer researchers, such as Avid Ratings."
Luxury living
Relationships with trade partners are "at the heart of Stanley Martin, as they allow us to continue operating at a high standard and provide customers with excellent quality products," Matthew states. These relationships were crucial in overcoming supply chain issues associated with the Covid-19 pandemic.
"Communication has been paramount in finding solutions to problems in our supply chain," he continues. "Our purchasing team were fantastic in working with trade partners to discover shortages and backorder products ahead of time. This provided us with sufficient time to thoroughly understand the issue at hand and consider our options. We managed to order materials early or source appropriate alternatives to stay on track with many projects.
"Stanley Martin also began to reduce the number of different products offered in our homes," Matthew adds. "Through communication with our suppliers, we simplified our product offering by promoting readily available options and eliminating harder-to-source items. This enabled us to maintain efficiency in the construction process while reducing stress on our suppliers."
Stanley Martin is currently constructing 151 single family homes and 352 town homes within the Potomac Shores development. Matthew explains: "The Covid-19 outbreak delayed the start of the project, but we began building at a rapid pace in April 2021 and expect completion after three-to-four more years of construction."
Set in 850 acres of open space, Potomac Shores features many amenities, including an 18-hole, Jack Nicklaus Signature Design golf course, complete with an 8000-square-foot clubhouse, a Canoe Club with a 100-foot pier, and a charming shopping and entertainment district. A new Virginia Railway Express (VRE) train station is set to open later this year, which will shorten the commute to major employment areas and provide a direct service to Washington DC.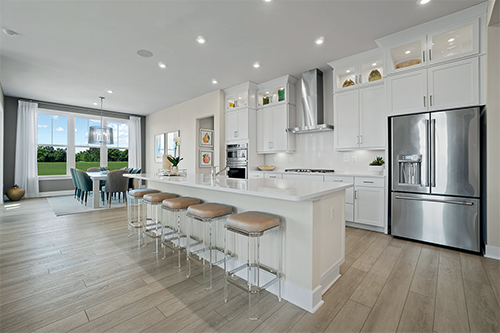 "The Potomac Shores community is highly sought after due to its myriad facilities and unique location on the Potomac River," says Matthew. "The location is a great benefit for occupants of the community. Some homes offer views overlooking the water, where resident bald eagles can be seen flying overhead on a day-to-day basis, which is an amazing sight." A planned marina on the site will offer further views, as well as boating access to Potomac River's 405 miles of waterways.
Cohesive culture
Furthermore, Stanley Martin's major commitment to energy efficiency in its homes is evident in the construction of Potomac Shores. "Incorporating duct blaster and blower door tests, for example, means we are building homes that have better energy efficiency," highlights Matthew. "We are conducting Home Energy Rating System (HERS) testing in all our properties and adopting construction techniques that enhance efficiency."
Despite many changes to the housing industry since its foundation, Stanley Martin Homes has retained its core values. It is proudly homebuyer-focused and continuously strives for excellent customer service. Its knowledgeable and driven team works effectively together towards a common objective and acts with integrity in everything it does.
"We are not one person, but a cohesive group," Matthew comments. "Our culture relies heavily on a team mentality – working together towards our goal of happy, satisfied customers, on a product that we are all proud of. This philosophy is preached across the company and applies to each trade partner we work with.
"Communication is a significant factor in our team's culture and motivation," he continues. "Each team member shares their expertise and experience with the group, and we collectively take proactive steps towards solutions. Our work is celebrated on a regular basis, which helps everyone feel appreciated and supported, which enhances our motivation as individuals and as part of a team."
In addition to Potomac Shores, Stanley Martin has an array of projects underway. Matthew details: "In 2023, new neighborhoods will be opening across Virginia, such as Woodlawn Estates in Bristow and Bradley Square Towns in Manassas, as well as several new condominium and town home sites throughout Fairfax County."
With many projects in progress, 2023 promises to be an exciting and prosperous year for Stanley Martin. As Matthew concludes: "Stanley Martin will continue to strive for excellent customer satisfaction, high quality products, and green living standards in 2023 and beyond."
www.stanleymartin.com