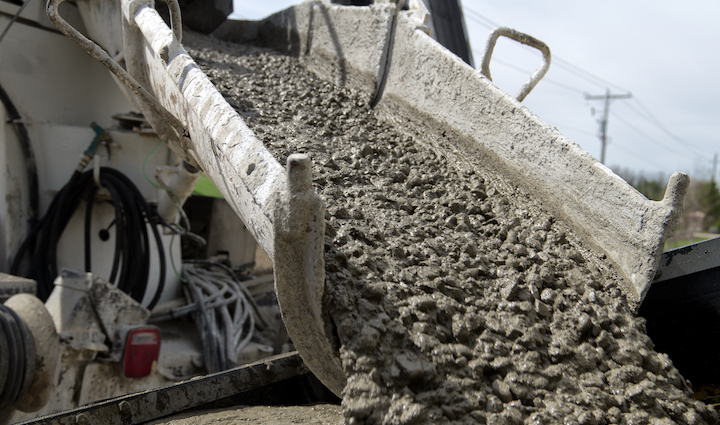 GCP Applied Technologies Inc.
GCP sees a strong future ahead with its new VERIFI technology.
GCP Applied Technologies Inc. is in the business of helping its customers thrive. "Our products help our customers — who are typically concrete and cement producers, architects, engineers and building contractors — improve the construction process by reducing material costs and construction timelines, creating efficiency in applications and providing sustainable solutions," Chief Strategy, Marketing & Development Officer Naren Srinivasan explains.
The Cambridge, Mass.-based GCP originally specialized in cement additives and concrete admixtures before it was acquired by W.R. Grace in the 1950s. Over the years, "Through R&D, new product development and acquisitions, we developed leadership positions in several products for the building envelope such as waterproofing, weather barriers, fireproofing and all other products we sell today," he says.
In 2016, GCP separated from W.R. Grace and now focuses on two segments. "Half of our business is in specialty construction chemicals [SCC] and the other half is in specialty business materials [SBM]," President and COO Randy Dearth says.
Srinivasan notes that GCP has thrived by developing high-performance construction products. "We're very proud to have a very focused R&D team that's centralized in Cambridge today," he says. "We've been launching new products on a regular basis for both of our businesses."
GCP also has been recognized for its work by third parties and publications, which has included being named to the Construct Tech 50, which highlights companies that have launched innovative and value-added technologies.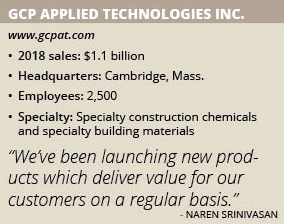 VERIFIing Quality
GCP is excited about its offerings in the Internet of Things (IoT) and sensor and data management arenas, Srinivasan says. In the last few years, it launched VERIFI, which monitors, measures and manages the quality of concrete as it is in-transit.
As concrete is transported by a ready-mix truck from the plant to a job site, product characteristics and quality can shift. VERIFI can help ensure that the concrete properties are delivered on specification every time.
"We've installed a series of sensors that go around the drum of the concrete truck," Srinivasan explains. "They measure important characteristics such as temperature, drum rotations, water content and admixture content," he continues, noting that this gives customers knowledge on how the concrete is performing from beginning to end.
"That has given customers significant savings through improved materials management and consistent quality concrete as less loads are rejected or need to be repaired," Srinivasan says, adding that VERIFI has helped boost clients' confidence in the quality of the concrete when it is poured.
GCP is very excited about the potential of growing with VERIFI. "We're one of the few companies that has this type of technology today," he says, noting that it has allowed the company to unify technology and data services with its chemistries.
"We sell our customers admixtures and chemicals that enhance the qualities of concrete by providing more strength and more durability," he says. "VERIFI today brings a further competitive advantage."
Since its introduction, VERIFI has been deployed on approximately 3,000 trucks around the world. In addition to its business in the United States, "We have some customers that are using this in Europe and Asia," Srinivasan reports.
But in addition to boosting product quality, VERIFI also enables its clients to be more sustainable. "Through data management, we allow our customers to reduce the amount of waste they generate," Dearth says.
When the quality of concrete is higher, he explains, the number of loads being rejected drops. "We're reducing CO2 emissions by reducing this waste and by reducing [the] amount of cement required to produce concrete," he adds.
Spreading the Word
VERIFI has won a strong response from GCP's clients, who have been waiting for a technology like this. "As customers are trained on the system and further integrate VERIFI into their operations, they are able to increase their benefits and value. They're better able to plan for their jobs," Dearth says. "More and more, we're hearing from customers what a great solution VERIFI is."
Both see strong potential for VERIFI. Although it currently comprises a small portion of GCP's business, "There is a significant opportunity for us," Srinivasan says.
Additionally, "We've said to our investors that we see VERIFI contributing up to $75 million in sales over the next three years," Srinivasan continues. "The margins from VERIFI are very attractive from a corporate perspective."
GCP also plans to add further functionality to VERIFI to make it more valuable to the customer. "We've gone from zero to 100 relatively fast with the acceptance of the benefits that it's going to provide the industry," Dearth says.
Growing Strong
GCP is keeping busy as it enjoys strong business growth. More than half of VERIFI's growth has come from existing clients who want to "deploy more and more units in their geography," Srinivasan says.
In addition to launching VERIFI, the company plans to continue developing new, non-technology related products. For example, it recently introduced CLARENA, an aggregate clay management solution for improving the effectiveness of challenging cements.
"While the technology piece can be a game changer and disruptor, we are staying focused on launching new chemical products in order to make sure we stay relevant with our customers," Srinivasan explains.
Another strategy includes acquiring new companies and technologies that will enhance VERIFI. These have included the purchase of the quality control assets of Contek Shilstone Inc., which has helped GCP's customers manage their mix designs for different job types. Thanks to the technology, "We're able to take out more cost for the customer," he says.
Dearth adds that its acquisitions have extended GCP's reach into new markets, including flooring, bridge decks and parking deck surfaces. "Some support the existing business and expand our application base, which is good," he says.
Being Green
GCP is seeing many trends in its industry, including its clients' increased need to be more green. "Whether it's the ready-mix producers, the architects or the engineering firms, they're all focused on having materials that are very sustainable and making sure they're not on any red lists," Srinivasan says.
This includes sustainable chemicals used in concrete and cement. GCP can meet those needs with products that reduce water and energy usage. "We're trying to do a better job marketing those aspects," he says.
GCP also is manufacturing more building materials that are environmentally sensitive, including air barriers and water-proofing materials that promote the longevity of building structures. "We're making sure that our customers realize this focus on sustainability," he says.
A Quality Culture
GCP operates with a workplace culture that is very technology driven and open to new concepts. "VERIFI is an example of that," Dearth says.
"[It reflects] how do we take our basic knowledge and expand that to have an edge over our competition," he continues.  "The success we've had with the 3,000 trucks with VERIFI is evidence of that."
Additionaly, the company has developed a culture that has nurtured longevity among its employees.
For example, its vice president of smart technologies and IoT, Susan Dalton, has been with GCP for seven years. "She has been a very important driver in the growth and development of VERIFI," Srinivasan says.
Key employees also include Dr. David Myers, GCP's vice president of R&D for SCC and Dr. Jyoti Seth, GCP's vice president of R&D for SBM. Both bring extensive subject matter expertise and have spent time in the field with customers, engineers, architects and different building code groups.
"They know what is needed from real world experience to say, 'What do we need to focus on from a development perspective,'" Srinivasan says. "They also work with many university groups and other third-party groups to ensure we're looking at the latest technology and bringing that insight into what we do here in Cambridge."
Moving the Needle
Srinivasan, who joined GCP almost four years ago, is proud to work at the company. "We have a terrific set of products, brands and customer relationships," he says, noting that these have been developed over the past decade.
"We've been really trying to supercharge those efforts to launch more products, do more acquisitions and ensure the strength of our brands," he continues. "I think our customers see that we have really committed employees. I'm very proud of the people I work with."
Dearth, who joined GCP last year, also shares Srinivasan's pride. "I'm proud that I can work for a company that can really make a difference in our industry and that can really move the needle," he says.
GCP plans to continue making those differences going forward. "We're going to focus on our product segments in SCC and SBM where we can continue our acquisitions, and stay one step ahead of our competition by having the best products technologies," Dearth predicts.
"[We'll also] make sure we penetrate the market as quickly as possible with the new technology," he continues. "Those things are going to be the focal point of taking this company to the next level."
SIDEBAR – Protecting Mission-Critical Foundations
With urban space at a premium, developers are getting creative about where to build. This has driven the proliferation of taller, thinner buildings in cities around the world. These iconic structures often are designed with deep basements. The 39-story Commercial Bay project in Auckland, New Zealand, for example, was designed with a 17-meter-deep parking structure. The immense hydrostatic pressure outside these foundations puts the buildings at high risk of water infiltration. To protect against this, engineers are employing high-performance below-grade waterproofing systems.
In addition to increasingly deep foundations, many building projects are utilizing previously contaminated and reclaimed sites. Thus, to protect the health of building tenants, it is prudent to require the building have a layer of protection to keep ground contaminants from migrating into the basement.
In both scenarios, PREPRUFE® Plus pre-applied waterproofing membranes from GCP Applied Technologies provide a critical layer of protection against water, moisture and gas infiltration on some of the most mission-critical applications. More than 65 million square meters of PREPRUFE® waterproofing have been installed around the world – safeguarding iconic structures such as a new luxury retail and work space in Dubai that includes a basement which extends seven levels below grade. The systems form a permanent, continuous seal against water and gases, and a barrier to resist the stress of ground settlement.
The PREPRUFE® Plus waterproofing system provides a watertight seal by creating a continuous, integral adhesive bond to poured-in-place concrete. For post-applied applications, the PREPRUFE® 800PA waterproofing membrane should be used to protect vertical walls.  As developers face emerging challenges such as land shortages, they can utilize these solutions to mitigate risk and protect the building's design life. Learn more at www.gcpat.com/en/preprufe.