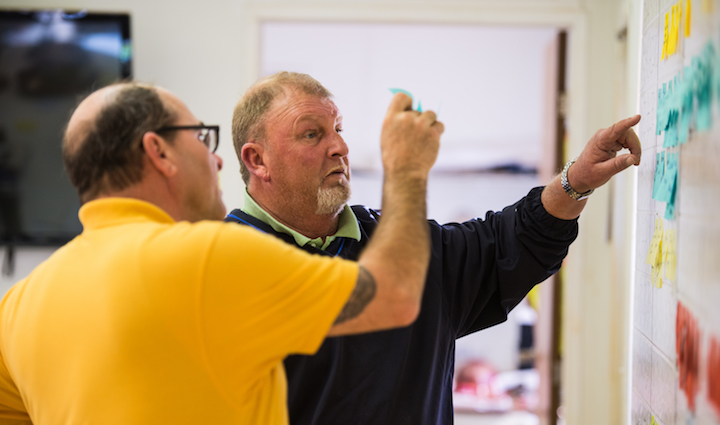 Garbutt Construction is a full-service commercial builder that has won multiple awards for its historic preservation projects.
Garbutt Construction of Dublin, Ga., is perhaps best known for its historic preservation abilities. The results of its work are impressive, but it's not an easy job.
"The challenges are restoring the building but retaining as much of the historic fabric as you can," founder Charles Garbutt says. "Like windows. You restore rather than put new windows in. It's a lot more challenging than trying to build something from scratch."
There's also the challenge of getting 21st-century infrastructure into 19th-century buildings. "We restored an old governor's mansion at Georgia College & State University in Midgeville from before the Civil War," Garbutt recalls. "It has to have a security system and heating and air conditioning and all that infrastructure – but make it disappear when we finished. Typically, ceilings were lowered to put in ductwork. When you restore, you go back to the original ceiling but still have to have conditioned air."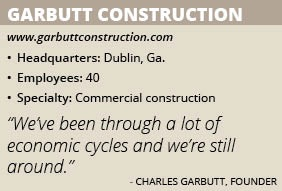 The company has restored more than 50 structures and received multiple awards from the Georgia Trust and the Association of General Contractors for its historic preservation work. It is currently restoring Dillard Hall and Roberts Library at Middle Georgia State University, Terrell Hall at Georgia College & State University.
Lean and Green
Garbutt Construction is a full-service commercial builder that mostly performs construction management although it also offers project planning, design/build and general contracting. Garbutt Construction works across the state of Georgia. Its projects range in cost from $200,000 to $22 million although Garbutt says its sweet spot is in the $5 million to $12 million range.
The company works in various markets including academia, healthcare, science, government and religious. Currently, Garbutt Construction is being kept busy with work for higher education although it's also doing a good amount of government work including restoring a city hall in Griffin and renovating a courthouse in Butts County, both in Georgia.
Garbutt is a proponent of lean construction. He wrote – "Lean Construction: A Small Contractors Journey" – and in 2014 became a lean educator. The company belongs to the Lean Construction Institute and Garbutt teaches lean construction techniques to his staff. "We use it on all our job sites," he says.
Garbutt is also LEED certified, although since the state of Georgia stopped pursuing LEED certification it doesn't come into play much, he says.
Not a Commodity
Garbutt studied architecture for one-and-a-half years at Auburn University before changing his major. "I came to the conclusion that there was a certain gift that I didn't have," he notes.
He had worked in construction over summer breaks since he was a freshman and decided that was the field for him. "I didn't want to design it, I wanted to do it," Garbutt says. He changed his major and, upon graduation, was hired by a contractor in the Auburn, Ala., area for whom he worked for three years.
Garbutt then returned to his hometown of Dublin, Ga., and on Sept. 1, 1976, opened Garbutt Construction. Almost 43 years later, Garbutt Construction is in its second generation with his daughter J. Charlie Garbutt as vice president of business development.
Over the years, the Georgia construction market has been quite cyclical. Although Garbutt Construction has done well in recent years, he recalls the five years of the Great Recession were "slim pickings."
"We've been through a lot of economic cycles and we're still around," Garbutt says. "We've seen a lot of good contractors come and go but we're still here."
Garbutt notes that the contractor selection process has changed since he founded his company. "When I went into business, all you had to have was a performance bond and [bid] the cheapest prices," Garbutt says. "Maybe 15 years ago, the Georgia General Assembly passed legislation that changed the Georgia procurement law. It said companies could be selected competitively but by criteria other than just price."
Garbutt approves of the legislation. "Before that, construction was a commodity," he says. "The only difference between contractor A and contractor B was price, which is a fallacy. There are some contractors that are better than others: contractors that can always produce on time and contractors who never produce on time."
Fox Theater in Atlanta
Garbutt is particularly proud of a restoration and renovation his company did in 2018 on a portion of the historic Fox Theater on Peachtree Street in downtown Atlanta.
The theater was originally built in 1928 as a home for the Shriners organization, according to the Fox Theater website. The Shriners went all out, constructing domes, minarets and sweeping archways complete with gold leaf details, textiles and trompe l'oeil art.
In 1974 the theater closed due to competition from suburban megaplexes but a citizen campaign that raised $3 million opened it again in 1975. "We did the first work there since the 1970s," Garbutt says. "We built the Marquee Club." The club has five different levels with a bar on each level.
"It's not really a restoration," Garbutt says. "We pretty much gutted the space and built this Marquee Club but built it in keeping with the architecture of the theater."
The project called for obtaining marble that was quarried in Brazil and then shipped to Italy to be cut before it was transported to Georgia.
The theater remained open during the year or so Garbutt Construction worked on the project. "We had to make sure pedestrians were kept safe, do a lot of work after hours and schedule work around performances," Garbutt says.
Another difficulty was working in busy downtown Atlanta. "It isn't easy to procure and deliver all the materials and get them to the project," Garbutt says. "Peachtree Street isn't an easy place to bring in structural steel and pour concrete."