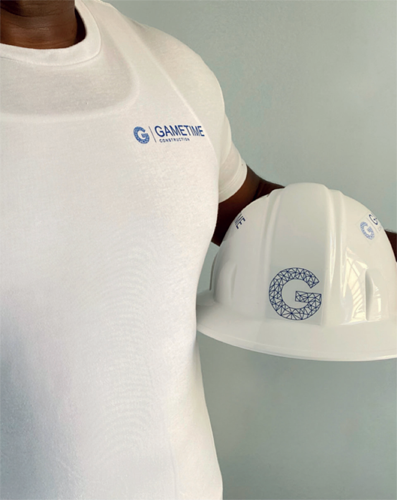 It's GAMETIME
With 20 years of experience and the invaluable wisdom of his father, Marcus Roebuck is geared with the tools to build big goals for his own construction company. Although still in its 'middle school phase' as he says, GAMETIME has grown to specialize in building colleges, universities, sports arenas, as well as homes and luxury condominiums.
Since 2017, when the business was first established, Marcus has dedicated himself to absorbing as much knowledge and advice as he can from his colleagues, which has been particularly useful when it comes to creating built solutions that can handle natural disasters raging regularly through the States. For Marcus, his carpentry capabilities and industry experience in the built environment provides GAMETIME with the expertise to create infrastructures capable of withstanding potential devastation. "There are many reliable and responsible construction companies, but where I come in is the various skills across the whole team. I do have some contractors and consultants with more experience in concrete and electrical, so our general contracting focus is very helpful for building safe and sturdy spaces," he shares.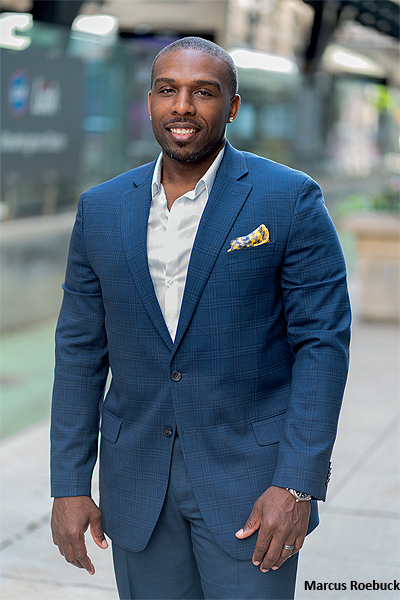 Is this what sets GAMETIME apart from other contractors? Well, for Marcus camaraderie is key. Rather than viewing other companies as competition, he prefers to see them as teachers with ample knowledge on how to excel in the construction field. "Obviously we want to be successful and I want to pay my guys well but at the end of the day, we are all builders, we have to all come together and build as much as we can and I still have so much to learn from everyone," he adds and this tactic is clearly working. In the short time that the business has existed, it has successfully expanded into to Georgia, Illinois, Tennessee and Alabama, proving that while some new start-ups may choose to take their time in scaling up, Marcus is ready to take risks. "I have already laid out the map just because of the rapport I have with colleagues of mine, as well as people who are actually interested in the business on a larger scale," he says.
Amongst his ambitious goals to continue to grow GAMETIME, he recognizes the importance of taking care of those working under the company name. "I know all the guys on my team on a personal level and I take time to understand what's happening in their lives because I think that's the best way to make a team feel motivated. You have to get to know your people and encourage the team in a way that makes them feel heard and appreciated for the work that they do, and I think that in the long run, this is going to play such an important role in making our company culture one of the best out there. We are not waking up just to get the job done; we want to be great and motivated, inspired and innovative. Above that, we want to be cutting edge, especially as a minority business enterprise, we have to shine twice as bright," Marcus explains.
According to an Annual Business Survey conducted by the US Census Bureau in 2018, only 18.3 per cent of all US businesses were minority-owned. In Marcus's experience, this reality has often led to GAMETIME being overshadowed and underestimated to get the job done. "There is this idea that we can do the work but we can't lead the work, and I think that is where I want to leave my mark. Thirty years down the line, I want to able to prove that no matter what, we did our best and we completed every project well because there was no reason why we couldn't," he shares, and so far, Marcus looks on target to achieve just that.
Not even a pandemic could slow this company down. Although the first few months of 2020 were tricky as projects for universities and government agencies slowed down, Marcus remained patient and strategic to keep the business going. "Streets still needed to be paved, pot holes still needed to be filled, so there was definitely work to be done. Aside from funding being a bit of a hiccup, my persistence and consistency didn't change. I just had to stay motivated for the team," he adds.
Tied with his dedication to training a strong team, Marcus is equally as passionate about extensive community involvement. Having lived in Chicago for close to ten years, he made the decision to register with the Chicago Housing Authority to help redevelop and liven up neglected areas within the metropolis. "I learned a lot through my adult years living there, which helped me understand both the political and commercial side of the industry, and it puts fuel in the tank to give back to the communities," he expresses.
Marcus is proud to share that the GAMETIME journey could not have been possible on his own. His eagerness to learn from other experts in his field is setting him in good stead to grow the business and achieve the impressive goals that he has set for the company's future. "Our name stands for 'God answers me every time' so whenever I say 'GAMETIME', it happens for a reason. I am incredibly grateful to everyone who continues to help us grow and invest in the projects that we take on; I've had to have different freelance contractors help out and some of my colleagues advised me on different ways to approach marketing and how I conduct my operations, similarly to how they run theirs. This industry is constantly changing so I believe that talking and learning from like-minded people gives me that extra push and motivation to deliver the best service I can, which will put us in a great position to take on new projects, grow and ultimately achieve great things," Marcus concludes.
GAMETIME Construction
https://gametimeconstruction.com
Services: General contractor