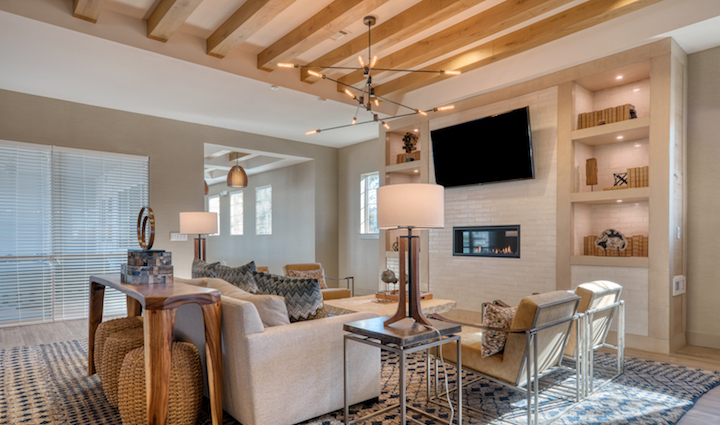 Galaxy Builders is dedicated to outstanding customer service.
For the past 28 years, Galaxy Builders has focused on delivering its clients unmatched customer service and is finally seeing the fruits of its labor come to fruition as nearly 100 percent of its work is through repeat business. "This is an exciting place to be and we are here because of the relationships we have cultivated," President Neilesh Verma says. "The beauty is, it's just a handful of clients, but those handful provide us with enough opportunities to be at our largest volume."
Based in San Antonio, Galaxy Builders has become one of Texas' leading general contracting firms. Verma's father, Arun Verma, founded the company in 1991 to focus on his passion for building. Arun Verma spent the previous 15 years serving as president of construction for Embrey Partners, a leading multifamily developer in the nation, until the savings and loan crisis hit and his role was about to change.
Arun Verma decided to amicably part ways and start his own company, but had to start from scratch despite his prior experience as sureties and banks were looking solely at him. Galaxy Builders began with $100,000 of bonding capacity in its first year and has grown its capacity today in excess of $200 million. "Our team is growing; we've had more work than ever before," Neilesh Verma says. "We have grown our teams organically. Last year, we had five project managers and by the end of this year, we will have grown to eight. We have made it a point of emphasis to grow our team from within."
All in the Family
Galaxy Builders prides itself on promoting from within. For example, Mick Sidbury was recently promoted to director of operations from senior project manager and will now be overseeing all eight project managers. Sidbury has been with the company for nearly 20 years and the move is part of Galaxy Builders' succession planning as he will be taking over many responsibilities previously held by Executive Vice President Ramiro "RC" Contreras, who has been with the company from the beginning.
Contreras' role will transition to oversee training and development for entry-level assistant project managers. "He will guide and coach them with the knowledge and experience he has acquired over the past four decades with our family," Verma says.
Galaxy Builders also promoted Tye Edward Burch to director of pre-construction. Burch has been with the company for 11 years.
The company employs close to 70 people today and is projected to increase that number to 90 by the end of summer. "Our growth is based on the number of projects we have and each project has to be fully staffed to meet demand," Verma explains. "We have grown our teams by hiring additional field personnel, which has been a challenge. We consciously work to bridge the gap between the field and office to make everyone feel like they are part of the team. There's a perception of those who work out in the field as working on an island and we don't want them to feel like they are alone without support, but part of a team here at Galaxy."
Galaxy Builders prides itself on being transparent with its team, so everyone knows their next project. "They don't have to worry about their next home because we communicate with what projects are coming down the pipeline," Verma attests. "There's no doubt in this market there are recruiters calling our stars every day and they stay here because we keep them informed and feeling as a valued member of the team's success."
Galaxy Builders also focuses on developing solid relationships with its subcontractors. The company hosts an annual subcontractor appreciation day in October where it invites as many subs as possible to its home office.
"We initiate the appreciation with our core subcontractors to get a sense of the market and provide feedback on how Galaxy is performing versus the competition. It's a very candid conversation," Verma says. "Recently, one subcontractor recognized us as their top contractor of choice because we took their feedback and put things into motion with faster payment terms and trying to integrate technology into our workflow, for example."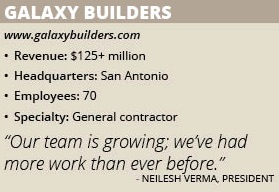 The company is currently overseeing 12 to 15 projects ranging in size from $10 million to $35 million, but expects to more than double its number of projects by the end of summer. "It's an exciting time!" Verma notes.
Award-Winning Work 
Galaxy Builders began construction of Dalian Monterrey Village in April 2017 on the far west side of San Antonio and completed the 360-unit luxury apartment community ahead of schedule the next year. At the time, this was the largest project the company had ever built, which is why Verma is proud to announce that Galaxy Builders received a local award for Outstanding Construction in Multifamily by the Association of General Contractors on the complex.
Dalian Monterrey Village offers one-, two- and three-bedroom apartments with modern home features and resort-like amenities. Six-foot-tall windows in the units allow for ample sunshine and natural light to penetrate each bedroom. The kitchens are furnished with stainless steel appliances, under-mount single-basin sink, designer lighting package and wall-to-wall plank flooring is featured in every unit.
In addition to the contemporary urban design, each unit has high-end finishes such as granite countertops and steel fixtures. Dalian Monterrey Village also features an infinity pool, poolside cabanas, a fitness space, a bark park with grooming station, an outdoor lounge that features a fireplace and televisions, as well as an e-lounge and coffee bar.
Expanded Portfolio
In San Antonio, Galaxy Builders has about 1,000 multifamily units currently under construction. Its continued success in the multifamily space has allowed the company to expand its reach into the commercial sector, building a new $5 million headquarters for PROSPERA Housing Community Services. "Due to our longstanding relationship with PROSPERA, we were given the opportunity to build their tilt-up construction project," Verma says. "We are open to more commercial projects locally."
PROSPERA's mission is to provide safe, high-quality, affordable housing with support services to those in need. Founders Mike Hooper and Ron Anderson formed PROSPERA in 1993 to address the depleted availability of quality, affordable housing for low-income individuals and families, as well as seniors and persons with special needs.
A 501c3 nonprofit organization, PROSPERA started by acquiring multifamily properties that were designated for removal from the affordable housing market. The organization complemented its housing options with a variety of educational, lifestyle and social services, and has seen numerous residents and members of surrounding neighborhoods achieve both personal and professional goals through the stability afforded by this approach.
In addition to its headquarters, Galaxy Builders is also overseeing the construction of two multifamily projects for PROSPERA, which are both being led by their first female project manager, Andrea Evilsizer. Villages at Henderson and Samuel's Place, both located in Corpus Christi, Texas, offer affordable housing units.
Moving forward, Galaxy Builders plans to continue enjoying the solid relationships it has built over the past few decades and growing its portfolio as the masters of multifamily projects in Texas. The company's vision statement is: "By 2020, Galaxy Builders will implement fully integrated, consistent processes and tools to continue to provide unmatched service, build and strengthen a culture of loyalty and continue to grow."