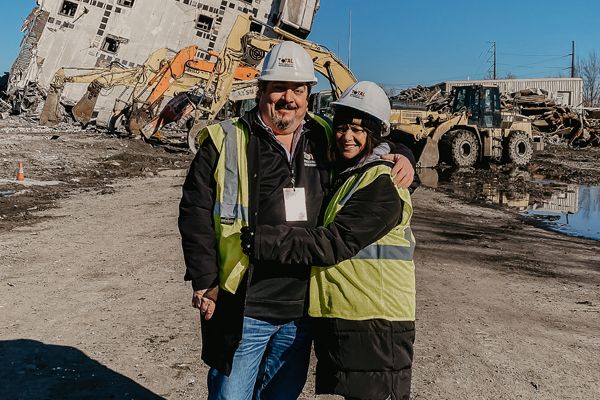 Frank Bodami of Total Wrecking and Environmental breaks down his passion for the demolition industry  
With a wealth of experience and expertise in the demolition industry, there is no better-informed individual with which to discuss the market than Frank Bodami, Co-Founder and Managing Partner of Total Wrecking and Environmental (Total Wrecking).
Having co-founded Total Wrecking in 2013, Frank is also a long-standing member of The National Demolition Association. He has served as Chair of the Risk Management Committee, Chair of the Government Affairs Committee, and served on the Safety Committee, as well as provided input in many different subject areas over the years. Last but not least, Frank served on the Board of Directors for the National Demolition Association (NDA) for over nine years.
However, Frank's career journey is neither a traditional nor conventional one. "I worked for my father's business from the age of 13, but when I was 17 and well into my rock music career, he gave me an ultimatum; I either had to really get stuck in with the business, or leave," Frank begins.
"So, to my father's surprise, I left. I went on the road with a band instead and spent two-to-three years playing drums, eventually returning home – way broker than when I left – and deciding to go back to the family business.
"While the business had many positive aspects when I joined, there were also a lot of systems and processes I thought could be improved," he continues. "As things progressed, I started working in both the commercial and industrial sectors."
Frank narrates: "I worked in the commercial market for some time, but decided to strategically re-enter the industrial market, and so, Total Wrecking was born. Since then, we've worked on some of the most challenging, yet exciting jobs in the industrial sector. We work on projects in the industrial sector, liaising directly with the owners, who are typically like–minded people, working towards the same goals as us – to get the job done safely.
"With a renewed focus on long-term career growth, I joined the NDA, which went on to be one of the greatest, most transformational elements of my career," he reflects. "I worked alongside my peers and learned a great deal from them, gradually understanding more about the industry and gaining more confidence."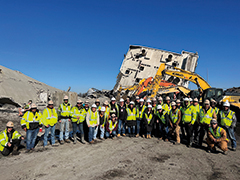 Frank continues: "It was at the NDA that I learned that everybody in this business makes mistakes; if you don't make a mistake, then you're not pushing yourself hard enough. But I've had some great advice over the years, from both my father and grandfather, and there are other elders from the NDA that stick out in my mind as inspirational: Tom Robinette, Bill Moore, and Leonard Cherry, to name a few.
"One of my mentors at the NDA, Ron Dolell, gave me a piece of advice that I will never forget," he states. "We were at a conference in Las Vegas, and he called me over to show me something. He took me to the top of the building in a glass elevator and said, 'look out of the window, what do you see?'
"I was confused for a moment, and after multiple wrong answers, he finally said, 'everything out there must come down at some point; every building has a life expectancy. No matter what happens in the world, you are in one of the greatest businesses you could ever be in.' And that really stuck with me, because although I personally enjoyed demolition, it was reassuring to know that my chosen career path made sense to someone with experience in the field."
Returning specifically to Total Wrecking's operations, Frank explains: "We do a lot of implosions, which is actually one of my favorite aspects of the job, but we also do a lot of work with excavators or equipment. We just finished a job, for example, that required us to take out a boiler from the unit's skeleton, which was about 120 feet high, all while protecting a turbine that couldn't sustain any vibration.
"Then, on the environmental side of the business, we do asbestos abatement, which we can manage alongside demolition if required. This means we can tear down a building containing asbestos while keeping it contained. We also do ash pile removals, deal with hazardous waste and polychlorinated biphenyls (PCBs), and clean up coal or metal ponds, returning the land to green space.
"We break the rules of engineering all the time – it's our job," he adds. "We often have to find alternative ways to bring structures down in a safe way, and while it can be very tricky, it's another one of my favorite practical elements of the business.
Amazing projects
"There's one project in Florida that was especially challenging due to all the moving parts," Frank reflects. "It was a 1600-acre, 1250-megawatt power park, and it incorporated all our capabilities: PCB removal, asbestos abatement, both ash and metal pond removals, and we had three separate implosions to bring down two, 440-feet-tall cooling towers, a 620-foot stack, twin boilers, a pair of SCR Units and brought the site back to a shovel ready green space. On top of this, we were able to recycle 98 percent of all the demolition materials during the process.
"Similarly, we had a tricky project in Ohio, where we had to take down a 22-foot tower located above a two-story building and right on a street corner," he recalls. "So, we had the pressure of bringing the building down while keeping everything underneath it entirely safe. It was also in the heart of the city, which, as you can imagine, made the process much harder."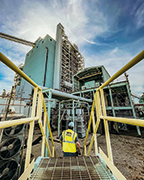 Frank explains: "The process starts with a team of people, usually an estimator, project manager, superintendent, equipment supervisor, and labor foreman spending two-to-three days on the site. They walk the entirety of the site and address every potential issue or problem before we even get started. The team then agree on the most appropriate, efficient method, and start writing up work plans, which then must be approved by the client and the supervisors.
"We pride ourselves on quality, integrity, and safety," he states. "At the top of this triangle is safety, with quality and integrity forming the pillars at the bottom." With these characteristics at its heart, it's no surprise that Total Wrecking is experiencing continued success.
Frank details: "Our repeat clients are testament to our hard work, our people, and our integrity. We did a project on a large power plant for Louisiana Gas and Electric some time ago, for example, and shortly after, they contacted us with two further projects wanting us specifically to take them on. We've also completed repeat work for General Electric, and we're currently working on our fourth project for Georgia Pacific."
Working in collaboration
Having been present in the demolition industry for decades, whether working for his father as a teenager, sitting on the NDA Board, or completing jobs for his own company, Frank has witnessed myriad market changes and developments.
"The biggest change is definitely around safety," Frank states. "When I first started with my father's company, people worked without masks or hard hats. We're in an entirely different place with safety now, and Total Wrecking takes it to an even higher level, going beyond Occupational Safety and Health Administration (OSHA) standards.
"My grandfather used to say, 'the fish stinks from the head,' meaning, in other words, if the person at the top is doing something, the rest of the team will follow," he explains. "In this case, if the person at the top, so the CEO or owner, for example, is safety conscious, then the rest of the team will follow suit.
"At Total Wrecking, we have an all-stop policy, which means that if anyone on site, regardless of rank, suspects a safety issue, our entire operation stops entirely," Frank details. "It might stop work for a five-minute conversation to fix a minor issue, or it could be a serious problem that shuts the project down for a week, but you never know if someone has spotted something that no one else thought to check!"
Through Frank's involvement in the NDA, his work on relevant safety committees, and the foundation of his own demolition company, it is evident that he is passionate about collaboration. "I feel that the demolition industry has learned important lessons over the years, and by working together, we can spread these teachings even further to ensure that above all, companies keep their employees safe," he proposes.
"I don't look at other companies or individuals in the industry as competitors; in fact, I want to teach and support others," Frank concludes. "If I can help younger generations like folks did for me, then that will be my job well done."