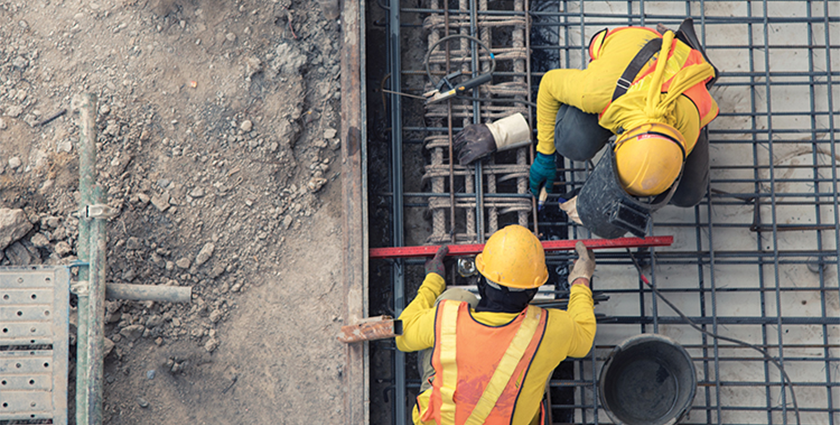 Having completed more than 100 projects, Fort Construction takes pride in being known as much for its quality as it is for service. By combining these two values in all it does, Fort Construction has built a strong reputation with subcontractors and owners. The company adds in open dialogue with every aspect of each project team, helping to ensure successful project completions.
"At Fort, we protect our reputation for excellent customer service while providing the highest quality with competitive pricing," the company says. "We make this possible through our absolute insistence upon utilizing responsible subcontractors qualified for the specific project and maintaining open dialogue with our past, current and potential clients. Fort Construction info box
"One of our principals is always involved with each project," it adds. "We integrate with the building team, owners, architects and other concerned parties. Projects are consistently completed in a timely fashion because of our structured organizational and time management skills, benefiting subcontractors and promoting better pricing on subsequent projects."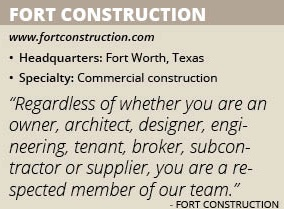 Based in Fort Worth, Texas, Fort Construction is a full-service firm offering design/build, pre-construction, construction management and general contracting services, helping it meet clients' every need. The company notes its expertise in estimating, construction, project management and pre-construction services allows it to deliver quality projects in a reasonable time frame. Fort remains committed to the selective use of responsible subcontractors, hiring and retaining first-class employees, and working with clients that share the value of open and honest communication.
"Regardless of whether you are an owner, architect, designer, engineering, tenant, broker, subcontractor or supplier, you are a respected member of our team and will be treated as such," the company says. "This commitment to team and to open project leadership yields not only successful construction projects, but more importantly, satisfied customers. The end result of this style of relationship building is 100 percent referable customers."
Project Partners
With a purpose of building "a legacy of excellence," Fort Construction's vision is to be the builder of choice for value-minded clients and high-performing employees. The company demonstrated its dedication to client satisfaction on the recent Adult and Teen Challenge of Texas, located in the town of Azle. This is a substance abuse recovery center, and the project now allows the Adult and Teen Challenge to expand its services and house more people. Fort Construction explains this project brought a dream to life for the organization.
The Adult and Teen Challenge project involved the demolition of an existing steel building and the construction of a new housing complex with four additional sleeping rooms. The new structure allows for multiple bunks, shared restrooms and a living room, enabling the Adult and Teen Challenge to accommodate 48 residents at a time, which is an increase from the 36 total it used to allow for. The new space also allows residents to stay for up to two years, increased from seven months.
"It is always rewarding to see a project or building come to completion and turn the keys and space over to the owner," Fort Construction says. "However, when the project has a heart for helping others, like Adult and Teen Challenge, it makes our job even more special. We are thrilled for their new facility and we want to thank them for allowing us to be part of it."
Late last year, Fort Construction completed a new Lena Pope Early Learning Center at the UNT Health Science Center (UNTHSC) campus in Fort Worth. The company remodeled the classrooms, bathrooms and playground areas, while also adding new floors, paint, ceiling tiles, doors, offices and conference rooms. The bathrooms were updated and reconfigured to provide more space, and the company enhanced the building's exterior. With the new facility, the organization can support staff and students of the UNTHSC as well as families in the community.
In addition to nonprofit facilities, Fort Construction's project portfolio involves automotive dealerships, schools, healthcare facilities, multi-family residential structures, office buildings, nonprofit offices, religious centers, retail spaces and renovations. The company says that on every project, it uses a series of procedures that provide guidelines for how each component of the project should be carefully and precisely monitored. Fort Construction works closely with clients, the design team and subcontractors during each stage of the project to ensure the work is delivered with quality, at the best value and within budget.
"It is our pleasure to recommend Fort Construction for any construction or remodel projects you might have," said David Kramer, senior vice president of Republic Title, in a testimonial. "We have used them on the build out of new offices and also expansion of existing offices, and they have always done excellent work. They are quick to return phone calls or address any questions. All the personnel are great to work with and always willing to do whatever is required."
<>SIDEBAR – Community Support</>
Fort Construction works hard to deliver quality to its clients, but that drive also extends to its community. The company works with organizations such as:
• Boys & Girls Club of Greater Fort Worth
• Cenikor Foundation
• Fort Worth South Inc.
• E.R. Van Zandt Southwest YMCA
• Habitat for Humanity
"As successful members of the community, we have a responsibility to help those that are less fortunate and contribute to the common good," Fort Construction says.